India
Strong democracy drives global agencies' trust in India: PM Modi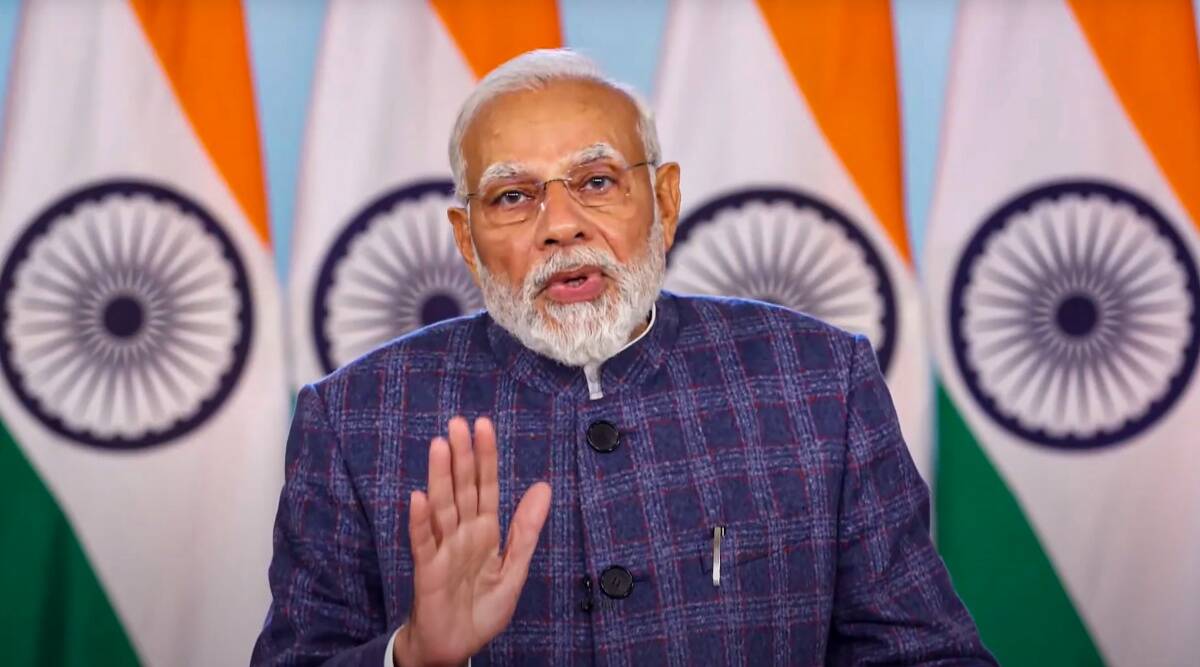 Prime Minister Narendra Modi said on Wednesday that the country's "strong democracy, young population, and political stability" are driving the "optimism" expressed by many foreign agencies regarding the Indian economy.
Modi stated during the opening session of the Madhya Pradesh Global Investors' Summit in Indore that the role of the state will be critical in the development of a developed India.
Modi stated that institutions and reliable voices that watch the global economy, such as the International Monetary Fund (IMF) and the World Bank, have demonstrated unprecedented trust in India.
"This optimism for India is driven by a robust democracy, young population and political stability. As a result of these factors, India is making decisions that improve the ease of doing business and the ease of living. Even during a once-in-a-century crisis, we pursued changes. "India has been on a'reform, transform, and perform' road since 2014," he remarked.
Modi noted that the IMF considers India to be a "bright spot" in the world economy, and that the World Bank believes India is better positioned to deal with global challenges than many other countries. "This is due to India's solid macroeconomic fundamentals," he continues.
The IMF projected 6.8 percent growth in 2022 in its World Economic Outlook released last October, compared to 8.7 percent in 2021 for India. Modi stated that global investors share his optimism. "Your [delegates'] presence here shows this sentiment," he added.
Tata Sons chairperson N Chandrasekaran, Lulu Group chairman M A Yusuff Ali, and Adani Enterprises director Pranav Adani were among the business executives present at the first session.
"The total value of our ongoing projects is approximately Rs 27,500 crore. We work in the electricity, gas, cement, roadways, agricultural processing, defence, and irrigation industries. I am pleased to inform that we will not only continue to invest in all of these industries, but we will also dramatically extend our presence in MP. "As part of our commitment to the state, we would invest more than Rs 60,000 crore in a wide range of projects and sectors," Adani added.
The PM also urged investors to take "full advantage" of the Production Linked Incentive (PLI) programmes, which have so far resulted in incentives totaling more than Rs 2.5 lakh billion. According to the Prime Minister, Madhya Pradesh is a location of originality, splendour, and awareness (ajab, ghazab, sajag), a famous tagline for state tourism.
The two-day summit is being held at Indore's Brilliant Conference Centre, which previously hosted the three-day Pravasi Bharatiya Divas convention, which concluded on Tuesday.
Madhya Pradesh Chief Minister Shivraj Singh Chouhan addressed the convention, stating that the summit has ten partner countries: Canada, the Netherlands, Mauritius, Bangladesh, Zimbabwe, Guyana, Suriname, Japan, Panama, and Fiji.
Chouhan claimed that the rate of growth in MP is "the highest in the country," at 19.76% in current prices. He stated that the state's contribution to the country's GDP is 4.6 percent, with a GSDP of Rs 12-lakh crore.
According to the Madhya Pradesh government, the primary goal of the event is to display the state's industrial ecosystem, promote state policies, hold talks with industrial organisations to establish industry-friendly regulations, and explore collaboration prospects.
"The event will be a venue for global leaders, industrialists, and experts to share their narratives on developing markets and trends, as well as strategies to exploit Madhya Pradesh's investment potential," it said in a statement.