India
Supreme Court issues notice to Shinde and EC regarding Uddhav's Shiv Sena name and symbol petition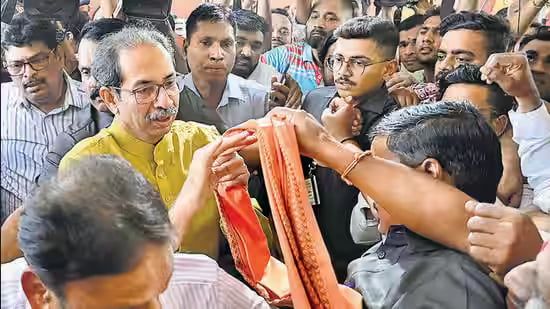 Wednesday, the Supreme Court sent notices to Maharashtra Chief Minister Eknath Shinde and the Election Commission in response to a petition from Uddhav Thackeray that questioned the Election Commission's decision to recognise Shinde's group as the Shiv Sena and give it the "bow and arrow" symbol.
The top court also didn't stop the Shinde-faction from taking over Shiv Sena's properties and money.
Chief Justice DY Chandrachud said, "This will be the same as staying the EC order, and we can't do that since they won there."
During the hearing, the group led by Eknath Shinde questioned whether Uddhav Thackeray's petition was valid. They said that the former chief minister of Maharashtra should first go to the Delhi High Court to fight the Election Commission's decision.
As the Shinde camp took over the Sena office in the Maharashtra Assembly on Monday, Thackeray went to the highest court to challenge the poll panel's decision. Later, the Lok Sabha secretariat told the Shinde faction that the Sena party office in Delhi had been given to them.
The former chief minister told the Supreme Court that the EC did not act as a neutral mediator in the war between the two groups. Thackeray told a group of reporters that he had been robbed of everything. He also said that the party's name and symbol had been stolen, but not the name Thackeray.
Last Friday, the election board gave Shinde the name Shiv Sena and the symbol of a "bow and arrow." Shinde and 39 other MLAs then left the party and joined the Bharatiya Janata Party to form the government. Shinde's rebellion put an end to the Maha Vikas Aghadi government, which was made up of Sena, Congress, and the Nationalist Congress Party.