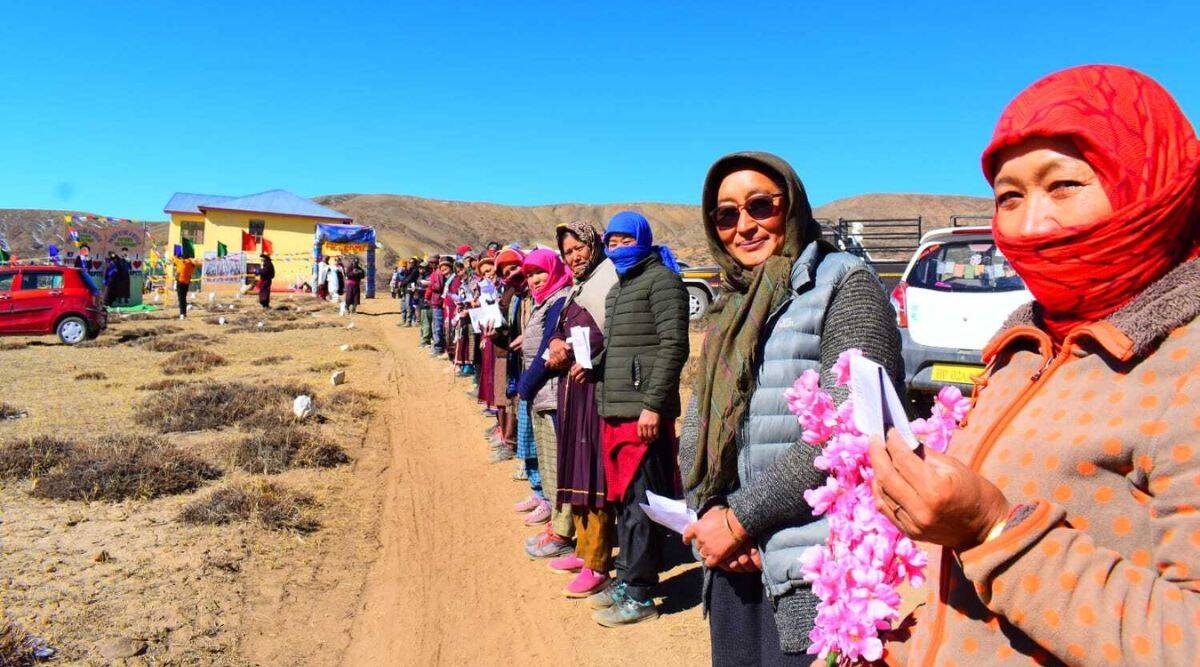 Voters were welcomed with song, dance, and sweets at the world's highest polling station, the Tashigang model, in the Lahaul and Spiti district of Himachal Pradesh on Saturday.
The Tashigang polling station, located 15,256 feet above sea level, saw a 100% turnout, as all 52 voters cast their votes despite the bone-chilling cold. 30 males and 22 females represent a total of 52 voters.
Tashigang (Lahaul&Spiti ), has world's highest polling station at 15,256 ft & 52 registered voters, is set to retain its record of 100% voter turnout in the Nov 12 assembly election. It has been made Model Polling station to make voting easy for senior citizens & disabled voters. pic.twitter.com/SJcw86Z3lL

— CEO Himachal (@hpelection) November 12, 2022
What is the exact location of the polling station in Tashigang?
Tashigang's polling station lies on the border between Lahaul and Spiti. There is heavy rainfall in the village throughout the winter and chilly winds. Tashigang and Get villages are part of the Mandi parliamentary constituency. In the past, Hikkim was considered the country's highest polling station.
This is Tashigang Village, the highest polling place in the world(4640m)

The people of village will cast their vote tomm for Vidhan Sabha elections. 100% voting in last elections.

Shot this ultra-zoom footage from nearby Lanza village.@ECISVEEP @hpelection #HPElection2022 pic.twitter.com/WME0oQykFD

— Dharamveer Meena, IFS🌲 (@dharamveerifs) November 11, 2022
Polling day is November 12
A local song and dance were performed at the polling station, and food was served. For the benefit of senior citizens and the handicapped, the polling station was designed as a model polling station.
It was established during the 2019 Lok Sabha election, during which 100 percent of voters participated. During the Mandi Lok Sabha by-elections last year, voting was also conducted here.
विश्व के सबसे ऊंचे मतदान केंद्र tashigang में मतदान को लेकर भारी उत्साह @hpelection @mangarg2002 @ECISVEEP #himachalPradesh pic.twitter.com/GvMaSwbcnd

— Ajay Banyal (@iAjay_Banyal) November 12, 2022
The incumbent MLA of Lahaul and Spiti, Ram Lal Markanda, Ravi Thakur of the Congress, and Sundershan Jaspa of the AAP contested the seat. Markanda and Thakur have alternately won this seat over the past three elections, and Congress believes it will also win it this time.
विश्व के सबसे ऊंचे मतदान केंद्र Tashigang में मतदाताओं ने कुछ इस तरह पारंपरिक वेश भूषा में किया नृत्य #HPElection2022 @hpelection pic.twitter.com/yrHBitg2En

— Ajay Banyal (@iAjay_Banyal) November 12, 2022
Tashigang's poll issues: what are they?
One of the significant issues in Lahaul and Spiti is the lack of water supply for drinking and agriculture.
"जुग- जुग जीवे डेमोक्रेसी"

बुजुर्ग मतदाता विधानसभा चुनाव में अपने मताधिकार का बढ़- चढ़कर इस्तेमाल कर रहे हैं। #GoVote#AssemblyElections2022   #ECI #ECICares #HimachalPradeshElections pic.twitter.com/5YmmmqFI6O

— Election Commission of India #SVEEP (@ECISVEEP) November 12, 2022
BJP counters with figures of jobs given to the youth, while Congress estimates that the region has lost out to tribal quotas in government jobs. Medical staff shortages at community medical centers are another concern.
A total of 75.06 percent of the electorate voted in Himachal Pradesh, which has 68 Assembly seats. There was a 73.75 percent voter turnout in the Lahaul and Spiti constituency, a 0.58 percent increase from the 2017 election. There will be an end to the current term of the Assembly on January 8. On December 8, votes will be counted.