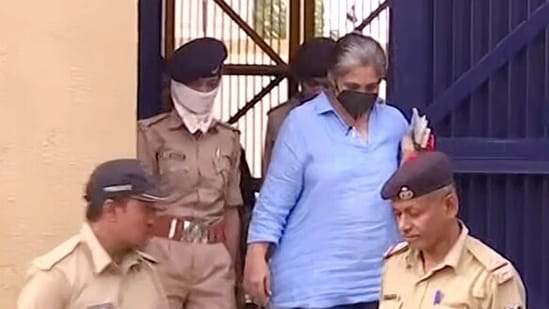 Activist Teesta Setalvad was released from Ahmedabad's Sabarmati Central Jail at around 8 pm on Saturday after the Supreme Court (SC) granted interim bail on September 2.
A lawyer associated with the case said the Supreme Court order had directed that Setalvad be produced before the appropriate Ahmedabad court for an order to release him by 3 pm on September 3, while Setalvad should be produced around 5 pm.
He has been released almost two months and ten days after his arrest.
Setalvad was arrested by the Gujarat Police on June 25 for allegedly hatching a conspiracy to falsely implicate innocent people in connection with the 2002 Gujarat riots based on an FIR by the Ahmedabad Detection of Crime Branch (DCB).
He was put on police remand for seven days and sent to judicial custody on July 2.
His arrest, along with a co-accused in the case, came a day after former IPS RB Sreekumar's arrest by the Supreme Court on June 24 against a special inquiry by Zakia Jafri, wife of slain Congress MP Ahsan Jaffrey. Team clean chit to then Chief Minister Narendra Modi and others on charges of conspiracy in the riots.
The Supreme Court, in its judgment, had pursued proceedings "to boil the pot, apparently, for the inverted design" and said that "all those involved in the abuse of such process shall remain in the dock." And there is a need to proceed according to the law."
Setalvad, along with Sreekumar, had moved the Ahmedabad sessions court on July 5 for bail, which was later rejected on July 30. On August 1, Setalvad moved to the Gujarat High Court (HC) for bail. Setalvad moved the Supreme Court for bail after the Gujarat HC had accepted the bail plea on August 3, keeping September 19 as the next date of hearing.
Related Posts