India
The Cabinet approves the green hydrogen mission, with an initial expenditure of Rs 19,744 crore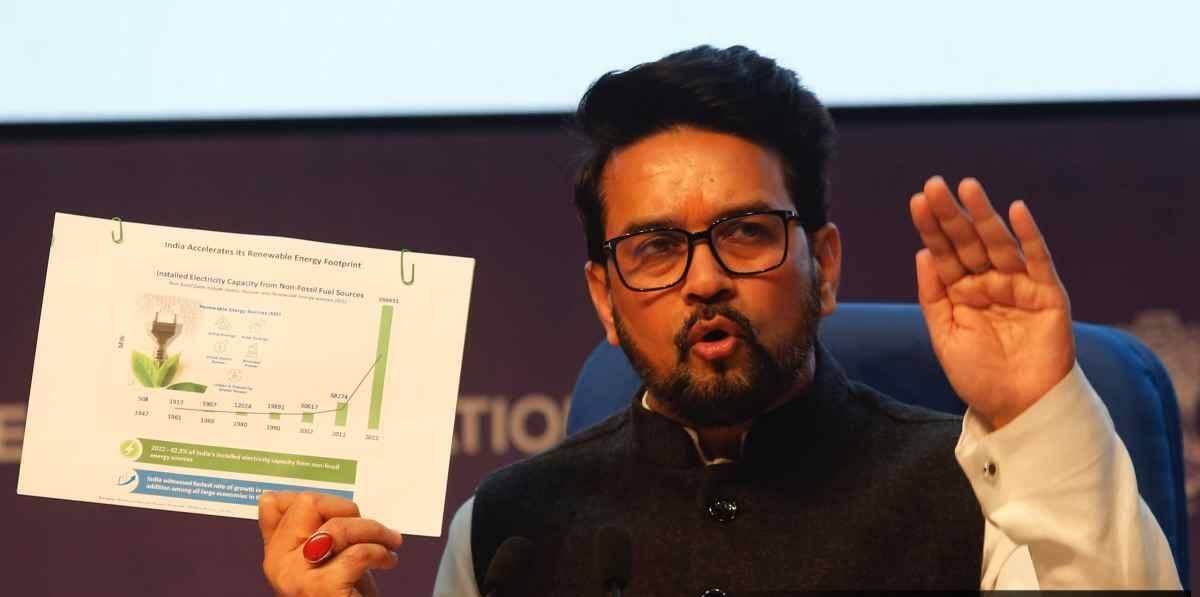 Wednesday, the Union Cabinet authorised the National Green Hydrogen Mission (NGHM), with an initial expenditure of Rs 19,744 crore, in an effort to make India energy independent and decarbonize vital economic sectors.
Prime Minister Narendra Modi first announced the NGHM in his Independence Day speech in 2021, following which the Ministry of New and Renewable Energy (MNRE) was entrusted with drafting a strategy.
Anurag Thakur, Union Minister of Information and Broadcasting, announced the Cabinet decision and stated that the programme intends to make India a global hub for the production and export of green hydrogen and its byproducts.
In an effort to reduce emissions, the idea is to create incentives to boost the production of low-cost green hydrogen. In the next years, green hydrogen will play a significant role in combating climate change, according to Thakur.
The goal is to attract an investment of Rs 8 lakh crore by 2030 and to create more than 6 lakh employment.
"Nearly 50 MMT (million metric tonnes) per year of CO2 emissions are also anticipated to be avoided by 2030," according to a government release.
India's attempt to transition from fossil fuels to renewable energy relies heavily on the NGHM, with the government announcing its new nationally decided contributions after COP 26 in Glasgow. The government pledged to reducing the emissions intensity of GDP by 45 percent by 2030 (from its 2005 level) and to achieving about 50 percent of cumulative electric power installed capacity from non-fossil fuel-based energy resources by 2030.
EXPLAINED
What is green hydrogen?
Using an electrolyzer that is fueled by renewable energy, green hydrogen is created through the electrolysis of water. Green hydrogen has certain benefits. One, it is a clean-burning molecule that can decarbonize iron, steel, chemical, and transportation industries. Two, renewable energy that cannot be stored or utilised by the system can be directed towards its production.
According to the announcement, the government expects the annual production capacity of green hydrogen to reach at least 5 MMT by 2030. In addition, it anticipates a cumulative reduction in fossil fuel imports of approximately Rs 1 lakh crore and a reduction in yearly greenhouse gas emissions of 50 MMT.
Thakur stated that the expenditure consists of Rs 17,490 crore for the SIGHT programme, Rs 1,466 crore for pilot projects, Rs 400 crore for research and development, and Rs 388 crore for additional mission components. The MNRE will now develop implementation guidelines for its separate components.
Under the Strategic Interventions for Green Hydrogen Transition (SIGHT) programme, two unique financial incentive mechanisms will be offered for the domestic production of electrolysers and green hydrogen. In addition to assisting pilot initiatives in developing end-use sectors, the mission will identify and develop as green hydrogen hubs regions capable of sustaining large-scale production and/or usage.
According to the minister, NGHM will also create export opportunities for green hydrogen and its derivatives, decarbonize the industrial, mobility, and energy sectors, enhance indigenous manufacturing skills, and develop cutting-edge technology.
To promote the formation of the green hydrogen ecosystem, a policy framework that includes the development of robust norms and regulations will be created. The mission will support a public-private cooperation framework for R&D (Strategic Hydrogen Innovation Partnership – SHIP). In addition, a coordinated skill development programme will be implemented as part of the mission.
"Green hydrogen is a costly technology whose viability can be bolstered by government help." Allocation of funds for pilot projects and strategic interventions, particularly those focusing on electrolysers, will improve the viability of such projects and attract more private sector investment, according to Vibhuti Garg, Director, South Asia, Institute of Energy Economics and Financial Analysis (IEEFA).
Hemant Mallya of the Council on Energy, Environment, and Water (CEEW) stated that the scheme will also enhance India's energy security and decrease its reliance on LNG imports (liquefied natural gas). Fertilisers and crude oil refineries, both of which consume substantial quantities of LNG, are two of the most probable sectors to benefit from the usage of green hydrogen. Not only will the usage of green hydrogen lessen reliance on imports, but the LNG may be channelled into other sectors that currently rely on fossil fuels, thereby improving air quality.
Green Hydrogen will play a significant role in the energy transition of the transportation industry, particularly long-distance transport, where electric vehicles are now unfeasible due to the size of their batteries and the associated infrastructure.
The Cabinet Committee on Economic Affairs (CCEA) also approved the investment for the 382 MW Sunni Dam Hydro Electric Project in Himachal Pradesh (estimated cost: Rs 2,614.51 billion) and the I&B ministry's proposal for a Rs 2,539-billion scheme called Broadcasting Infrastructure and Network Development (BIND), for infrastructure development of Prasar Bharati, which includes All India Radio (AIR) and Doordarshan (DD).