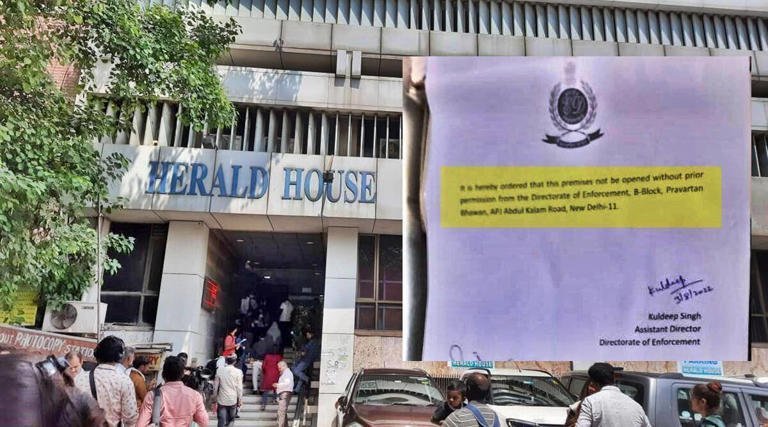 On Tuesday, when the Enforcement Directorate (ED) launched a search operation at Herald House in the national capital, it carried out simultaneous raids on premises of housing entry operator firms in Delhi, Mumbai and Kolkata. The companies raided included Kolkata-based Dotex Merchandise, a subsidiary of the RPSG Group, which had given a loan of Rs 1 crore to Young Indian to help Associate Journals Limited (AJL), publisher of the National Herald newspaper.
The raids were conducted after the ED found evidence of financial transactions between YI and some housing entry operator firms.
An ED official said, "We came to know that YI had not only received money from Dotex but raids were also conducted from some housing entry firms which we suspect to be hawala transactions."
It is alleged that in 2010, YI, in which Sonia Gandhi and Rahul Gandhi are major shareholders, acquired AJL and all its assets.
After the formation of YI, the AICC, which had reportedly given loans of over Rs 90 crore to AJL, decided to hand over the entire loan to the newly formed organisation. Young Indian paid just Rs 50 lakh for this acquisition.
The loan assigned to YI was converted into shares of AJL and 9,02,16,899 equity shares were allotted to AJL
Young Indian against the said loan amount. In this way, about 99.99% of AJL's shares were transferred to Young Indian.
Interestingly, at the time of AJL's acquisition, Young Indian, incorporated with a paid-up capital of Rs 5 lakh, did not have even the Rs 50 lakh funds to acquire AJL. It, thus, decided to take a loan of Rs 1 crore from M/s. Dotex Merchandise Pvt. Ltd, Kolkata. In a report, the Income Tax Department which first probed the case, said that Dotex "was a company engaged in providing hawala transactions, by laundering of Appellant's (YI's) own money".
"This loan of Rs. 1 crore was also flagged as suspicious transaction in the Suspicious Transactions Report ("STR") by Financial Intelligence Unit ("FIU"), India. The amount of loan entry of Rs. 90.21 crores was fixed to ensure that the amount was just sufficient to allot 99% share of AJL to the Appellant (YI)," the report had said.
The IT department had said that the loan was given to YI "without any guarantee". It said YI had made a provision for payment of interest of Rs 1,72,603 ​​on this loan in its balance sheet for the year ended March 31, 2011.
"Apparently, no TDS has been applied on such payment. Perusal of Return of Young Indian filed with ROC for F.Y. 2013-14 shows unsecured loan of Rs. 1 crore from M/s Dotex Merchandise Pvt. L.td. is standing as it is and it has not been repaid. As per Note-6 of the Balance sheet of Young Indian for the year ending on 31.03.2014, even provision for interest to be paid on unsecured loans has not been made for the FY 2013-14. This shows unsecured loan of Rs 1 crore is an accommodation entry which has neither been repaid nor any interest paid on it," the IT Department had said.
ROC documents show that at the time of its incorporation, Akash Jaiswal was made the director of Dotex in November 2005. In October 2011, Shashwat Goenka of the RPSG Group was appointed as director. He resigned in March 2012. Hemant Goenka, also from the RPSG Group, and Sunil Bhandari are currently the directors of the company.
Emails sent to Dotex Merchandise did not elicit any response.
Notably, both the IT and the ED have raised doubts about the loan of Rs 90 crore given by AICC to AJL, saying that there is no evidence to show that this loan was ever given to AJL.