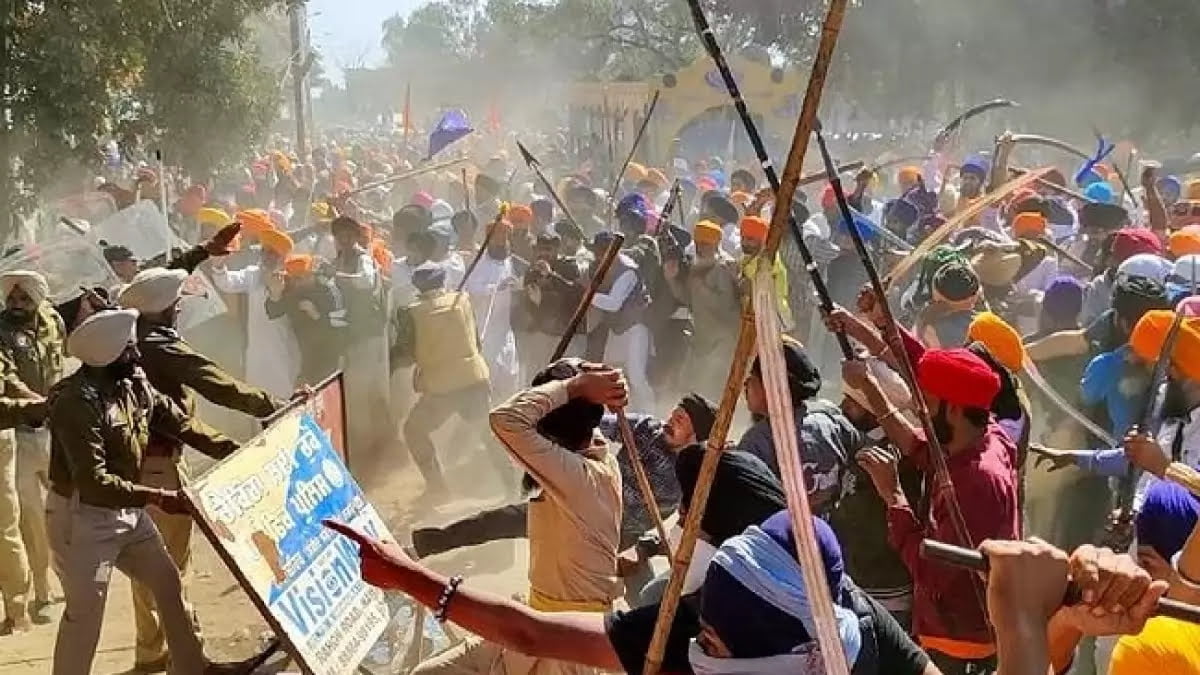 Concerns were raised about the Waris De Punjab leader's statewide Khalsa Vaheer campaign, which was set to begin on Sunday, and his alleged private army, Anandpur Khalsa Force (AKF), at a meeting called by the Ministry of Home Affairs with intelligence agencies and Punjab Police officers a fortnight before the crackdown on Amritpal Singh on Saturday.
According to sources, Amritpal's inflammatory speeches at gatherings to garner support for the Khalsa Vaheer campaign and a stronger AKF, in which he accused the government of disarming Sikh youth and inciting fear that this was being done to target the community eventually, had become a cause of concern for the Centre, which had been closely watching his rise.
At this meeting, a thorough strategy was devised for clipping Amritpal's wings and arresting him. To avert law and order difficulties following his arrest, the Central directed the Punjab Police during the conference to transfer all of his aides to jails in the Northeast or the South.
"It was urged by intelligence agencies to relocate all his aides to jails in the Northeast and Southern regions to avoid unpleasant situations like the Ajnala police station incident in which Amritpal and his supporters attacked the police station to secure the release of a jailed comrade. "They stated all these jails are far from Punjab, and there are less Sikhs," an officer explained.
According to sources, Khalsa Vaheer was supposed to be a religious procession that would begin at the Akal Takht Sahib in Amritsar. It was planned to traverse the whole of Punjab over the next six months, to convert young people into devout Sikhs. The procession planned to stop at Jandiala Guru, Baba Bakala Sahib, Khadoor Sahib, Goindwal Sahib, Sultanpur Lodhi, Kapurthala, Kartarpur, Jalandhar, Phagwara, Bahiram, Nawa Shahar, Balachaur, Ropar, and Anandpur Sahib.
"In truth, this march was planned to include supporters carrying automatic guns and ammo, spreading Amritpal's views of Khalistan," a Punjab Police officer explained.
"Amritpal has objected to the state government's proposal to review guns licences, arguing that the five takhts of Sikhism endorsed arms and that this would target Sikhs and leave them without arms. Hilter, he claimed, did the same with Jews. "First, they were taken of their weapons, and then their genocide was carried out," the officer explained, adding that this was addressed at the MHA meeting.
According to a central security establishment officer, the emergence of AKF was concerning in and of itself, because it was nothing more than a private militia being used to frighten people. Nonetheless, its "intolerance for migratory non-Sikh labourers from UP and Bihar in Punjab" has recently been noted with alarm.
At the discussion, intelligence authorities also revealed that Amritpal had moved to Dubai in 2012 to work as a truck driver for his family's transportation company. He also met Jaswant Singh Rode, brother of Pakistan-based proscribed Khalistani operator Lakhbir Singh Rode, and militant Paramjit Singh Pamma at the time. They are suspected of passing him on to the ISI, who gave him money to rekindle Khalistan sentiments in Punjab.
"Avtar Singh Khanda (a UK-based SAD/A activist and close associate of Khalistani terrorist Jagtar Singh Tara) is Amritpal Singh's key manager and the brain behind his rapid rise. Khanda is also close to Pamma and is known for holding theoretical radical training sessions for Sikh youth," according to a security establishment official.
"They have been attempting to manufacture improvised explosive devices using common chemicals by giving live demonstrations in Birmingham and Glasgow," according to a central dossier.
Amritpal was supposedly transferred to Georgia for training after being inducted. It's unclear why Georgia was selected.
Central officials have also discovered connections between Waris Punjab De and some Pakistani funders. They discovered that some of the cash raised for Khalsa Vaheer and Amritpan were being used for personal gain by Amritpal's relatives.
"Amritpal is active, as are his uncle Harjit Singh and brother Harpreet Singh. Before, treasurer Basant Singh Daulatpura was aware of Pakistani ties, and security agencies had established a money trail from Pakistan to Waris Punjab De. He keeps a big convoy of luxury vehicles without accounting for the expenditure and source of funds. "His Mercedes was given to him by a drug dealer named Ravel Singh," a Punjab police official stated.
According to sources, Amritpal exploited de-addiction centres he founded to raise a militia and stockpile illegally procured weaponry from Pakistan.
"Waris Punjab De associates attempt to instil a radical, aggressive style of thought in drug de-addiction centre convicts. If the convicts did not agree, they were pummelling until they began to toe the line, according to a central security institution official.
Officers from the intelligence agencies also informed the meeting that they were looking into another angle – an increase in the number of drones transporting drugs from over the border since Amritpal's arrival in Punjab.