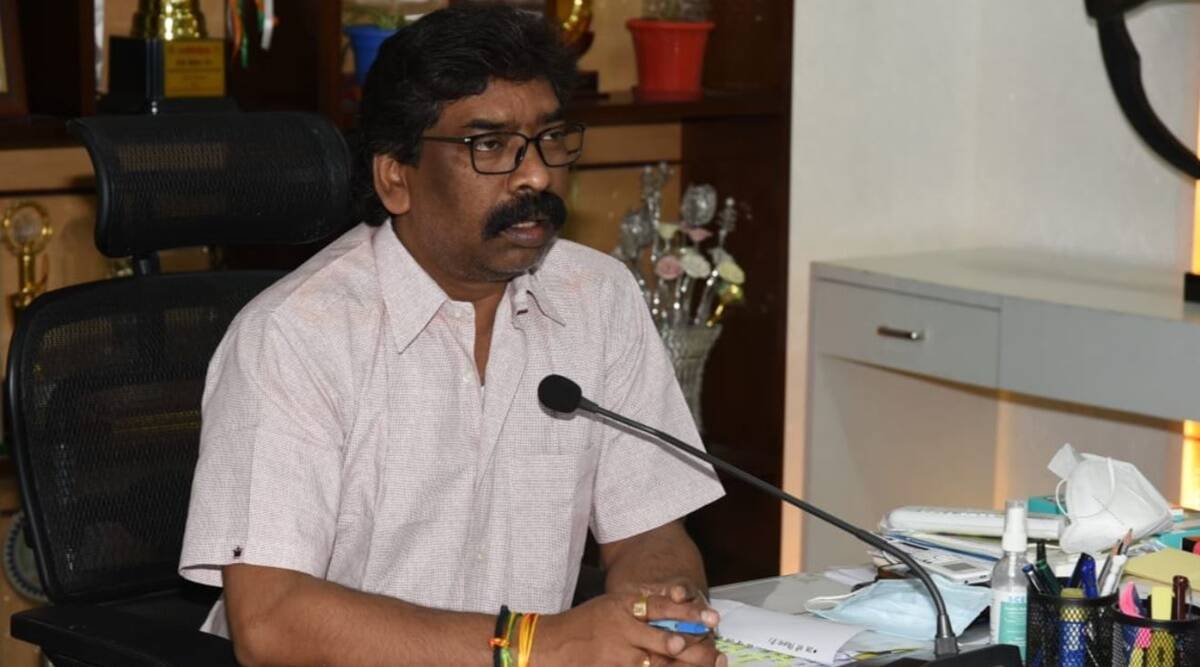 The Enforcement Directorate summoned Chief Minister Hemant Soren on Thursday regarding its investigation into alleged money laundering in cases of illegal mining in Jharkhand.
"The CM has been requested to appear before the Investigating Officer in Ranchi on Thursday for questioning. According to an ED official, "some facts have been revealed during our investigations against his aide Pankaj Mishra that need to be verified.".
Soren responded to the summons by saying, "I do not fear" the ED while inaugurating the second phase of the Sarkar Aapke Dwar delivery scheme in Sahibganj.
According to sources in the CMO, the Chief Minister is scheduled to attend an Adivasi Nritya Mahotsav in Raipur on Thursday.
In Sahibganj, Soren targeted the BJP and alleged a nexus: "The ED is investigating in Jharkhand at the request of the Opposition here. They have summoned me at their request. This is being presented to demonstrate that the ED is mighty, and that Sonia Gandhi and Rahul Gandhi are capable of being summoned, and a Chief Ministers. It does not matter; we will respond. It is over if they think they can tarnish my image before the public. A false impression has been created in their minds. They use constitutional bodies when they cannot take me on politically."
Also, he criticized Jharkhand Governor Ramesh Bais for his alleged comments regarding the "atom bomb" – the Election Commission has not yet made public a recommendation regarding action to be taken against Soren based on his apparent ownership of a mining lease. According to Bais, in an interview last month with Bharat 24-Vision of New India, an atom bomb could explode in Jharkhand at any time, and he had sought "a second opinion." Election Commission sources said they had no information about a second opinion being sought.
As Soren told the gathering, "our Governor has been sitting on the envelope containing the atom bomb.". Although he does not open the envelope, he speaks of the atomic bomb explosion. This is part of a nexus, and they are conspiring together. There will be a fitting response from the people of this state."
Pankaj Mishra, a close aide to Soren and his MLA representative in the Barhait Assembly constituency, was arrested by the ED in July this year. The prosecution filed a prosecution complaint (equivalent to a charge sheet) against him and two others.
The agency informed a special court in Ranchi in September that it had detected illegal mining in Sahibganj district and adjoining areas of Jharkhand, all controlled by Mishra.
In its prosecution complaint, the ED stated that Mishra had a fixed share in almost all mines and a fixed percentage in material transportation.
ED has named three suspects: Pankaj Mishra, his associate Bacchu Yadav, and Prem Prakash, all of whom are in judicial custody.
In its complaint, the ED stated that the accused were involved in activities relating to the "acquisition, possession, use, concealment, and projection of proceeds of crime as untainted".
Ravi Kejriwal, former treasurer of the Jharkhand Mukti Morcha, stated in the ED complaint that during a meeting once the "CM" instructed Mishra to "hand over" funds derived from stone and sand mining in the Santhal Parganas directly to Prem Prakash, who would then transfer the funds to a businessman.
JMM had stated at a press conference on July 17, two days before Mishra's arrest, that the ED was trying to "harm CM Soren's image". According to the party, the ED should disclose the names of Mishra's associates and the seizures made.
As part of its investigation, the ED has conducted 47 searches. In the Sahibganj district alone, Rs 5.34 crore was seized, and Rs 13.32 crore was frozen in a bank. There was also a seizure of an inland vessel MN-Infralink-III and five crushers.
The ED stated in its complaint that Mishra even attempted to influence the then Dumka Commissioner, Chandra Mohan Kashyap, not to investigate an inland vessel incident in which several trucks went down, resulting in death.
According to the prosecution complaint, Kashyap informed the ED that the report of the Sahibganj DC was unsatisfactory, and he had sought clarification. Still, Mishra called him one day and told him he owned the vessel and "indirectly insisted" that no further clarification be sought.
AN EXPLANATION
The divide deepens
In Jharkhand, the illegal mining scam, searches, seizures, and court proceedings have dominated headlines, deepening the political divide. As a result of the Governor's remarks in an interview, tensions have only been heightened between the JMM and BJP.
The ED searched Prem Prakash's premises, and two AK-47 assault rifles, 60 rounds of live ammunition, and "police clothing" were discovered.
The documents recovered from Mishra were "two signed checks and 31 blank checks belonging to Hemant Soren.".
In a statement on May 24, Anil Jha, an employee of Prem Prakash, said he "used to receive and deliver cash ranging from Rs 10 lakh to 5 crores for Prem Prakash from one location to another and would hand them over to him."
The ED has filed an ECIR in response to an FIR filed in Barharwa by one Sambhu Nandan Kumar on June 22, 2020, for participating in a tender process for the Barharwa toll.
During the tender process, Kumar claimed that Mishra had instructed him "not to participate" over the phone and that when he refused, he was attacked by a mob at the direction of Mishra.
An essential reason for ED's action was to gain control of six toll plazas on the route connecting the mining sites that fall under the Barharwa Nagar Panchayat.
Mishra and his accomplices would have gained control and dominance over the area if they had controlled these tolls… By tracking the number of vehicles and the number of mining proceeds carried out in those vehicles and collecting levies, the ED prosecution complaint stated that it would be easier to manage them.
Related Posts