India
The G20 presidency begins: India declares itself as the voice of the global south
As India assumes the G20 presidency on Thursday, External Affairs Minister S Jaishankar said New Delhi would seek to be recognised as the "voice of the Global South" and work to "depoliticise" the global food, fertiliser and medical supply chains.
In his address at 'G20 University Connect – Engaging Young Minds', an event organised to commemorate the G20 presidency, Jaishankar noted that India would also endeavour to make consensus on key global issues "more relevant" through a broader consultation process. The G20 presidency of India will be consultative, collaborative, and decisive, as it is the mother of democracy.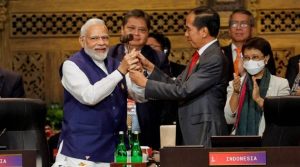 Jaishankar said, in response to a question, "Today, we live in a very polarised world." In Bali, even having everyone in the room was challenging. Therefore, a country such as India has a great deal of respect and trust and a middle ground that enables opposing parties to come together. In a polarised world, the value of countries in the middle, which can forge common ground and have multiple relationships, has grown. The Indian presidency's importance will be demonstrated because of our ability to have that trait.
According to him, although polarisation may occur elsewhere, the Global South is the most affected.
Specific issues need to be addressed… How do you maintain the sustainable development agenda? In what ways do countries deal with debt? What explains why climate change is not affected by the lack of additional resources? There are many issues today, and we intend to be a champion of the global south and find ways to resolve them, which is why many of the guests we have invited come from the global south," Jaishankar explained.
The government of India is positioning itself as the voice of developing and less developed countries worldwide. During last month's G20 summit in Bali, India articulated this theme.
Prime Minister Narendra Modi stated in a series of tweets that India would "work to promote oneness further" and listed terrorism, climate change, and pandemics as the most significant challenges society faces.
India intends to encourage sustainable lifestyles, depoliticise the global supply of food, fertilisers and medical products, among other things," Modi tweeted. We can no longer remain trapped in the same old zero-sum mindset that has led to scarcity and conflict… I believe that now is the best time to catalyse a fundamental mindset shift to benefit humanity as a whole," he stated on Twitter.
"The G20 represents a diverse group of countries that seeks to forge common ground on several critical issues. We intend to make that consensus more relevant through a more comprehensive consultation process, Jaishankar stated in his speech.
As a pluralistic and consultative society, we have long debated issues openly before deciding. The art of harmonising conflicting interests is deeply rooted in Indian culture and history. Because this is deeply ingrained in our DNA, we have never felt insecure in the face of diversity. Our essential unity provides the foundation for pluralism and a source of confidence for engaging the world. The G20 presidency of India will be consultative, as it is the mother of democracy. In addition to being collaborative, it will also be decisive," he stated.
In these challenging times, it is, therefore, imperative that world leaders focus on the correct issues during the G20 presidency. Specifically, those that impact the most vulnerable sections of the population," he stated.
This is also a time when the global south needs to be represented in such forums, as it is otherwise underrepresented. Asian, African, and Latin American nations trust India to speak on their behalf. Recently, we have been expressing their concerns regarding fuel, food, and fertilisers, and we are concerned that climate action and climate justice may be side-tracked by other more dominant issues," Jaishankar stated, adding that India must take the initiative to advocate for collective action.
According to him, today's global order does not adequately reflect the state of the world. A representative and democratic international order must bring about change not only in the United Nations but also in other international institutions that were created 75 years ago, he explained, adding that the institutions and practices of 75 years ago still dominate global decision-making.
According to Jaishankar, the G20 presidency is a "crucial responsibility" at an "inflection point in Indian history and a challenging time in world politics". A recent article by Modi published in several newspapers and on his website was also referenced by him on Thursday.
In my opinion, he has articulated eight key points that should be considered. For example, the most significant challenges can be overcome not by fighting each other but by cooperating. Two, technology allows us to address global problems on a worldwide scale. There are three reasons why we have created digital public goods that are increasingly perceived by the world as delivering revolutionary progress. The experiences of India can provide insights into possible solutions. In addition, the interests of the global south will determine the priorities of the G20. The sixth objective is to promote sustainable and environmentally friendly lifestyles based on environmental stewardship. As a seventh step, we intend to depoliticise the supply of food, fertilisers, and medical equipment globally. Lastly, we will promote an honest dialogue among the most powerful countries," said Jaitley, outlining India's approach to the G20 presidency.
"India has the prerogative of inviting guest nations as the host. "We have exercised this right about the UAE, Bangladesh, Mauritius, Egypt, Nigeria, Oman, Singapore, the Netherlands, and Spain," said Jaishankar.
The G20 Sherpa, Amitabh Kant, who also spoke at the event, stated that it was an individual responsibility. As he delivered the keynote address, P K Mishra, Principal Secretary to the Prime Minister, described the G20 presidency as a "watershed event".