India
The government considers rethinking the wheat export prohibition with PMGKAY off the table.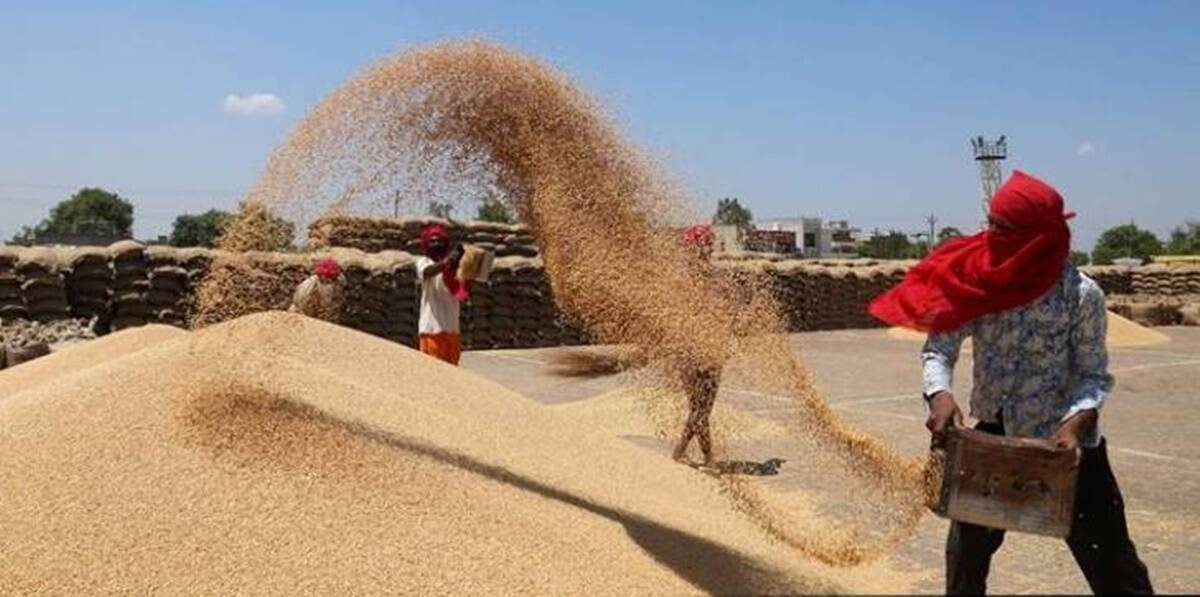 After the free foodgrains programme is terminated in December, the government is reportedly holding inter-ministerial consultations to evaluate the status of the inventories in the central pool as it considers easing the May 2022 wheat export embargo.
A senior official stated that the measures are being implemented in a measured manner, taking into account the market's supply of stocks and the mandatory distribution under the National Food Security Act (NFSA).
Given that supplementary allocation under the Pradhan Mantri Garib Kalyan Yojana (PMGKAY), which was started in April 2020 to ease Covid hardship, has now come to an end, a new element is that the overall distribution is now expected to be reduced in quantity after the announcement.
On December 23, the government declared that PMGKAY, a programme that provided an additional 5 kg of food per month to approximately 81.35 crore people over and beyond their NFSA allocation of 5 kg per person per month at a cost of Rs 2-3/kg, would be discontinued. The government decided to provide the 5 kg of food per person every month under the NFSA at no cost for a full year starting in January 2023.
"The idea is that food security is important…
We are extremely aware that food security and stockpiles need to be maintained, the official told The Indian Express. We were mindful of public consumption, so Covid distress initiatives could not have been discontinued abruptly. More food was donated for free distribution as a result. We are increasing our supplies, and once they are sufficient, we will review our decision to halt wheat exports, the official added.
Over the past six months, the central pool's wheat stocks have been decreasing by an average of 2 million tonnes per month. Food Corporation of India (FCI) figures show that as of December 1, wheat inventories were at a six-year low of 19.02 million tonnes. Stocks of wheat were estimated at 21 million tonnes in November. The previous November and December lows of 18.84 million tonne and 16.69 million tonne, respectively, were last observed six years ago in 2016.
8.3 million tonnes of foodgrains, including 6.5 million tonnes of rice and 1.8 million tonnes of wheat, were hoisted between October and December under the PMGKAY. The administration chose to provide more rice under the PMGKAY last year due to low wheat stock levels.
The Center had cut wheat allocation to various states/UTs in May 2022 on worries about low wheat procurement, and an increased allocation of roughly 5.5 million tonnes of rice was announced. To boost domestic availability, the government outlawed the export of broken non-basmati rice in September 2022.
The government is also thinking about open market sales to restrain the rise in wheat prices. "Free market operations are also being taken into consideration to control prices. Any further limitations would be subject on seasonal output and the agricultural cycle. In order to cope with food security, we must adjust our strategy. There won't be a problem if food grain production is strong, the official said.
By the end of March, the wheat crop for the marketing season of 2023–24 will begin to arrive in mandis. The wheat harvest was negatively impacted by extreme heat in March and April of last year, according to experts, so they are hoping for better weather this year.
"As of right now, it looks like wheat production will be higher than it was last year. 10.8 million tonnes + 3 million tonnes of strategic reserve make up the buffer stocking average for January. There were 19 million tonnes of wheat there in December. At this rate, until April, there would be about 11 million tonne of stock left after monthly stock depletion of 2 million tonnes. The government can then review its options for limits if this exceeds the buffer stocking norm of 7.5 million tonnes in April, according to Devendra Kumar Pant, Chief Economist at India Ratings.
To safeguard domestic supplies, the government forbade wheat exports in May 2022 and only permitted shipments that were approved on a case-by-case basis to address the food security needs of emerging nations.
Between April and October of last year, India exported 46.56 lakh tonnes of wheat for $1.5 billion, compared to 72.45 lakh tonnes worth $2.12 billion in 2021–22. According to government data dated December 23 of last year, wheat increased by 9.65 lakh hectares, from 302.61 to 312.26 lakh, out of the 25.99 lakh hectare rise in all rabi crops.