The IMD predicts that light to moderate rainfall and thunderstorms with gusty winds will strike northwest India, including areas of Punjab, Haryana, Delhi, Uttar Pradesh, and Rajasthan, from March 18-20. Temperatures are forecast to drop by 2-4 degrees Celsius during the next two days.
On Saturday morning, several regions of Delhi saw moderate rain, while the city's minimum temperature was 18.2 degrees Celsius. According to the India Meteorological Department, the following two days will be cloudy with light rain and thundershowers (IMD). The weather service has also issued a hailstorm warning for the national capital for the next hour.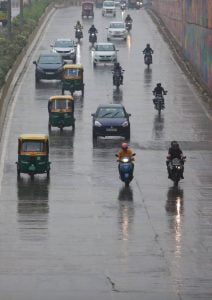 Over the next three days, the meteorological service predicts isolated hailstorms in Himachal Pradesh and Uttarakhand.
The western disturbance and an associated cyclonic circulation over southwest Rajasthan are expected to bring rain to most portions of northwest India that have been experiencing a rainfall deficit this month.
Storms originating in the Caspian or Mediterranean Seas that bring non-monsoonal rainfall to northwest India are known as western disturbances.
Temperatures dipped to 17 degrees Celsius as rain fell over Chandigarh on Saturday morning, and people were seen enjoying the cold weather near Sukhna lake.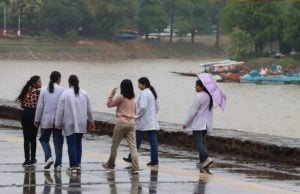 The weather service also forecasted isolated heavy rain in areas of Andhra Pradesh and Telangana from March 18-19, as well as light rain in north interior Tamil Nadu.
Meanwhile, between Wednesday and Thursday night, Mumbai and other parts of Maharashtra got light to moderate rains. This week's unseasonal rains and hailstorms killed five people and destroyed crops across almost 4,950 hectares in Maharashtra's Marathwada area.
The IMD predicts heavy rain in Arunachal Pradesh, Assam, and Meghalaya over the next two days and isolated hailstorms over Bihar and Odisha on Saturday.
Another western disturbance is expected to affect northwest India beginning March 19, followed by another beginning March 22.