India
International
The Indian government will host the G20 with inclusiveness and decisiveness: Narendra Modi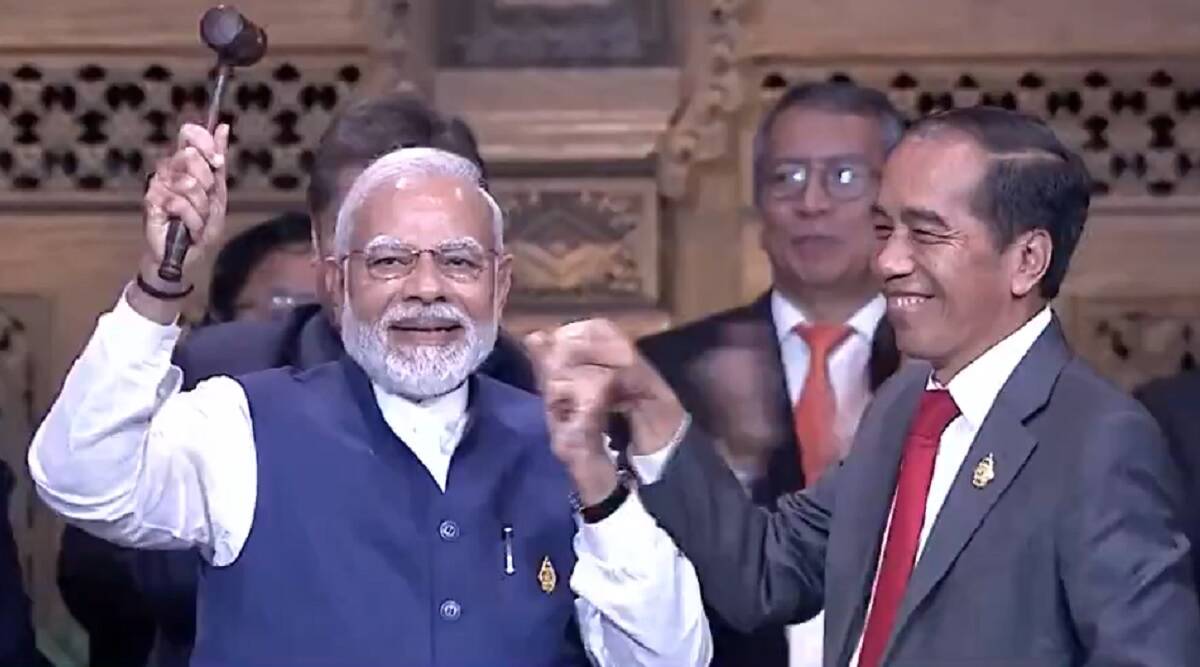 The world is still recovering from the devastating impact of the Covid-19 pandemic. It continues to face numerous challenges, including geopolitical tensions and a global slowdown amid rising food and energy prices. In his speech on Wednesday, Prime Minister Narendra Modi stated that India will hold the G-20 presidency with "inclusivity, ambition, decisiveness, and action."
As incoming G-20 President, Modi received the gavel from Indonesian President Joko Widodo. In his remarks, with just a fortnight remaining before India takes over the G-20 Presidency officially on December 1, he stated, "In the coming year, we will make sure that the G-20 acts as a global prime mover to envision new ideas and accelerate collective action."
President of Indonesia @jokowi hands over the G20 Presidency to India at the closing ceremony of the Bali Summit @g20org#G20BaliSummit #PMinIndonesia pic.twitter.com/wdbPtshX7s

— DD News (@DDNewslive) November 16, 2022
The Prime Minister highlighted the key issues and priorities of the day: "The sense of ownership over natural resources is creating conflict today and has become the primary cause of the environment's plight… The sense of trusteeship is the solution for the safety of our planet. In this regard, LiFE, or 'Lifestyle for the Environment, can play an important role. The organisation's objective is to make sustainable lifestyles a mainstream movement."
The benefits of development must be universal and inclusive today. The benefits of development should be extended to all human beings with compassion and solidarity," he stated.
Modi also raised concerns about global peace and security in light of the Russia-Ukraine war and China's aggressive behaviour in the Indo-Pacific region. The growth of the economy or the advancement of technology will not be possible without peace and security. In order to promote peace and harmony, the G-20 must convey a strong message.
In linking the priorities with the theme of India's G-20 Presidency, the Prime Minister said "All these priorities are fully embodied in the theme of India's G-20 Presidency – 'One Earth, One Family, One Future."
Women's participation in global development is essential, according to him. "We must maintain our focus on women-led development even within our G-20 agenda," said the Prime Minister.
Invoking pride among Indians about taking over the presidency of the G-20, Modi stated: "It is a proud occasion for every Indian to take over the presidency of the G-20. We will organise meetings of the G-20 in various cities and states of our country. We intend for our guests to experience India's incredible diversity, inclusive traditions, and cultural richness."
There will also be nine guest countries visiting India on September 9 and 10 next year, in addition to the G-20 leaders. "Together, we will make the G-20 a catalyst for global change," he said, expressing his wish that they would attend the G-20 meetings in the country that is the "mother of democracy."
As a result of these "difficult times", he complimented Indonesian President Widodo for his "efficient leadership" of the G-20. He added that the G-20 Presidency of India will strive to take forward Indonesia's commendable initiatives, adding it is an auspicious coincidence that India will take over the Presidency in this "holy island of Bali" that India has had a longstanding relationship.
His remarks during a session on "digital transformation" earlier in the day were summarised as follows: "Digital transformation is one of the most remarkable developments of our time.". When digital technologies are properly utilised, they can contribute significantly to the decades-long global effort to eradicate poverty. In addition to combating climate change, digital solutions can also assist in the fight against environmental degradation. This was demonstrated during Covid by examples of remote working and paperless green offices. In order to realise these benefits, however, digital access must be truly inclusive and digital technology must be widely used. Unfortunately, we have seen this powerful tool only through the lens of simple business, keeping it tied to profit and loss ledgers."
Using the example of India in the past few years, he stated that "it has demonstrated that if we make digital architecture inclusive, it can bring about socioeconomic transformation.". When used effectively, digital technologies can bring about speed and scale. It is possible to bring transparency into the governance process".
Related Posts