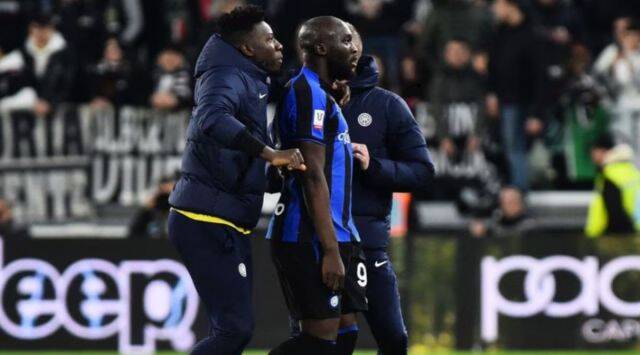 A portion of the stadium suspension imposed on Juventus for racist chants directed at Inter Milan forward Romelu Lukaku has been lifted.
Following an appeal of the sanction issued by the Serie A judge, the Italian soccer federation made the decision on Friday, meaning that Juventus will be permitted to have a full stadium for its April 23 home match against league-leading Napoli.
Under the original sanction, Juventus was required to shutter a portion of the Allianz Stadium's southern end.
Lukaku, who is Black, was subjected to racist chants during last week's first leg of the Italian Cup semifinals. This led to the suspension.
Lukaku was shown a second yellow card for taunting Juventus supporters by putting his finger to his lips as if to hush them after converting a stoppage-time penalty to earn Inter a 1-1 draw. Therefore, Lukaku was suspended for the April 26 second leg of the semifinals.
Lukaku's gesture infuriated the opposing side, and the game ended in a brawl between the two teams, with Juventus winger Juan Cuadrado and Inter goalkeeper Samir Handanovic also receiving red cards.
Cuadrado was suspended for three games, whereas Handanovic was suspended for just one. Each participant has been penalised 10,000 euros (approximately $11,000).
The federation decided to lift the partial stadium suspension after analysing how Juventus collaborated with authorities to identify the racist fans. One fan, who was a minor, was prohibited from attending Juventus games for ten years, while another fan was banned for life.
Throughout his two spells with Inter, Lukaku has frequently been subjected to racist chants.