India
The Pathaan song row has now been followed by the controversy surrounding Smriti Irani's "Miss India" video.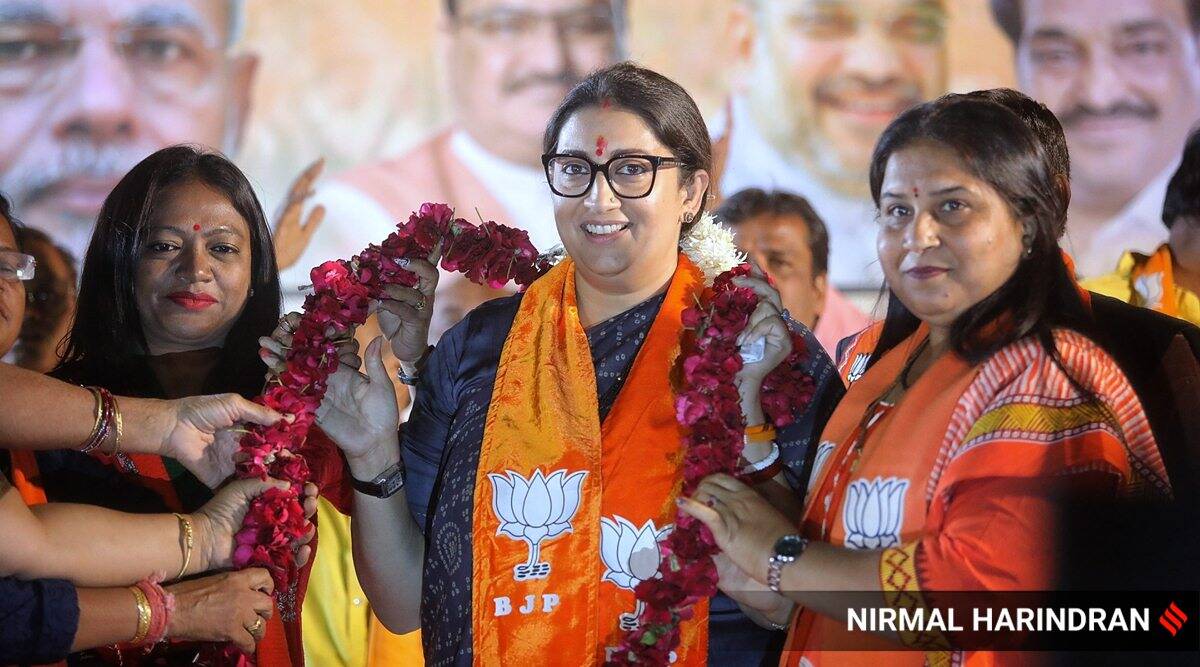 It has been revealed that a 1998 video of Union Minister Smriti Irani at the Miss India contest has been the focus of a Twitter battle between leaders of the Trinamool Congress (TMC) and Bharatiya Janata Party (BJP), even as the controversy surrounding the music video of 'Besharam Rang', a song from the upcoming film Pathaan starring Shah Rukh Khan and Deepika Padukone continues.
Following a tweet from Amit Malviya, the head of the BJP's IT Cell in West Bengal, TMC national spokesperson Riju Dutta posted a video of Irani from the swimsuit round.
At the Kolkata Film Festival, Mamata Banerjee asked Arijit Singh to sing one of his favourites and he chose रंग दे तू मोहे गेरुआ…

It was an evening of realisations. From Mr Bachchan to Arijit, who reminded Mamata Banerjee, in her backyard, that the future of Bengal is saffron… pic.twitter.com/57n2RztC8B

— Amit Malviya (@amitmalviya) December 16, 2022
Consequently, Locket Chatterjee, BJP MP from Hooghly, referred to Dutta as a "misogynist". "Men like him play a significant role in the rise of crime against women," she said, adding that they are resentful of successful women and their rise.
Shame on Mamata Banerjee for appointing such misogynist men as TMC's national spokesperson. He has no respect for women and the choices they make in life. They resent successful women and their rise. Men like him are responsible for rising crime against women. https://t.co/56WntLxKgb

— Locket Chatterjee (@me_locket) December 16, 2022
As a result, Dutta accused Chatterjee of hypocrisy, claiming that the BJP has different standards for certain women and others.
Oh! Plz have a Life Madam…First, Stop acting like Saffron is your Party's Paternal Property. Second, when other women like Deepika Padukone wears saffron the u lot have tremors but when Smriti Irani does, u lot have partial blindness. Hypocrites!!

— 𝐑𝐢𝐣𝐮 𝐃𝐮𝐭𝐭𝐚 (@DrRijuDutta_TMC) December 16, 2022
According to him, the BJP has called rapists "sanskari brahmins" since convicts in the Bilkis Bano case have been released.
I condemn it. They've no respect for women despite their CM being a woman. It's unfortunate how they're using old videos of women who're successfully doing their job& doing politics. Distasteful!: BJP MP Locket Chatterjee on TMC's Riju Dutta's tweet on Union Minister Smriti Irani pic.twitter.com/8mxhsyPJZu

— ANI (@ANI) December 16, 2022
In a subsequent interview with news agency ANI, Chatterjee stated that TMC "has no respect for women, even though its chief minister is female". In addition, she deemed the use of old videos of successful women to be "unfortunate" and "distasteful."
TMC has no problem with what Smriti Irani chooses to wear, it's her right. But we oppose BJP's moral policing and selective outrage against certain people. I have just shown the mirror to them: Riju Dutta, TMC spokesperson, on his tweet on Union Minister Smriti Irani pic.twitter.com/JY6xEIHVuv

— ANI (@ANI) December 16, 2022
In response to ANI, Dutta stated that TMC did not object to Irani's choice of clothing, stating that it was her right to do so. According to him, the party opposes the moral policing and selective outrage directed at certain people by the BJP, adding that he had shown them the mirror.
There has been a row over Deepika Padukone's 'Besharam Rang' song since Wednesday, when Madhya Pradesh home minister Narottam Mishra warned that Pathaan might not be allowed to be released if the visuals are not "corrected".
"I find the outfits that are worn in the song to be objectionable. This song was clearly filmed by polluted minds. Nevertheless, Deepika Padukone is known for her support of the tukde-tukde gang when she attended the JNU protests. For that reason, I would like to request that the visuals of the song be corrected, as well as the costumes be corrected, otherwise it will be a question of whether the film should be permitted to be released in MP or not."
As a result of Mishra's comments, prominent film personalities, including Baahubali producer Shobu Yarlagadda and veteran actor Prakash Raj, expressed displeasure with the remarks. Yarlagadda stated, "We are hitting rock bottom now!" While tweeting a post with the minister's statement, Raj criticized the "andh bhakts" who are colorblind.
At the inauguration ceremony of the 28th Kolkata International Film Festival on Thursday, Shah Rukh Khan spoke about the "narrowness" of social media.
With the advent of social media platforms and the ability to articulate through cinema, human emotions and experiences have now become the most prominent form of expression. According to Khan, social media has shaped our collective narrative, and contrary to the belief that social media will negatively impact cinema, I believe cinema has a greater role to play than ever before."