India
There is no such thing as Nehru's India of 1962, it is Modi's India of today: BJP on Rahul's remarks regarding China's threat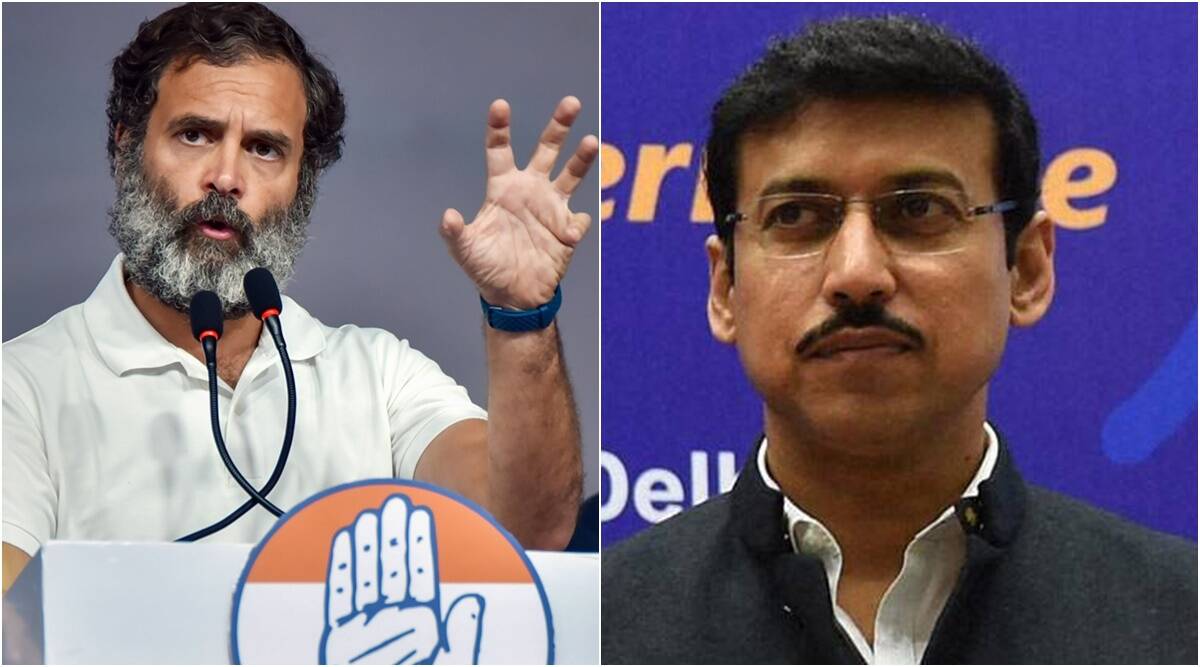 The Bharatiya Janata Party (BJP) responded to Congress leader Rahul Gandhi's remarks that India is ignoring the threat of war from China on Friday by saying he is trying to spread confusion and demoralize soldiers and that it is not the same India as Jawaharlal Nehru in 1962.
It is Modi's India, it is the new India. As a result, anyone who objects to the country now receives a befitting response," said BJP spokesperson Rajyavardhan Singh Rathore.
The Indian government is sleeping over China's preparation for war and trying to ignore the threat, Gandhi alleged to the press on the sidelines of his Bharat Jodo Yatra earlier in the day.
Expert View |Resolving LAC dispute with China needs an honest reassessment
According to Rathore, Rahul Gandhi believes that China should be close to the United States. As a result of his close proximity with China, he is aware of what China will do."
The purpose of Rahul Gandhi's yatra is to spread confusion ('bhram') throughout the country and demoralize Indian soldiers. It is not the India of his great grandfather Nehru, who lost 37,242 square kilometers to China while sleeping," he said at a press conference here, referring to the 1962 Indian-Chinese war.
According to him, Gandhi should refrain from making irresponsible remarks about national security if he wishes to "relaunch" his political career.
After Rahul Gandhi's great grandfather lost land to China, Rathore stated, "Now he feels there should be proximity with China and he has developed such close ties with China that he knows what China will do." The Rajiv Gandhi Foundation, founded by Sonia Gandhi, was alleged to be on the payroll of the Communist Party of China, as Rathore stated. The Congress Party and the Communist Party of China signed an agreement. Former Union minister Rathore alleged that there were many Chinese transgressions during the UPA administration of the Congress party.
उधर चीन युद्ध की तैयारी कर रहा है, इधर भाजपा सरकार 'इवेंट मैनेजमेंट' में लगी है।

देश से सच्चाई छुपाने की कोशिश करने से बेहतर होगा चीन को भारत की शक्ति दिखाइए, प्रधानमंत्री जी। pic.twitter.com/V2bdrRs9rp

— Rahul Gandhi (@RahulGandhi) December 16, 2022
Since the Narendra Modi government took office in 2014, spending on border infrastructure has increased three times. He added that the country is now firmly guarding its borders and territory.
It was earlier in the day when Gandhi stated, "I can clearly see the threat posed by China.". I have been clear on this issue for the past two to three years, but the government has attempted to hide and ignore it. The threat cannot be hidden or ignored. The Indian government appears to be asleep, based on their offensive preparations in Arunachal Pradesh and Ladakh.
"The government does not wish to hear this, but preparations are underway (in China). Preparations are being made for war. There is no intention of incursion, but rather of war. Based on their weapon pattern and what they are doing, they appear to be preparing for war. According to the former Congress chief, our government conceals this information and is unable to accept it.
As a result of the Narendra Modi government's event-based approach and lack of strategic planning, this is occurring.