India
There should be no single focus on a particular fuel source: India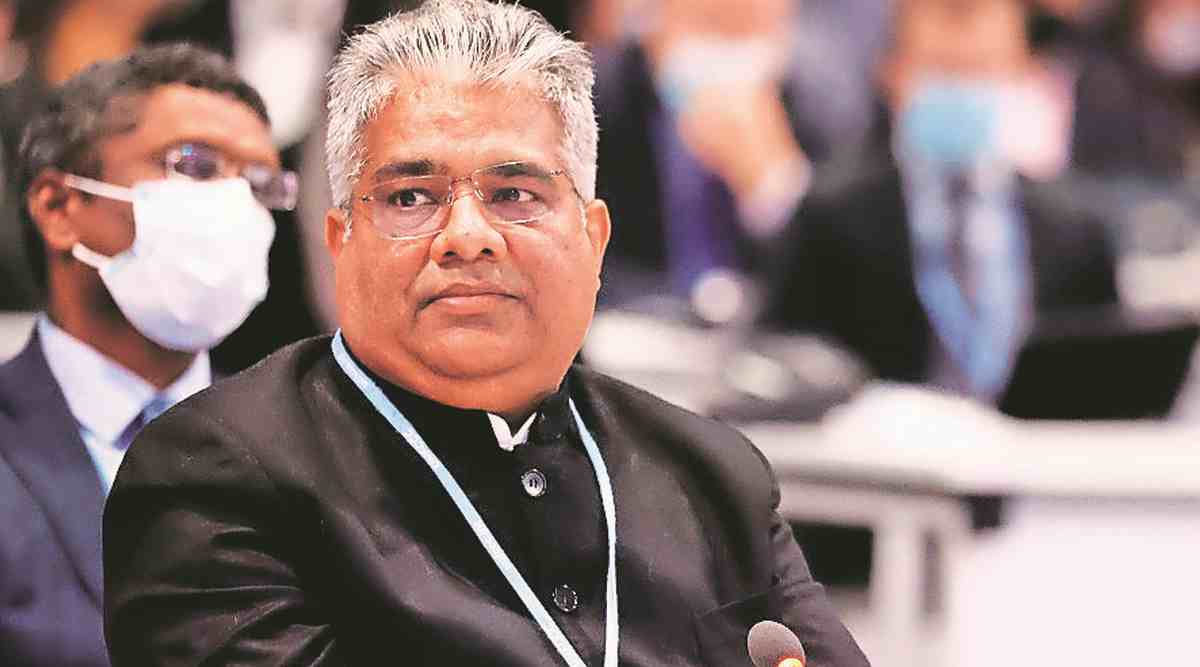 Environment Minister Bhupender Yadav has said that no sector or fuel source should be singled out for action in the fight against climate change.
On Saturday, India proposed that the talks end with a decision to phase out all fossil fuels, a proposal that received support from the European Union on Tuesday.
At the BASIC (Brazil, South Africa, India and China) ministerial meeting held on Tuesday, Yadav stated, "No sector, no fuel source, and no gas can be singled out for action.".
The Paris Agreement provides for countries to take action according to their national circumstances in accordance with the spirit of the Agreement.
According to the minister, developing countries should receive their fair share of the carbon budget, and this can be accomplished by "monetising the carbon debt of developed countries".
Additionally, India clarified that just transition could not mean decarbonisation for all countries.
Earlier this week, the US, Japan, and other countries pledged USD 20 billion to assist Indonesia, the world's fifth-largest emitter of greenhouse gases, in its efforts to switch from coal to renewable energy.
At the Group of 20 leaders summit in Bali, Indonesia, the Just Energy Transition Partnership was unveiled.
"In India, a just transition means transitioning to a low-carbon development strategy while ensuring food and energy security, growth and employment, while leaving no one behind," Yadav said.
"Our view is that any partnership with developed countries must take these considerations into account," the minister said.
EU Vice President Frans Timmermans has stated that the EU will support India's proposal to phase out all fossil fuels "in addition to what we have already agreed in Glasgow."
Moreover, he stated that "it should not cause a distraction from our efforts to phase out coal as we agreed last year".
According to the Sixth Assessment Report of the Intergovernmental Panel on Climate Change, Indian negotiators told the Egyptian presidency of COP27 that meeting the long-term goal of the Paris Agreement would require phasing out fossil fuels.
According to the Indian side, "selective labelling of sources of emissions, whether to make them appear more harmful or to call them green and sustainable even when they are greenhouse gas sources, is not supported by the best available science.".
India had urged "acceleration of the global clean energy transition, in accordance with national circumstances," as it acknowledged "all fossil fuels contribute to greenhouse gas emissions".
In spite of India's massive expansion of the renewable energy sector, developed countries have consistently urged the country to reduce its reliance on coal-fired electricity. In the country, coal accounts for approximately 50 percent of the installed capacity of power generation.
India, on the other hand, has indicated that coal will remain a major source of power generation for some time to come.
As Yadav stated during the presentation of India's long-term low-emission development strategy on Monday, the energy security of developing countries cannot be ignored in the name of urgent mitigation, while developed nations prioritize their energy security over their obligation to increase their ambition to mitigate through practical action.
Yadav commented at the BRICS meeting that India is making determined efforts that extend well beyond its share of responsibility.
"In undertaking climate action, India wishes to reiterate its position on two key points. Firstly, there is the issue of equity and climate justice. In its view, all countries are entitled to their fair share of the global carbon budget and must limit their cumulative emissions within this budget.
As developed countries reach net zero much sooner than their current target dates, physical access to the remaining carbon budget must be provided. In addition, a fair share of the total budget must be provided," said Yadav.
A significant amount of negative emissions could be achieved by monetising the carbon debt of the developed countries, according to him.
According to the Paris Agreement, the carbon budget refers to the amount of carbon dioxide humans can emit while still containing global warming within 1.5 degrees Celsius.
According to the Global Carbon Project, a group of scientists who track emissions and publish in peer-reviewed journals, 380 billion tonnes of CO2 (GtCO2) are still possible to emit with a 50% chance of keeping global warming below 1.5 degrees Celsius.
In nine years, the budget will be exhausted if current emissions levels are maintained.
Carbon Brief reports that countries have pumped more than 2,500 billion tonnes of CO2 into the atmosphere since 1850. Since 1850, the US has released more than 509 Gt of CO2 into the atmosphere and represents the majority of historical emissions (20 percent), followed by China (11 percent), Russia (7 percent), Brazil (5 percent) and Indonesia (4 percent).
Historically, India has contributed only 3.4 percent of cumulative CO2 emissions.
Related Posts