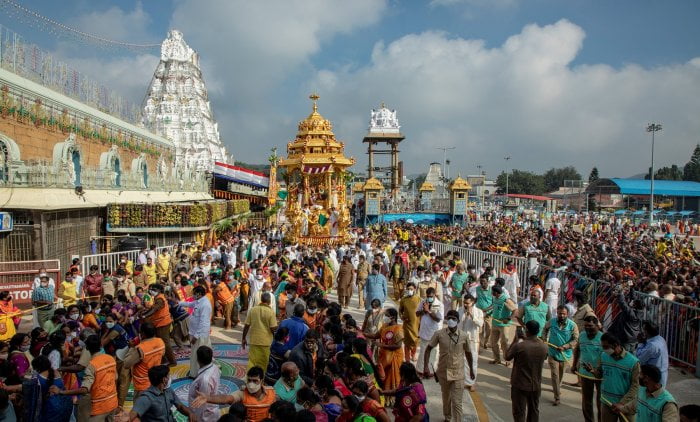 Tirupati, the temple city, is celebrating its 893rd birthday today. The date is noted by historical allusions to its establishment on this date in 1130 AD. Sri Vaishnavite saint Bhagawad Ramanujacharya laid the foundation for the Govindaraja Swamy temple, which is today located in the city's core, 893 years ago.
As a result, the city converted it into a spiritual centre. Last year, municipal legislator Bhumana Karunakar Reddy displayed ancient inscriptions uncovered within the TTD-run Govindaraja temple, proving that Ramanujacharya laid the foundation stone for the city on February 24, 1130.
"Tirupati was built on Phalguna Pournami of Soumya Nama year, Uttara Nakshatra Somavaram, when Ramanuja installed the presiding deity of Govindaraja, performed Nithya Kainkaryams, and began constructing four mada lanes with Agraharas. Numerous towns developed up around the temple, eventually becoming Tirupati, which is now an iconic centre of Hindu worship in India and home to one of the richest shrines in the world," Bhumana Karunakar Reddy explained.
There was no Tirupati before to Ramanuja's arrival, he claimed, adding that there were several venues for festivals, but no other city had an exact date of establishment.
"Bhagavad Ramanuja, who created Samata Dharma and formulated Puja Kainkaryams at Tirumala temple, was the inventor of Tirupati city, and so it was venerated as Ramanuja Puram for a long time. "The town was first known as Govindaraja Pattanam, then Ramanuja Puram, and finally Tirupati from the early 13th century," said Bhumana Karunakar Reddy.
The municipal corporation of Tirupati plans to execute ceremonies for Sri Ramanujacharya's deity at the shrine located within the Govindaraja swamy temple premises, which will be followed by a colourful parade and a series of festivities and cultural programmes to commemorate the anniversary.