India
International
Trade between India and Russia soars to record highs due to imports of oil and fertiliser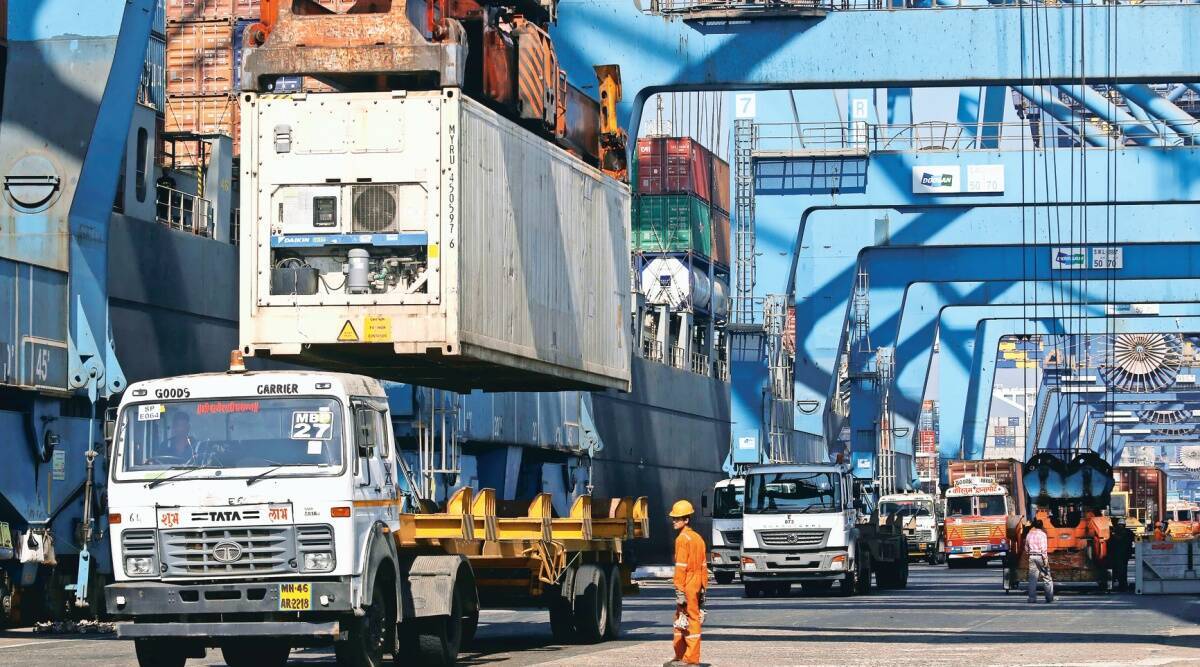 According to the latest data from the Department of Commerce, India's bilateral trade with Russia has soared to $18,229.03 million in just five months (April-August) of this financial year (2022-23) because of an increase in oil and fertiliser imports.
The total bilateral trade between the two countries in 2021-22 was $13,124.68 million, and in 2020-21 it was $8,141.26 million. In the period prior to Covid, it was $10,110.68 million in 2019-20, $8,229.91 million in 2018-19, and $10,686.85 million in 2017-18.
Due to the sharp increase in trade, Russia has now surpassed its 25th position as India's seventh-largest trading partner.In the first five months of 2022-23, the US ($57,632.37 million), China ($50,792.83 million), UAE ($36,820.33 million), Saudi Arabia ($23,995 million), Iraq ($18,822.27 million) and Indonesia ($18,816.58 million) recorded the highest trade volumes with India.
During April-August, India's bilateral trade was worth $18,229.03 million, with $17,236.29 million in imports from Russia and $992.73 million in exports to Moscow, resulting in a negative trade balance of $16,243.56 million.
The value of India's exports to Russia in 2021-22 was $3,254.68 million, while its imports from Moscow were $9,869.99 million.
There have only been two occasions when bilateral trade between the two countries has exceeded $10 billion – in 2017-18 ($10,686.85 million) and 2019-20 ($10,110.68 million).
The data analysis shows that Russia's share of India's total trade has increased to 3.54%, up from 1.27% in 2021-22. Despite Russia's 2.1% share of India's entire business in 1997-98, it has remained below 2% for the past 25 years.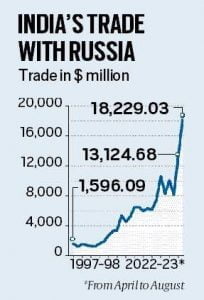 There has been a sudden rise in imports from Moscow, which began earlier this year, which has contributed to the record level of bilateral trade between India and Russia. Compared to the same months of the previous year, there was an increase of over 500% in three months – 561.1% in June, 577.63% in July, and 642.68% in August.
During April-August this year, 84% of Indian imports from Russia were petroleum oil and other fuel items (mineral fuels, mineral oils and products of distillation; bituminous substances; mineral waxes), which totaled $14,476.52 million, compared to $1,593.58 million last year.
Second was fertilizers, with imports from Russia increasing by 666.24% to $1,236.96 million in April-August this year, compared with $161.43 million in the same period last year. Over 91% of Russia's total imports in this year are fertilizers and fuel.
The two main items shipped to Moscow were pharmaceutical products ($176.51 million) and organic chemicals ($117.29 million).
From 1997-98 (the most recent year for which comparable data is available) to 2002-03, India had a positive trade balance with Russia. However, New Delhi's trade balance with Moscow has remained negative since 2003-04.
Russia was India's 16th largest trading partner in 1997-98, with trade with 224 countries and regions. As a result, Russia's ranking gradually decreased, falling to 34th in 2013-14. In 2017-18, it was India's 23rd largest trading partner. In the following years, the country remained between 25th and 30th positions before climbing to seventh position in 2022-23.