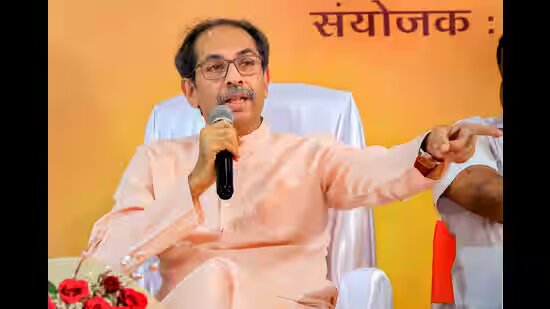 Shiv Sena (UBT) leader Uddhav Thackeray warned all political parties on Sunday to "open their eyes" after the Election Commission of India (ECI) gave the Shiv Sena party name and its bow-and-arrow election symbol to the group led by Maharashtra chief minister Eknath Shinde.
"What happened to Shiv Sena and how we were treated can also happen to you. "Everyone should keep their eyes open and be careful," Thackeray said during his second meeting in a week with people from the north Indian community in Andheri.
Two days earlier, the poll panel had dealt a big blow to Thackeray by saying that the group led by Shinde was the real Shiv Sena. The party was started in 1966 by the late father of Uddhav Thackeray, Balasaheb Thackeray.
"You want to see the face of my father, but not his son. I was all set to go with them. What should I do if you leave me when I want to keep a promise I made to my father?" Thackeray said this to attack the Bharatiya Janata Party (BJP) for forcing him to break their alliance after the 2019 assembly elections.
He said, "I never wanted to be chief minister, but the Congress and NCP (Nationalist Congress Party) asked me to take over because a government couldn't be made without me." "Had BJP kept the promise it made, both Shiv Sena and BJP would have had their chief ministers for two and a half years each."
He also said, "I quit the BJP, not Hindutva. I don't agree with Hindutva, which is BJP's way of dividing people. By bringing up things like "hijab" and cow slaughter during elections, the BJP is misleading Hindus who are now more aware.
He also said, "Why should Hindus make "akrosh" when a strong leader is running the country?" in reference to a recent Hindu Akrosh Morcha in Mumbai.
The leader of the Shiv Sena (UBT) also made fun of Prime Minister Narendra Modi and Union home minister Amit Shah. He said that PM Modi's "wolves" were the central agencies like the Enforcement Directorate (ED) and the Central Bureau of Investigation (CBI).
Thackeray was talking about Modi's recent speech in Parliament where he said that he alone had defeated all the opposition. He said, "He sends his wolves like ED and CBI against the opponents and then says he fights alone."
Thackeray also went after Shah, who had said, "Bring out the absolute truth" (doodh ka doodh aur pani ka pani ho gaya) about the ECI's order giving the Shiv Sena party name and symbol to Shinde-led faction. "Mogambo khush hua" on the Election Commission's order, he joked, comparing Shah to the bad guy "Mogambo" from the Bollywood movie Mr. India.
"Like Mogambo, who wanted to rule the country by dividing people, Shah and his party are using the divide-and-rule policy in India," said Thackeray.
In his speech to the north Indians, he admitted there was a lack of communication between his party and people from the north, but he promised it wouldn't happen again. "Let's work together in the upcoming elections, putting aside differences in region, language, and religion. I need your help to save Mumbai from the BJP, which wants to put the city into debt so that Mumbai will have to depend on the Centre for money.
When asked about Thackeray's comments about Shah and central agencies, Mumbai BJP leader Ashish Shelar said he didn't want to talk about the former chief minister.
"There's no need to talk about Thackeray, but before he speaks, he should think about how many people are still with him. "Otherwise, it will burst like the frog that tried to compete with the bull," said Shelar.