India
Ukraine artist showcases work at Kochi-Muziris Biennale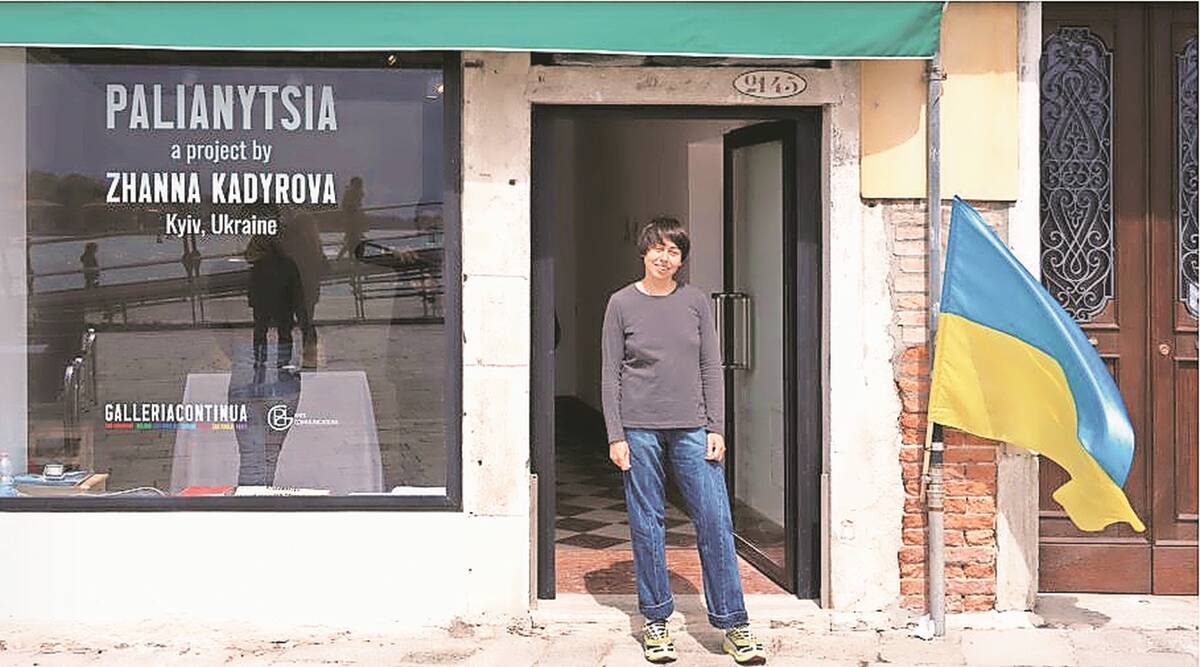 During the days leading up to February 24, 2022, when Russia attacked Ukraine, artist Zhanna Kadyrova vividly remembers. Like many Ukrainians, she had just returned from Berlin and was planning a month-long residency in France from February 27 when she had to evacuate her family. "We heard Russia could attack at any time, but how can one prepare for such a thing? "We were in Kyiv for eight days after the war started; we couldn't believe it had started," she says.
"After nine days, we decided to leave the city and rented a car. Denys (Ruban), my mom, sister, aunt, friend, two dogs and two cats, and our laptops and documents, drove towards the Romanian border with no other belongings. It took us two and a half days to drive a few hours because there were tanks on the main highways, and we had to take alternative routes with a lot of traffic and checkpoints," says the 41-year-old.
Her family made it safely to Germany, but Kadyrova and Ruban stayed behind to help with the war. Though she admits that during the initial weeks, she felt that "art was powerless compared to the weapons that destroyed cities and human lives", she turned to it later to raise money to buy supplies for her friends and colleagues, some of whom are still fighting in east Ukraine.
Palianytsia, the Ukrainian word for bread, travelled worldwide and is coming to India for the Kochi-Muziris Biennale starting December 12. It's been shown in Venice, Bucharest, Berlin, Echigo-Tsumari Art Triennial (Japan), Stavanger, Paris, Batumi, Tbilisi, Warsaw, Dusseldorf, Essen, New York, Vienna, Kaulnasi, Bangkok and Tel Aviv.
With neatly sliced "loaves" of stone rounded by rivers near the Carpathian mountains, where she was sheltering from conflict, "Palianytsia" is also symbolic. "It distinguishes between friends and enemies since Russians can't pronounce it," Kadyrova says.
As Kadyrova plans to arrive a week before the Biennale opening, the works will be displayed alongside a graphic series she'll make in Kochi. The event will also feature a short film by Ivan Sautkin. Kadyrova and her colleagues lived in Palianytsia for three months while they worked on the movie.
Then we found a house in Berezovo village, just 40 km from the Hungary border, where we stayed temporarily in private homes. My exhibitions were just across the wall so that I could travel from here. Also, the village didn't have any strategic sites like airfields, military bases, or weapons depots, so we felt safe. Slowly, we got power, internet and water, and we also started making art again," says Kadyrova, who graduated from Taras Shevchenko State Art School, Kiev, with a sculpture degree.
She's represented Ukraine at three Venice Biennales (2013, 2015, 2019), and this year she sold loaves from "Palianytsia." They were priced at one euro per gram, like real bread. The money was used to buy bulletproof waistcoats, petrol, food, and medicine and disseminated through volunteer organizations.
She returned to Kyiv in June.