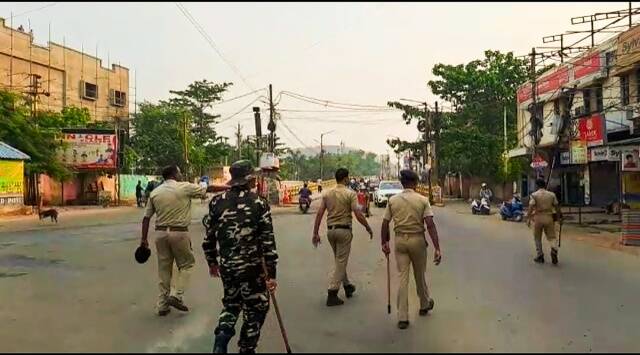 On Tuesday, a high-level BJP delegation consisting of Union Minister Bisheswar Tudu and a number of party MPs and MLAs was detained after being prevented from accessing the city of violence-stricken Sambalpur.
The squad members were denied permission to proceed past Sripura Chhak on the Jharsuguda-Sambalpur road. Later, they were detained at a nearby Thelkoli police station.
Tapan Kumar Mohanty, additional superintendent of police in Sambalpur, stated, "The BJP delegation was denied permission to enter the city for violating section 144 of the Criminal Procedure Code.
When the curfew is in effect, they cannot enter the city." The delegation included Union State Minister for Jal Shakti and Tribal Affairs Bisheswar Tudu, MPs Jual Oram (Sundergarh) and Suresh Pujari (Bargarh), MLAs Nauri Nayak, Shankar Oram and Kusum Tete, state BJP president Manmohan Samal, and Sameer Mohanty.
"I vehemently condemn the Odisha government for preventing the visit of a Union Minister to Sambalpur, where a tribal youth was killed in the violence. As the minister of tribal affairs and a tribal member myself, it is my responsibility to meet the family members of the deceased tribal youth.
However, the police halted me halfway," Tudu told reporters at Sripura Chhak, where the police intercepted the team.
Tudu said he would bring the matter to the attention of the Central government and added, "It is unfortunate that the district administration of Sambalpur prevented my companions and me from entering the city.
They (administration) were informed beforehand about our visit." Jual Oram, a representative from Sundergarh, stated, "It is regrettable that the police halted the delegation of BJP representatives and legislators. We have been denied access to the city, whereas the rioters are allowed to move about."
The Bargarh representative Suresh Pujari criticised the state government as well. "They prohibited us for fear of exposing police inefficiency. During the violence, the police neglected to apprehend the killers of tribal youth.
The district collector of Sambalpur has exceeded her authority." Previously, Pujari claimed that he was not permitted to leave his Sakhipada residence. Pujari stated, "I'll bring this up in the House".
The president of the BJP's Odisha unit, Manmohan Samal, also a delegation member, asserted that "the chief minister is afraid of the BJP leaders because they might expose his incompetence in dealing with the widespread violence in Sambalpur."
Related Posts