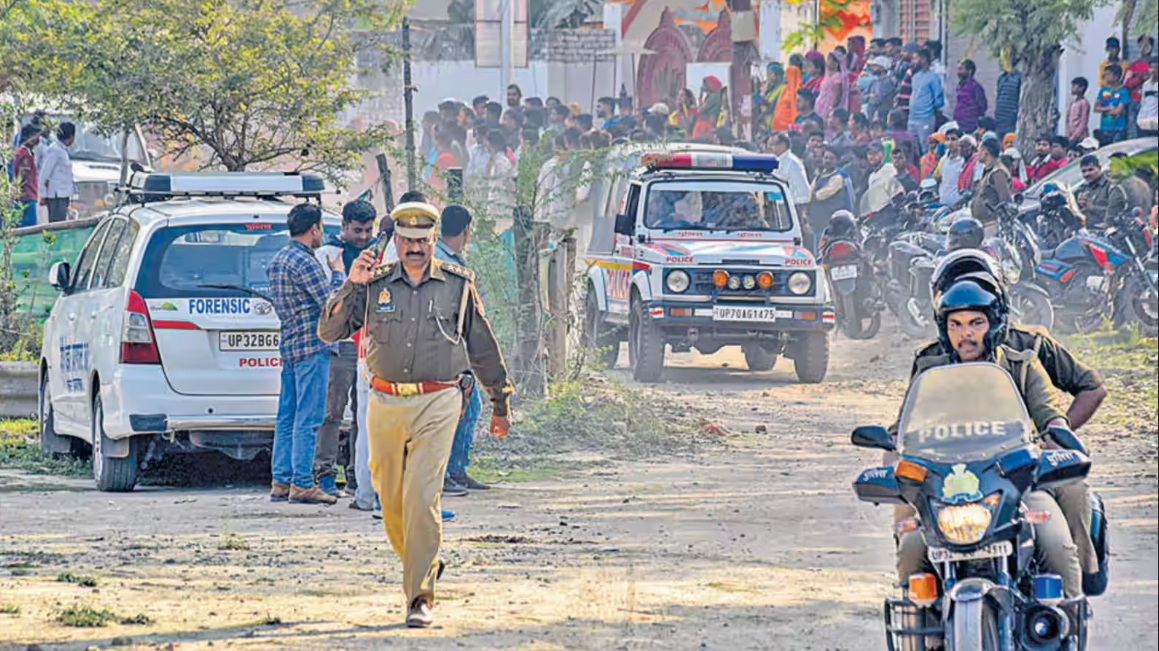 In a controversial encounter on Monday, Uttar Pradesh police shot and killed a 24-year-old man who was wanted for his alleged role in killing Umesh Pal, the main witness in the shocking 2005 murder of a sitting lawmaker. The man was wanted for his alleged role in killing Umesh Pal.
Mohammed Arbaaz was riding a motorcycle near Prayagraj's Nehru Park when police surrounded him and told him to give up. "But he shot at the police, so they shot back and killed him," said Ramit Sharma, the chief of police in Prayagraj.
But the death caused a lot of trouble. The Samajwadi Party questioned the Bharatiya Janata Party's "big claims" that they had gotten rid of all the criminals in Uttar Pradesh. In response, the party in power said that "mafia" had no place in the state.
Umesh Pal and his police guard Sandeep Nishad were shot and killed outside of Umesh Pal's home in Prayagraj 72 hours before the meeting. The other police officer is in very bad shape. Umesh was the most important witness in the 2005 murder of Bahujan Samaj Party lawmaker Raju Pal. The most important suspects in the case were former MP Atiq and his younger brother Khalid Azeem, also known as Ashraf.
Earlier, police put out a reward of 50,000 for information about Arbaaz, who they say was driving the car used to kill Umesh and played a key role in helping the killers get away after the crime.
"Arbaaz was one of the people who shot at Umesh Pal and his police gunners," said Prashant Kumar, the additional director general of police for law and order.
Monday afternoon, the police got a tip and surrounded Nehru Park, near the Dhumanganj police station, said Ramit Sharma, the police commissioner of Prayagraj.
"The suspect on a motorcycle shot at the police when they asked him to give himself up…
In return fire, the suspect was hit with bullets and caught," he said.
He said Rajesh Kumar Maurya, who works at the Dhumanganj police station, got hurt in his arm.
Sharma said that Arbaaz was pronounced dead when he got to the SRN hospital. A group of police officers found a.32-caliber automatic pistol at the scene, along with four live and six empty bullets. A motorcycle that didn't have an ID plate was also taken away.
A police officer said that Arbaaz was shot at least twice, which is what killed him.
On February 24, armed people opened fire on Umesh and his two police gunners outside of his home in Prayagraj. Based on a complaint by Umesh's wife, Jaya Pal, a first information report was filed against 27 people, including former MP and former gangster-turned-politician Atiq Ahmad, his wife Shaista Parveen and their two sons, Atiq's younger brother Khalid Azeem, also known as Ashraf, and others. Police said they were charged under the Indian Penal Code's sections 147 (rioting), 148 (rioting with a deadly weapon), 149 (illegal assembly), 302 (murder), 307 (attempt to murder), 506 (criminal intimidation), and 120B (criminal conspiracy), as well as the Explosive Substances Act and the Criminal Law Amendment Act.
This is not the first time that a police encounter in UP has caused a big deal. In July 2020, gangster Vikas Dubey was shot and killed by state police during what they said was a failed attempt to get away. But the way Dubey's car flipped over and the two men met led some people to say that the whole thing was faked. A judge's panel later gave the government a clean bill of health.
Rajendra Chaudhary, the national secretary of the Samajwadi Party, said, "This kind of meeting doesn't work. What has the government been doing for the past six years. It was saying that criminals had left the state, which was false. If they all ran away, how are dangerous crimes like those in Prayagraj still happening? Criminals got the government while it was sleeping (in Prayagraj). Now, people in this government are thumping their chests and praising the fight while people in the state live in fear.
In response, BJP lawmaker Shalabhmani Tripathi said, "Chief Minister Yogi Adityanath ji had said, 'We will make the mafia bite the dust.' Today, in a police encounter, one of the people responsible for the murder of key witness Umesh Pal in the murder of a BSP MLA was shot and killed." The rest will also soon be gone."
Umesh Pal was the most critical person in the murder case of BSP MLA Raju Pal. Umesh was allegedly taken away by people working for Atiq and told not to talk about the case. On Umesh's request, a FIR was filed against Atiq and others for kidnapping and threatening Umesh.
Raju Pal, a BSP MLA, was shot and killed in Prayagraj in broad daylight on January 25, 2005. Former MP and former Mafioso turned politician Atiq is one of the suspects in this shocking murder case. In 2016, the supreme court told the CBI to look into this case.
Pal was killed just three months after he first ran for office and beat Ahmad's younger brother Ashraf to get a seat in the Allahabad (West) assembly. The by-election was needed because Atiq, who had been an MLA from the seat five times, had been elected to the Lok Sabha from Phulpur.