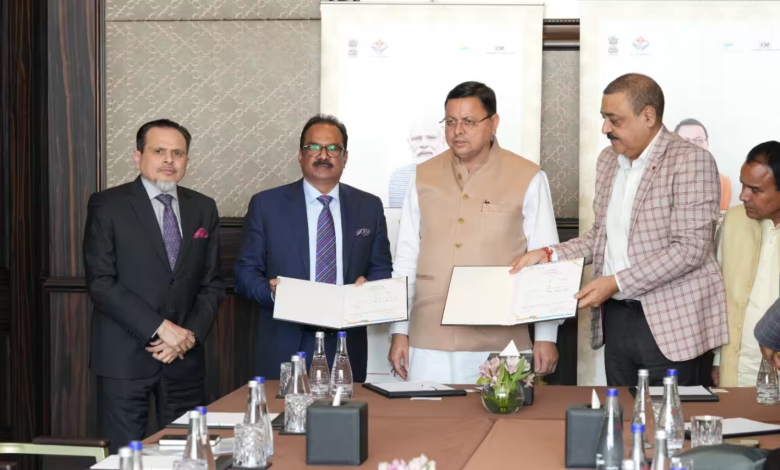 As the countdown begins for the eagerly anticipated Global Investors Summit scheduled for December in Uttarakhand, Chief Minister Pushkar Singh Dhami shared significant news. The state government has successfully secured investment Memorandums of Understanding (MoUs) worth an impressive Rs 54,550 crore, marking a substantial step towards their ambitious target of attracting investments exceeding Rs 2.5 lakh crore.
Chief Minister Dhami emphasized the diverse range of sectors covered by these agreements. Notably, they span industries such as tourism, health, education, pharmaceuticals, and agriculture, reflecting the state's multifaceted approach to economic growth.
A substantial portion of these agreements was inked during engagements in Dubai and Abu Dhabi. Dhami noted that numerous high-value proposals had also been received, indicating a strong interest among investors to set their sights on Uttarakhand.
LIVE: दुबई (UAE) दौरे के उपरांत उत्तराखण्ड सदन, नई दिल्ली में प्रेस वार्ता https://t.co/rtc5eT8bjo

— Pushkar Singh Dhami (@pushkardhami) October 19, 2023
The investment drive commenced with meetings and dialogues with potential investors in London, Birmingham, and Delhi, followed by engagements in Dubai and Abu Dhabi under the Uttarakhand Global Investor Summit initiative.
Dhami highlighted the state's commitment to judiciously assess the signed agreements and proposals to ensure that they align with Uttarakhand's long-term interests. The government's priorities are centered on fostering investments that not only inject capital into the state but also create employment opportunities and bolster the primary sector.
'इन्वेस्ट इन उत्तराखण्ड' मिशन के अंतर्गत यू. ए. ई. दौरे के दूसरे दिन आबूधाबी में विभिन्न उद्योग समूहों के साथ बैठक कर ₹3550 करोड़ के इन्वेस्टमेंट एमओयू किए। साथ ही बैठक में आए उद्योग समूहों के प्रतिनिधियों को आगामी 8 एवं 9 दिसम्बर को देहरादून में आयोजित होने वाले 'उत्तराखण्ड… pic.twitter.com/JwqdG0NFDo

— Pushkar Singh Dhami (@pushkardhami) October 18, 2023
He further emphasized that the state's policies are meticulously crafted to cater to the needs of investors, industries, and the residents of Uttarakhand.
Underlining the government's commitment to turn these agreements into concrete action, Dhami assured that all suggestions received during these meetings would be earnestly considered and implemented.
During his recent two-day visit to the UAE, Chief Minister Dhami revealed the signing of investment MoUs worth a substantial Rs 15,475 crore. The first day in Dubai saw the signing of MoUs worth Rs 11,925 crore, followed by agreements worth Rs 3,550 crore in Abu Dhabi on the second day.
In total, the state has inked investment MoUs valued at Rs 54,550 crore, spanning the UAE, Britain, and Delhi. These include agreements worth Rs 15,475 crore in the UAE, Rs 12,500 crore in Britain, and an impressive Rs 26,575 crore stemming from two different programs held in Delhi.
The eagerly awaited Global Investors Summit is scheduled for December 8 and 9 this year, and these signed agreements are expected to serve as a catalyst for Uttarakhand's economic growth and development in the coming years.
Related Posts