India
Vice President Jagdeep Dhankhar, citing basic structure ideology, asks, "Are we a democratic nation?"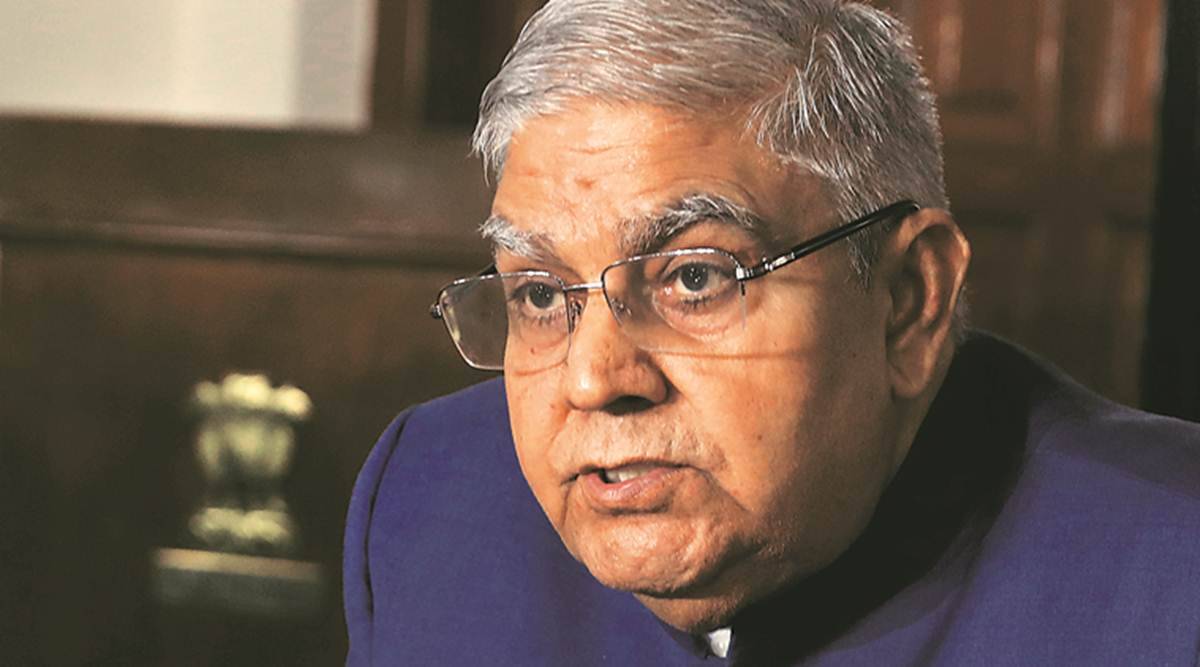 Rekindling the debate over the doctrine of separation of powers, Vice-President Jagdeep Dhankhar said it will be difficult to answer the question "are we a democratic nation?" citing the Supreme Court's landmark 1973 decision in the Kesavananda Bharati case, in which it ruled that Parliament had the authority to amend the Constitution but not its basic structure.
Dhankhar raised the subject of the judiciary's powers in relation to the legislative again in his inaugural address to the 83rd All-India Presiding Officers Conference in Jaipur on Wednesday, citing the Supreme Court's 2015 decision to knock down the National Judicial Appointments Commission Act.
Dhankhar had dubbed the repeal of the NJAC Act a "serious surrender" of parliamentary sovereignty and disdain for the "mandate of the people" on December 7, when he presided over Rajya Sabha for the first time on the first day of the winter session of Parliament. He had also stated that Parliament, as the guardian of the "ordainment of the people," was obligated to "handle the issue" and expressed confidence that it would do so.
"We cannot have an ostrich-like position," Dhankhar stated at the Jaipur conference, referring to one of the themes of debate, the connection between the court and the legislative.
"Parliamentary sovereignty and autonomy cannot be qualified or compromised because they are crucial to the survival of democracy," he stated.
"The more subtle the infiltration, the more hazardous it is," he explained.
He claimed that the legislative lacked the ability to issue court orders and that the executive and judiciary lacked the authority to legislate.
He warned against "one-upmanship" and "public posturing from judicial platforms," both of which he said were common nowadays. "This is not correct."
In an apparent allusion to the Supreme Court's request that the Attorney General urge government personnel to display restraint in their comments on the Collegium, Dhankhar stated that he would not entertain the A-request G's on the matter.
"I cannot be a party to emasculating the legislative power," he remarked, emphasising that he had been a "soldier of the court" during his legal career.
The Vice-President emphasised the necessity of constitutional officeholders keeping politically impartial.
"Those in the presidency, legislative, and top political posts must ensure that high constitutional offices are kept separate from their political attitude. "Recently, we've discovered several major observations that constitute infractions," he stated, without elaborating.
Earlier, Lok Sabha Speaker Om Birla stressed the significance of respect among the government, legislature, and judiciary. He stated that legislatures had traditionally recognised the court's rights and authority, and that the judiciary was supposed to follow the constitutionally mandated separation of powers. He stated that the three branches should collaborate with mutual trust and harmony.
The Speaker told reporters after the inaugural that the subject was being considered by the conference and will be reflected in the resolution that would be passed on Thursday.