India
Vice President recalls NJAC repeal in Collegium debate: It's never too late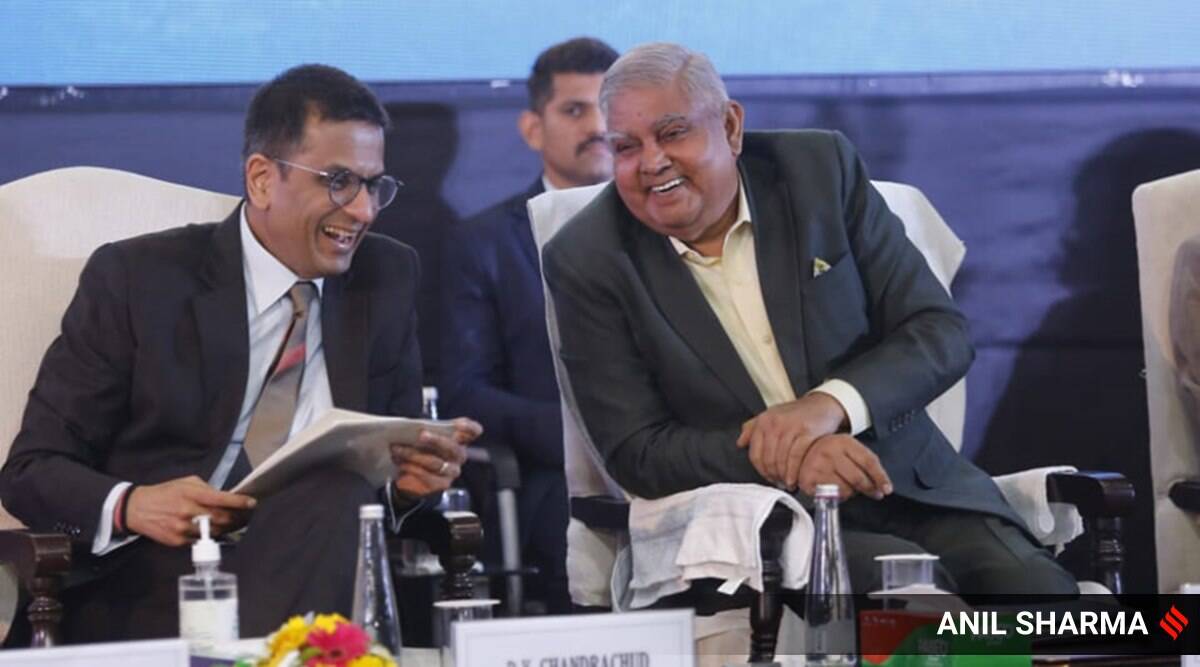 Jagdeep Dhankhar, sitting on the dais with Chief Justice of India D Y Chandrachud, said Friday it was never too late to reflect on the Supreme Court's 2015 judgment striking down the National Judicial Appointments Commission Act, 2014, which tried to overturn the Collegium system of appointment in the higher judiciary.
In an address at the 8th Dr L M Singhvi Memorial Lecture in New Delhi, Dhankhar underscored the "primacy of the will of the people" and "there was no such instance in history".
He made these comments days after Union Law Minister Kiren Rijiju called the Collegium system "opaque" and "alien". Earlier this week, the Supreme Court disapproved of the Minister's remarks.
Following the lecture by CJI Chandrachud, the Vice-President said, "The Indian Parliament in 2015-216 debated a Constitutional amendment Act and voted unanimously in favor. No one abstained or dissented. We passed the amendment. It was unanimous in Rajya Sabha, one abstained. We, the people – our ordainment turned into a constitution. Through applicable mechanisms, the power of the people came to be reflected. The power was taken away. There has never been an instance like this."
Parliament passed 2014 that the Constitution (Ninety-Ninth Amendment) Act, which established the National Judicial Appointments Commission, would replace the Collegium system for appointing judges. Collegium was formed through the Supreme Court's ruling in the Second Judges Case in 1993 and its opinion on a Presidential reference in 1998.
The Supreme Court repealed those laws in October 2015.
When a Constitutional provision that carries the ordainment of people at large is undone in a vibrant democracy, what will happen? I want everyone to know that these aren't partisan issues."
In front of the audience, which included former CJI R M Lodha, judges, lawyers, Union Minister Piyush Goyal, Congress leader P Chidambaram, and Delhi Chief Minister Arvind Kejriwal, he asked for any similar instances.
In reference to Article 145 (3) of the Constitution, which establishes a minimum of five judges to decide constitutional matters, Dhankhar, who's also a senior advocate, said, "The court can interpret the Constitution when there's a substantial question of law involved." A provision can't be run down anywhere."
As a modest student of law, he said, "Can parliamentary sovereignty ever be compromised? It's never too late to reflect and think." What happens to parliamentary sovereignty after one parliament? "
Earlier, while delivering the lecture on the universal adult franchise, CJI Chandrachud, who took office on November 9, said the citizens' exercise of the right to vote was an informed choice.
"The actual realisation of one's vote is to participate in democracy in everyday life continuously, to ask questions from the elected representatives and to keep the state accountable. Consultation, dialogue, debate and negotiations occur among diverse social groups, with participation not confined to elections but extending to larger political and public spheres to facilitate social transformation," he said.
CJI says the introduction of universal adult franchises in India was revolutionary at a time when mature Western democracies just expanded voting rights to women, people of color, and workers.
Our Constitution was a feminist document, as well as one that was egalitarian and socially transformative. He said it was a break from colonial and pre-colonial traditions, the boldest move by the Constitution.
Related Posts