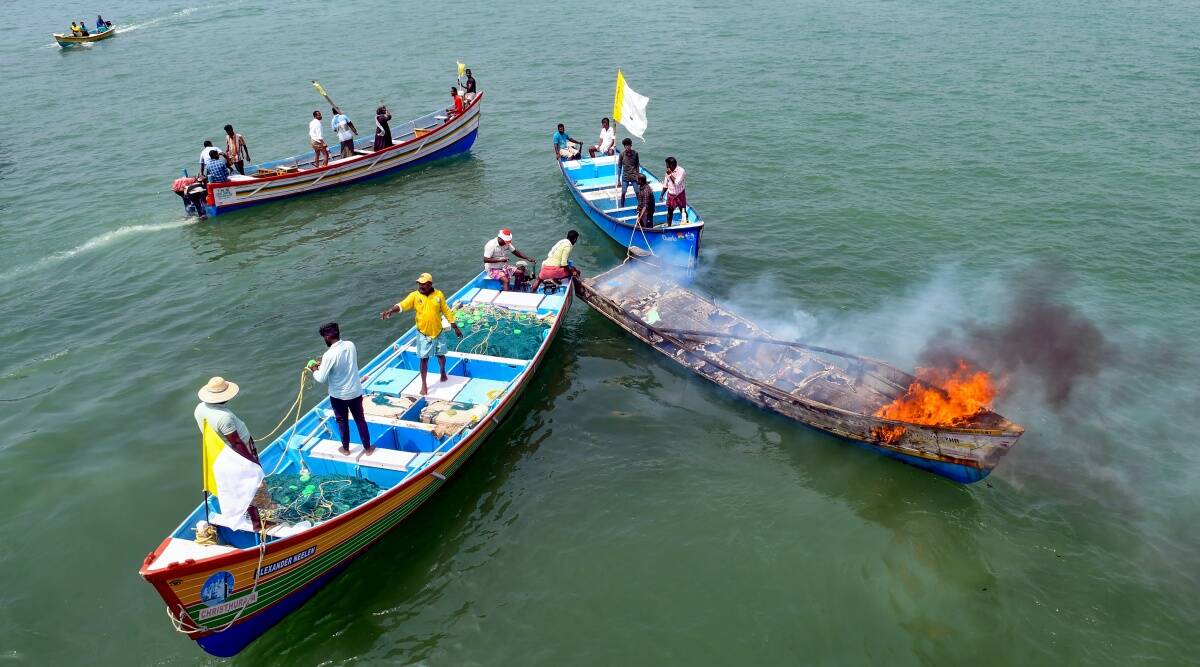 Marking the 100th day of their protest against the construction of Vizhinjam International Seaport Limited (VISL) in Thiruvananthapuram, hundreds of fishermen stormed the project site by sea and road. They also set a fishing boat on fire.
Last month, the Kerala High Court directed the government to provide police protection to restart the construction of VISL, which was suspended for over three months. The court had also allowed the fishermen to continue their agitation without disrupting the work.
The protesters, led by the Catholic Archdiocese of Thiruvananthapuram, have demanded a halt to the construction of the Rs 7,500-crore port. The protesting fishermen have alleged that the structure of the port, which began in 2015, had caused coastal erosion, leading to loss of livelihood and habitat.
The state government has held talks with the protesters several times, but the standoff continues.
Protesters have been alleging that the "unscientific" construction of Groyans, the artificial sea walls built as part of the port, was one of the reasons for increasing coastal erosion.
Earlier this month, the state government appointed a four-member committee to study whether there has been any coastal erosion as a result of the construction of the port. But the church overruled the decision, saying the committee did not include a representative on their behalf. The exercise was to prepare a report in favour of the Adani group, which is building the port.
As the 100th day of protests turned stormy, Kerala Labor Minister V Shivankutty told the media that the police were exercising complete restraint.
"The government does not want to create a tense situation. The fishermen should not agitate as their demand is unacceptable.
Venganoor Gopakumar, the convener of the People's Defense Committee, which has supported the pro-construction protests, said that even though the project has resulted in the loss of employment in the agriculture, coir and tourism sectors, it is expected to bring growth.
The Congress is going to start an agitation in front of the state secretariat on Friday, demanding the intervention of the Chief Minister to end the ongoing madness against the port construction.