India
We need to build an India that is "Aatmanirbhar" by 2047. Here are some of the best quotes from President Murmu's speech to Parliament.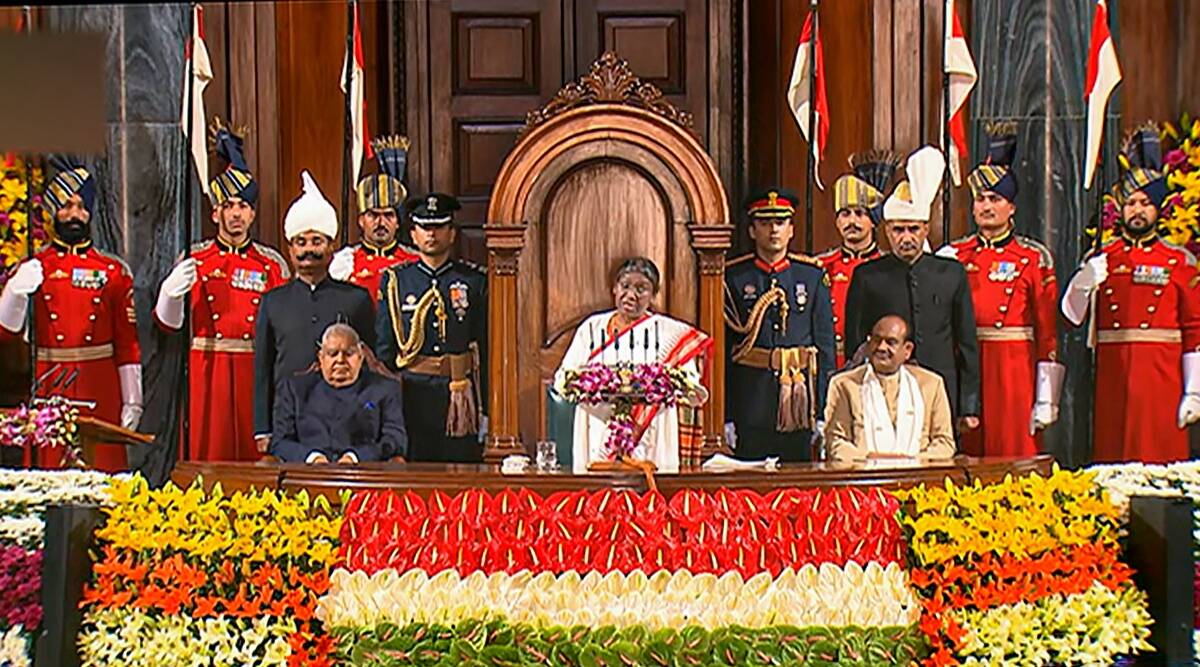 President Droupadi Murmu said on Tuesday that India had entered the "Amrit Kaal" (golden age) after 75 years of independence, and that by 2047, "we have to build an India that will be "Aatmanirbhar." President Murmu gave her first speech to Parliament on the first day of the Budget Session. She talked about the many good things that have happened in India in the nine years she has been in charge, and she said that the next 25 years were for every citizen to "perform our duties to the highest levels."
President Droupadi Murmu address to Parliament: Top quotes
🔴 Our country has been independent for 75 years and is now in the "Amrit Kaal." This "Amrit Kaal" of 25 years is the time of the golden hundredth anniversary of India's independence and the time when India became a developed country. All of us and every other person in the country have 25 years to do our jobs to the best of our abilities.
🔴 By 2047, we need to build a country that is proud of its history and has all the best parts of modern life. We need to build a Bharat that can take care of itself and also do good things for other people. A Bharat where there is no poverty and the middle class is also doing well, a Bharat where young people and women have the power to lead the society.
🔴 When my government got the chance to help the people of this country, we started by saying, "Sabka Saath, Sabka Vikas" (Everyone's welfare is everyone's responsibility). Over time, "Sabka Vishwas" and "Sabka Prayas" were added to it as well. Today, this mantra has become the driving force behind making India a better place.
🔴 During the almost nine years that my government has been in power, many good things have happened for the first time. The biggest change is that everyone in India is more confident now, and the way the rest of the world sees India has also changed. India used to look to other countries to solve most of its problems, but now it is becoming known as a place where problems can be solved.
🔴 A large part of the population, which had been waiting for basic services for decades, now has access to them. The country has started to get the modern infrastructure we've wanted for a long time. Even countries that are already very advanced can learn a lot from what India has done with its digital network.
🔴 My government has always put the best interests of the country first and been willing to completely change policies and plans when needed. From a surgical strike and a firm crackdown on terrorism to a proper response to every mistake from the Line of Control to the Line of Actual Control, from the repeal of Article 370 to triple talaq, my government has been seen as a strong one.
🔴 From the Jan Dhan, Aadhaar, and Mobile trinity, which is getting rid of fake beneficiaries, to the launch of the "One Nation, One Ration" card, we have made major, long-lasting changes. With DBT and Digital India, the country has built a stable and open system over the years. So far, more than Rs. 27 lakh crore has been given to crores of people in a completely open way.
🔴 Getting rid of poverty is no longer just a slogan. Now, my government is trying to give the poor more power by giving them a permanent solution to their problems. Illness is a big reason why people are poor. A nationwide programme called Ayushman Bharat Yojana was started to take this worry away from the poor. Under this plan, free care has been given to more than 50 crore people in the country.
🔴 Every group that has been left out of society for a long time has gotten what they wanted from my government. We have given the poor, the Dalits, the backward, and the tribal communities the courage to dream by making their wishes come true. No work or effort is too small, and each is important for growth. In this way, the development of poor areas and areas that haven't been developed enough is given a lot of attention.
🔴 The most important thing my government has done is give women more power. We saw how well the "Beti Bachao, Beti Padhao" campaign worked. Because of what the government has done, society has become more aware, which has led to a steady rise in the number of daughters. For the first time in the country's history, there are more women than men, and women's health has also gotten a lot better.
🔴 During the Covid pandemic, we saw how hard it was for poor people around the world. But India is one of the countries that put saving the lives of the poor and making sure they have food at the top of their list.
🔴 India has also changed the idea that progress and nature are at odds with each other. My government is putting a lot of attention on green growth and connecting the whole world through Mission LIFE.
🔴 The government is always trying to get rid of anything that looks like a "slave mentality." Where Rajpath used to be, the Kartavya Path is now. Today, every Indian is proud of the statue of Netaji Subhas Chandra Bose on Kartavya Path. We have also honoured Netaji and the Azad Hind Fauj for their bravery in Andaman and Nicobar.
🔴 India's ability to make things is getting better, and companies from all over the world are moving there to make things. We used to bring in a lot of cell phones until a few years ago. India is now one of the world's largest exporters of cell phones.
🔴 This year, India is in charge of a powerful international group called G-20. With the motto "One Earth, One Family, One Future," India is working with the other G-20 countries to find solutions to the world's current problems. My government doesn't want to limit it to just one diplomatic programme. Instead, it is an opportunity for the whole country to show off India's talents and culture.
🔴 During the crises in Afghanistan and Ukraine, we were helped by the goodwill that India has built up. We got our worried citizens out of these countries safely. India once again showed the rest of the world how kind it is by helping people in many other countries.
🔴 This is the best time for India's relations with the rest of the world. We are now working and getting along better with more countries around the world. This year, we are in charge of the SCO, and as a member of the Quad, we are working for peace, stability, and economic growth in the Indo-Pacific.
🔴 India's journey as the "mother of democracy" is a source of pride for all time. We have grown democracy and made it better in a humane way. India's humane civilization will keep moving forward like an ever-flowing stream, just like it has for thousands of years.