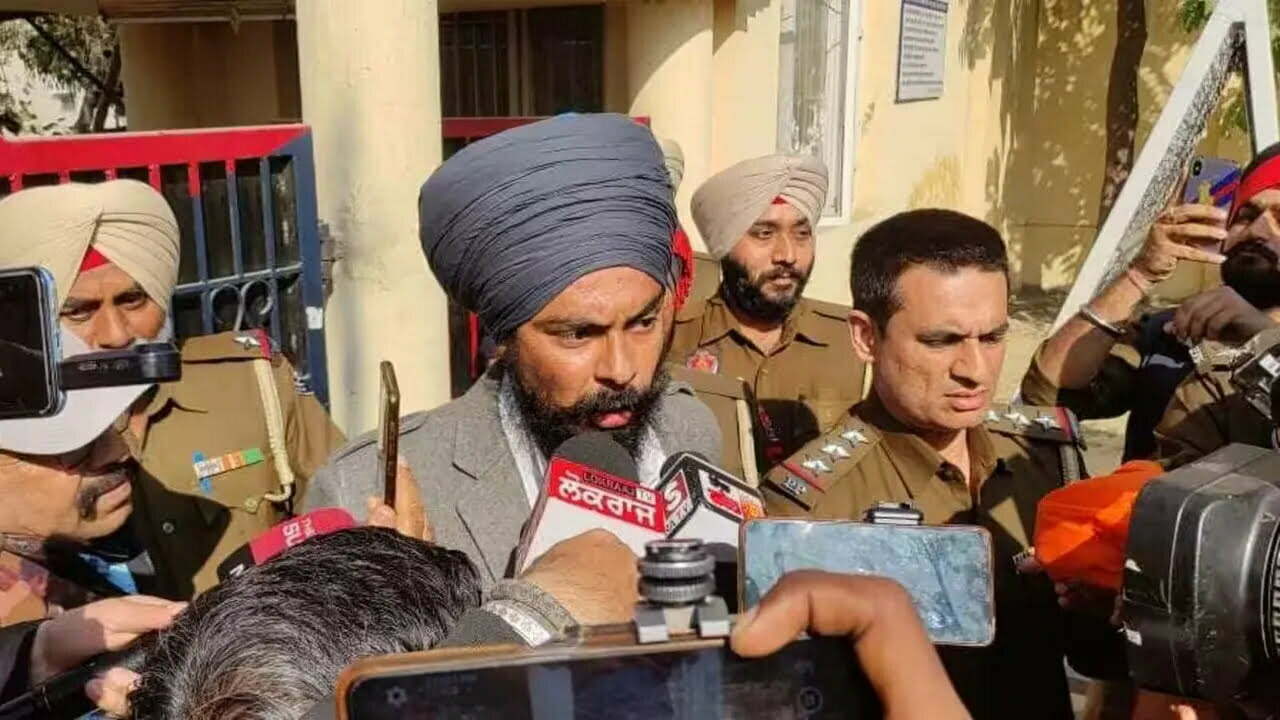 The Punjab police freed Lovepreet Toofan on Friday, claiming that he wasn't found guilty, amid rising unrest in the province over Toofan's arrest and Amritpal Singh's adamant demand for Khalistan. The Amritpal supporters assaulted a police station in Amritsar and threatened to disrupt law and order before the release. In a kidnapping and assault case that his outfit's supporters were protesting, Toofan was detained. The altercation between Amritpal's supporters and the police over Toofan's arrest, which was swiftly followed by a court judgement ordering Toofan's release, raises concerns about Punjab's law and order situation and whether the Punjab police are being complacent in the face of the extremists.
Who is Amritpal Singh?
Amritpal Singh, a supporter of Khalistan, goes under the name "Bhindranwale 2.0." The extreme preacher, age 29, has just been named the new leader of Waris Punjab De, the group Deep Sidhu, who passed away last year, financed.
Amritpal Singh, Deep Sidhu's successor, has increased his activity in Punjab after his return from Dubai. Amritpal formerly worked for his family's transport company.
Amritpal, who comes from the Amritsar area of Jallupur Khera, has recently made a number of comments that have drawn criticism. One of them included a warning to Union Home Minister Amit Shah that he will suffer the same fate as Indira Gandhi.
Amritpal Singh recently wed NRI Kirandee Kaur, who resides in the UK.
Who is Toofan Singh?
Amritpal Singh's close friend and assistant is Lovepreet Toofan Singh. He was detained in connection with the purported kidnapping of Chamkaur Sahib resident Barinder Singh. In the case, Amritpal Singh was also mentioned. In his police complaint, Barinder Singh said that Amritpal Singh's friends had kidnapped him from Ajnala and taken him to an unidentified location where he was violently beaten.
Amritpal Singh claimed during Thursday's altercation with the police that things became violent because the cops did not pay attention to them. "We have provided sufficient proof of Lovepreet's guilt and our innocence (in the case). The results that followed were not my doing. Administration had previously requested time, so we allowed them until Wednesday. We arrived here on Thursday "explained Amritpal Singh.
What Punjab govt said
The Punjabi people should have faith in the chief minister, Bhagwant Mann, according to minister Kuldeep Singh Dhaliwal. "I commend the Punjab police officers who yesterday prevented desecration of the Guru Granth Sahib and handled the situation without resorting to force. Government workers who were hurt in the throng are being treated. People will eventually comprehend the circumstances surrounding what occurred in Ajnala "added the minister.
Waris Punjab De: What is it?
Waris Punjab De literally translates to "heirs of Punjab," as the name says. On September 30, 2021, in advance of the Punjab Assembly elections, Deep Sidhu provided funding.