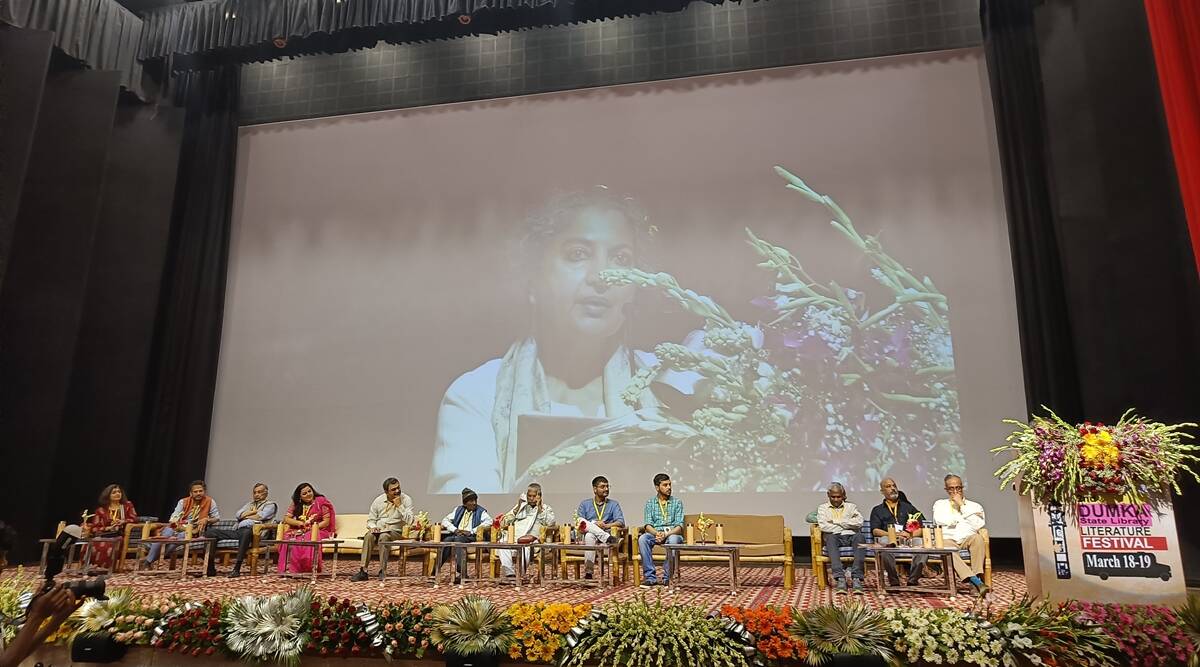 A 'Bhramansheel Pustakalay' (mobile library) supplied books and newspapers in rural Santhal Pargana over 60 years ago. Yet, this was only recently revealed when the district administration resolved to repair the damaged public library in Dumka, Jharkhand, by 2021.
As the government, led by Deputy Commissioner R S Shukla, began digitising and categorising the books collecting dust in the public library and enhancing resources, they came across the abandoned van that operated as the mobile library. This prompted them to organise their own literary festival, the Dumka State Library Literary Festival, in April 2022.
Since then, the district has hosted three literary events, including the two-day Dumka literature festival, which concluded on Sunday, and a memorial lecture on Norwegian missionary Paul Olaf Bodding, who came to India and wrote about Santhali culture, folk stories, and grammar.
"Among the volumes in the library were economist Ashok Mitra's A Prattler's Story and poet Nazeer Akbarabadi's Banjara Nama. I wanted to do these resources justice… Afterwards, Deputy Development Commissioner Karn Satyarthi [a 2016 batch IAS officer] assisted us in making this festival a reality," Shukla, a 2012 batch IAS officer, explained.
Among government officials, Dumka Divisional Forest Officer Satwik Vyas (2018-batch IFS officer) has been a member of the organising committee from the festival's inception.
Akshaya Bahibala, an Odisha-based writer and poet, is a key member of Shukla's team. Bahibala, the co-founder of Walking BookFairs, a mobile library that has travelled across India, discovered and helped renovate the Bhramansheel Pustakalay van.
"When we restored the van — which is no longer movable — we began conducting modest literary events at the library. We invited writers from all throughout the country. "Every session last year was sold out, demonstrating people's demand for such events," said Bahibala, who was important in bringing novelist and travel writer Chandrahas Choudhury and publishers Ravi Singh of Speaking Tiger and Naveen Kishore of Seagull Books to the event this year.
"Akshaya was renovating the van [the mobile library] when he invited me to Dumka," Choudhury explained. We put on the festival in three weeks last year. Several writers appreciated visiting here because they met readers they wouldn't otherwise meet. Everyone was thrilled to hear about the history of Dumka, the library, and the van, which is why I proposed calling it the Dumka State Library Literary Festival. This year, some people returned for the second time."
Skip to Saturday, the first day of the event. At a session on 'How I Got to Writing', International Booker Prize winner Geetanjali Shree termed the Dumka event "extremely essential". "It's like discovering my own centre… It would have been a loss for me if I hadn't been here and realised how much I don't know," Shree stated.
Choudhury, poet-writer Mihir Vatsa, author-scholar Achyut Chetan, Trinamool Congress Legislator Manoranjan Byapari, and publishers Singh, Kishore, Neeta Gupta of Yatra Books, and Trisha De Niyogi of Niyogi Books were among the panellists.
Byapari, who represents the Balagarh Assembly constituency and has authored 27 novels in five languages, said he learned to read and write while imprisoned as a Naxal. "I write because I am enraged by the injustices they perpetrate in society. "I am filled with rage, which is why I write," he explained.
During a 'Lessons for Small Town Writers' session with publishers, 19-year-old Ajay Modi, a second-year history student at Dumka's Santal Pargana College, wondered, "How can a person from a village who struggles to make ends meet and gets a bit of knowledge from television reach publishers?"
"You've already started by attending to the event," Gupta said.
"It is quite remarkable that this event is taking place," Singh remarked. Business literature festivals unwittingly become gatekeepers for entertaining a specific demographic. As a result, festivals like this one are quite significant."
"When it comes to English, there are some difficulties regarding who will be published. Rather than relying on words, the emphasis should be on capturing oral history. "From an Adivasi perspective, mainstream history is hollow," remarked researcher and former Fulbright Fellow Joseph Bara.
"We do a follow-up and discuss the literature fest sessions for students like Modi," Yaduvansh Pranay, Assistant Professor, Department of Hindi, Santal Pargana College, said, emphasising the need of bringing in local writers. Due to distress migration, Dumka has been severely impacted, and one or two generations may have been unable to pass on their oral history and culture to the following generation. This literature festival, I believe, will spark a renaissance of ideas."
Afterwards, several writers and publishers expressed the same concern: "How do such events become institutionalised so that they do not stop when a deputy commissioner is transferred?"