India
With the government and opposition united in their opposition to the Adani dispute and Rahul Gandhi's remarks, the fate of the Budget Session seems questionable.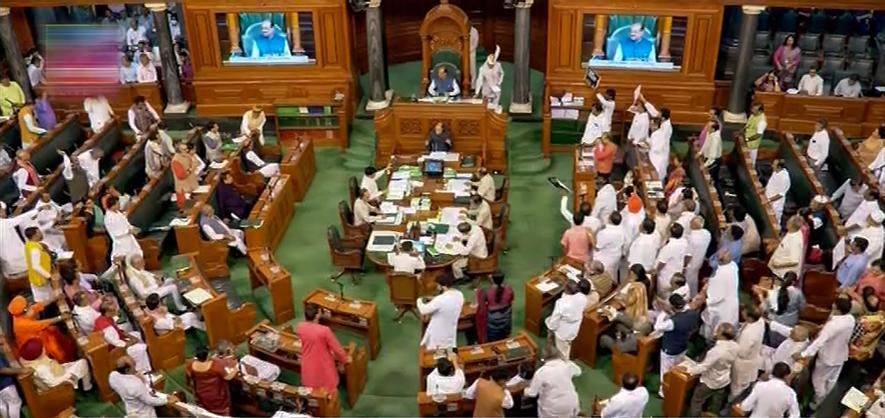 With no signs of warming between the ruling BJP and the opposition parties, the clouds of uncertainty over Parliament's Budget Session are gathering. Within a few minutes of the Houses assembling on Tuesday, both the Lok Sabha and the Rajya Sabha were hastily postponed until 2 p.m.
Sources in the decision According to the BJP, the Budget Session cannot continue "with no business and complete logjam" until April 6, when it is slated to end. If the impasse is not broken, the administration will have to find a means to finish the Budget, which includes enacting the Finance Bill. According to a party source, if the impasse is not broken, the Budget will have to be enacted this week. Also, there will be no Parliament on Wednesday.
Despite the uncertainty, the Jammu and Kashmir Appropriation Bill, 2023, was passed in the Lok Sabha.
The BJP planned on Tuesday to hold Question Hour if the opposition remained in their seats and requested a dialogue. "We were warned not to get up or shout slogans if the opposition did not arrive to the House well," a senior BJP Member stated.
But, when the House met, Congress and DMK Lawmakers rushed to the Lok Sabha well, demanding a Joint Parliamentary Committee (JPC) investigation into the Adani Group dispute.
"Both sides are locked in their difficult situations. "We can no longer withdraw our demand for an apology," stated the party's head.
The Congress has also stated that there will be no retreat from its demands for a JPC into the Adani problem, and that Rahul Gandhi will not apologise for his remark in the UK.
Meanwhile, the BJP escalated its attack on Gandhi outside Parliament on Tuesday, with party spokesperson Sambit Patra labelling the Congress leader a betrayer. "He is the contemporary Mir Jafar of Indian politics." "He insulted the country and begged for foreign intervention," Patra stated during a press conference.
According to reports, the BJP leadership began discussing the strategy for passing the Budget in a high-level meeting on Tuesday morning.