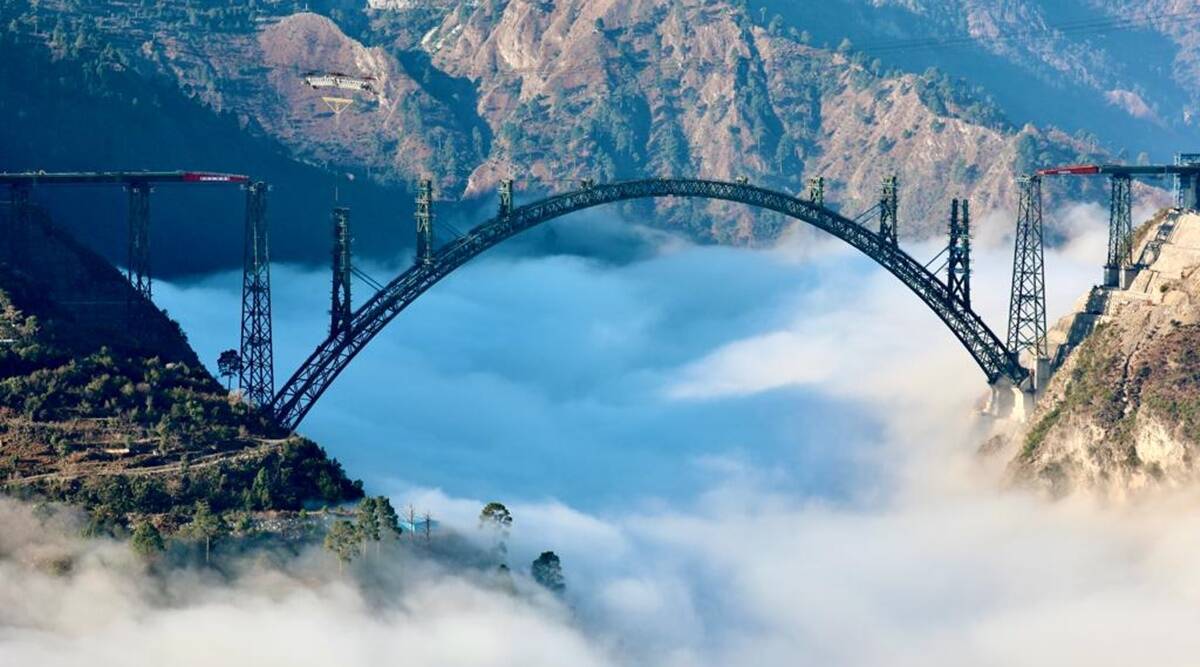 Indian Railways on Wednesday tweeted some astonishing pictures of the Chenab bridge in Jammu and Kashmir which left everyone awestruck. Netizens couldn't stop themselves from praising it and thanking Indian Railways for this engineering marvel.
Towering over the ancient Chenab river, this enthralling bridge in Kouri village of Reasi district-making its way to becoming one of the hotspots for tourists to watch out for in Jammu and Kashmir. Chenab bridge is the world's highest railway bridge, even higher than the beautiful Eiffel Tower. It is said to be one of the toughest rail projects that engineers have come across in India.
Features of Chenab Bridge:
 It is the highest railway bridge in the world, 359m above river bed level.
 This Arch bridge is said to be 35m higher than the Eiffel Tower situated in Paris, France.
 This bridge is 1315m long constructed between Bakkal and Reasi and is also part of the expected 272-km long Udhampur-Srinagar-Baramulla rail link (USBRL) project.
 It can tolerate high wind speeds up to 266km/h.
Railway Arch bridge is designed in a way that it can endure even the highest intensity of earthquakes.
It can withstand up to -10°C to -40°C.
Construction of Chenab Bridge:
The construction of the Chenab Railway bridge was first started in 2004 but due to some safety concerns, it was put on hold in 2008-09. But after ensuring its safety concerns, the project was resumed again.
This arch bridge has a distinctive structure and is made up of square-shaped steel boxes that will be filled with concrete to improve its stability.
The bridge was constructed with the help of 28,600 MT steel, 10 lakh Earthworks, 66,000 concrete, and 26 km of motorable roads.
The arch weighs approx 10,619 MT alone.For the very first time, sophisticated "Tekla" software is used for structural detailing of any Indian Railways Projects.
Nearly 1300 workers and a team of 300 engineers have been working day and night on the project, and almost 98% of the work has been completed.
According to the Indian government's data, the cost of making the Chenab Railway Bridge stands at ₹1486 crores.
Finally, after 75 years of Independence, the Kashmir valley will be connected to the rail network. It'll work as a milestone for Kashmir tourism.
Related Posts