India
Wrestlers file a petition in the Delhi High Court accusing WFI President of sexual harassment.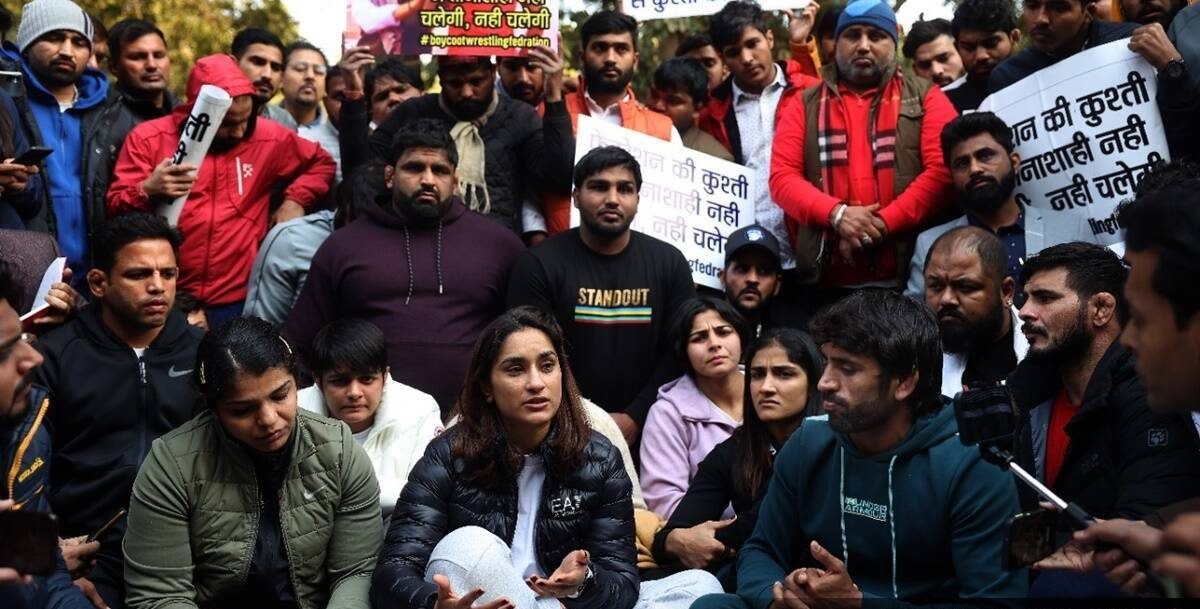 The Delhi High Court has been petitioned to register an FIR against the protesting wrestlers who have accused Wrestling Federation of India President Braj Bhushan Sharan Singh of sexual harassment by "abusing the legal process" and "blackmailing and pressuring" Singh to resign.
Petitioner Vicky states in his argument that he petitioned the High Court because he has "great regard for WFI President Brij Bhushan, on whose behalf this petition is filed." Vicky stated that Singh had been subjected to mental harassment by the respondents, who include wrestlers Vinesh Phogat, Bajraj Punia, Sakshi Malik, Sangeeta Phogat, Sonam Malik, and Anshu Malik, as well as media outlets Aaj Tak, Zee News, The Lallantop, News Nation, and Republic Bharat.
Singh, however, denied filing this petition. On Monday, he tweeted, "No petition has been filed against the Delhi government, the protesting wrestlers, or the news networks by me or any authorized person linked with me." I have not authorized any attorney, law firm, or person to deliver the petition in any court of law. Therefore, it is urged that all media outlets refrain from broadcasting unconfirmed and unverified news. Due to the sensitivity and gravity of the issue at hand, everyone is asked to refrain from spreading rumors or false information so as not to exacerbate the confusion.
The petition alleges that on January 18, six wrestlers and a number of other individuals assembled at Jantar Mantar in New Delhi and began protesting in an effort to obtain Singh's resignation. It is further asserted that this action was initiated using "legal naxalism" by asserting that Singh engaged in "sexual harassment of the respondents."
According to the complaint, Singh has been subjected to such mental cruelty that he has been compelled to state, "There has been no instance of sexual harassment." "If this has occurred, then I shall hang myself." It adds that the wrestlers were "required by law to approach the right forum, but instead of making a single attempt, they began protesting and distributing it across all online social media channels" in order to get him to leave.
The wrestlers never filed a complaint, and the charges are baseless and utterly fabricated, according to the defense. "It is a disgrace that similar to Section 509 of the Indian Penal Code, there is no provision for taking action against those who abuse the dignity of males in public," the report continues.
The argument asserts that Singh has been subjected to a media trial and that his right to a fair trial must be unaffected by newspaper articles or news headlines. "However, what occurs when the top news networks decide to violate the ethical code of contempt?" Then decide to damage the accused's career before his guilt has been proven in court. They present him as a villain during prime time when the majority of viewers are glued to their televisions. "It is essential to remember that the concept of democracy is based on fair play and transparency, and by such a move by the media, the concept of democracy is in jeopardy," the request asserts.
In addition to the filing of a First Information Report, the petition requests the establishment of rules for strict action against all persons who use a public forum to exert excessive pressure by alleging sexual harassment-related offenses. The petition, which was filed by attorneys Jitendra Sharma and Shrikant Prasad, will likely be listed this week.