India
Yellen urges for more sanctions on Russia during her visit to India.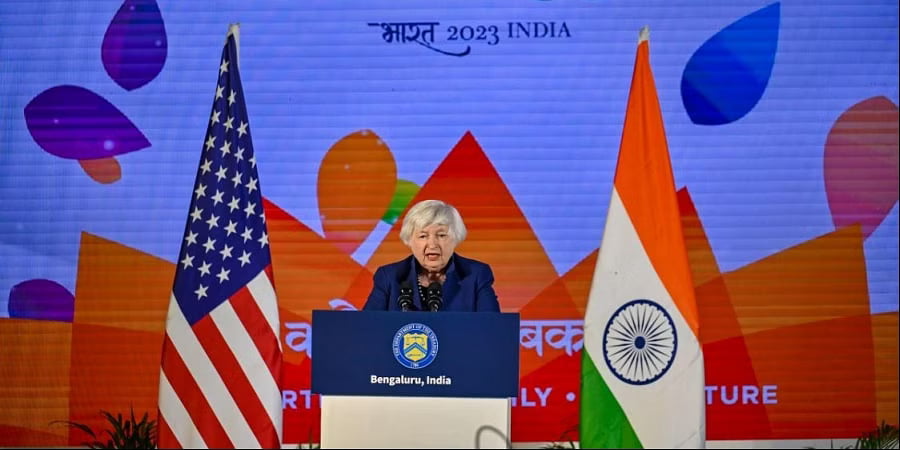 US Treasury Secretary Janet Yellen said on Thursday that the US wants tighter and more efficiently imposed sanctions against Moscow, as well as stronger criticism of the Ukraine crisis, and warned China of the consequences if it assists Russia.
Yellen arrived in Bengaluru on the night of the first anniversary of Russia's invasion of Ukraine for the first G20 finance ministers and central bank governors (FMCBG) meeting under the Indian president. The Ukraine crisis hung over the gathering, which was supposed to focus on the economic repercussions of the conflict and strategies to accelerate global economic recovery.
Yellen stated at a news conference following a meeting with Finance Minister Nirmala Sitharaman that the economic penalties imposed on Russia have the dual objective of diminishing its military and squeezing income that can pay the Ukrainian war. The US has made it plain that providing material help to Russia, as well as assistance for any systemic evasion of sanctions, will be a "major problem" for the country, she added.
"We have ongoing work on sanctions, working with our allies, we are striving to enhance sanctions and make sure we address violations of sanctions. And it's apparent that the Russians are looking for ways [and] avenues to fill the void. "We have cut off several ways for them to access vital materials for their defence efforts," Yellen said in response to a question.
She stated that additional US sanctions and enforcement will focus on Russia's efforts to backfill and procure vital materials.
"In G20 meetings, I have always expressed my own and the US point of view that Russia's behaviour is not only a clear violation of international law and unprovoked hostility," she said, adding that Moscow's actions are one of the leading factors affecting food and energy in the world and harming the global economic outlook.
"With respect to sanctions and aid to Russia, we have made clear that providing material support to Russia or assistance with any form of systemic sanctions evasion would be a very severe issue to us," she said in response to another question on China's growing ties with Russia.
"We will surely continue to make it plain to the Chinese government, as well as corporations and banks operating in their territory, what the regulations are respecting our sanctions and the harsh penalties that they would face if they violated them."
Sanctions against Russia were also discussed at a meeting of G7 finance ministers and central bank governors, which was virtually attended by Ukrainian Finance Minister Sergii Marchenko.
We will continue to closely assess the effectiveness of sanctions and take additional actions as appropriate, according to a joint statement made during the G7 meeting. We will also continue to collaborate closely with our allies to enforce our sanctions and prevent any attempts to escape or circumvent them."
At her meeting with Sitharaman, Yellen expressed gratitude to India for its assistance in resolving financial difficulties, particularly in Sri Lanka.
According to a government statement, Sitharaman presented thoughts on addressing global debt risks, multilateral banks, crypto assets, and health. The Just Energy Transition Partnership and potential lessons from the summit were also explored.
"All sides agreed that the lessons learned from the Covid-19 epidemic should not be forgotten, and that there is a need to improve readiness for future pandemic-type shocks," according to the statement.
"I am so delighted and happy that all finance ministers and central governors of G20 countries who have come here to attend the FMCBG Meeting can experience the magnificence of Karnataka showcased here through a live-running show in this video," Sitharaman's office tweeted.
So far, India has not joined any of the sanctions regimes against Russia and has increased its purchases of discounted Russian crude. Prime Minister Narendra Modi had encouraged Russian President Vladimir Putin during a meeting last September to stop the dispute, saying "today's era is not about war".
The West has strengthened military and economic backing for Ukraine in response to concerns of a probable Russian attack. US Vice President Joseph Biden paid an unexpected visit to Kyiv to reaffirm his country's support for Ukraine.
Yellen stated during the news conference that "continuing, sustained support" for Ukraine will be a prominent topic of conversation during her visit to India, and that the United States will offer an additional $10 billion in economic aid to the war-torn country in the coming months.
Since the beginning of the war, the US has worked with a multilateral coalition of more than 30 nations to inflict heavy economic costs on Russia, she said. "Our dual goals are to damage Russia's military-industrial complex and diminish the resources that it can use to wage its war. "We are seeing the consequences of these activities," she explained.
Yellen also addressed the energy problem, which has been a source of contention for certain Western governments because countries such as China and India continue to purchase Russian oil. She claims that the United States and its allies imposed a price ceiling on Russian crude, which looks to have helped.
"Thus far, we see convincing indicators that our policy is working to cut Russian income and stabilise global energy markets. Although while worldwide oil prices have been relatively steady in recent months, Russian oil prices have plummeted significantly. "The Kremlin's oil revenue was about 60% lower last month than it was in the immediate wake of the invasion," she said, adding that emerging markets have been negotiating hefty discounts on Russian crude, keeping oil on the global market but severely decreasing Russian revenues.
Yellen stated that the US has provided more than $46 billion in security, economic, and humanitarian aid to Ukraine, and that economic aid is enabling Ukrainian resistance by funding key public services and keeping the government running.
"Our military support includes crucial defensive weapons requested by Ukraine, such as the Patriot missile defence system…
"We intend to contribute roughly $10 billion in extra economic support to Ukraine in the next months," she said.
She claims that Russia's economy has been increasingly isolated in the last year, and that up to a million Russians may have departed the nation in that time. American sanctions are placing downward pressure on Russia's production capacities.
The Russian military is battling to replace almost 9,000 heavy military equipment lost since February 2022. "It has seen production shutdowns at critical defense-industrial installations," she explained.
"As US Vice President Joe Biden has stated, we will fight alongside Ukraine for as long as it takes," she said. "We applaud our allies for increasing direct support. And we feel it is vital that the IMF move quickly towards a fully funded programme for Ukraine, as they have promised."
Yellen will join her G20 counterparts for two days of deliberations that will determine the grouping of the world's largest economies' economic agenda for 2023.