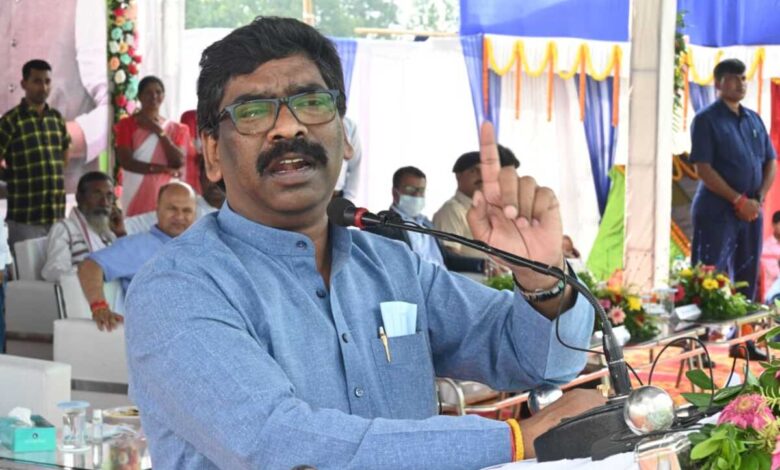 India's climate action depends on Jharkhand's success in sustainable transition, according to a vision document released by the state's Department of Forest, Environment, and Climate Change on Wednesday. The document identifies eight thematic areas, including coal transition, to achieve the country's net-zero target for 2070.
In its vision document, the Jharkhand administration, which has already established a task force on "Sustainable Just Transition," identified the following areas for improvement:
Livelihood and energy transitions.
Decarbonising pathways.
Green hydrogen mission.
Coal transition.
Sustainable mobility transition.
Investment and finance.
Institutional framework.
The document was released by Chief Minister Hemant Soren, who stated, "Jharkhand's reputation as a mineral resource hub has contributed significantly to the national growth trajectory." Nevertheless, Jharkhand is one of the climate-vulnerable states, making it imperative to move strategically towards a resource-efficient, climate-resilient, low-carbon economy. The vision document intends to define the path forwards for fostering economic growth, inclusiveness, and social advancements in the state, expressing the state's commitment to sustainable and inclusive development.
According to the document, a 'centre of excellence' on sustainable transition is urgently required in Jharkhand to aid the state's required economic diversification away from nonrenewable resources.
The government's stated objective is to determine the cost of green transition and be fiscally prepared; plan sustainable mine closures; economic diversification for 13 coal-dominated districts; provide green jobs by skilling and reskilling the populace; conduct an assessment of alternative livelihoods; determine long-term energy demand projections; ensure a low-carbon development pathway; and develop a carbon-related business strategy, among others.
According to the vision document, Jharkhand's Glasshouse Gas (GHG) emissions for the base year 2018 totalled 108 MT Co2 equivalent and accounted for 4% of India's emissions.
Coal is one of India's primary energy sources. Jharkhand is a significant state that produced approximately 116 million tonnes (MT) of coal in 2020-21, accounting for more than 16% of India's production. The current annual production in Jharkhand is 130 MT.
In addition, Jharkhand is renowned for its extensive reserves of 'high-quality' coking coal, which account for 89 percent of India's reserves and are essential for steel production. Jharkhand's abundant mineral resources and participation in the steel and coking coal industries have contributed to India's infrastructure growth and industrial expansion.
As 42 percent of the population falls under the multidimensional poverty index, livelihood transition continues to be one of the greatest challenges, and the 'vulnerable sections' are at risk during any drastic socioeconomic change in the unanticipated transition.
"The greatest challenge confronting the state is the rising rate of unemployment in urban areas among males and females of all age groups, which is largely attributable to the capital-intensive nature of economic activities and the dominance of coal economies…Therefore, transitioning away from coal may have direct and indirect effects on the local ecosystem established by the coal supply chain, including the decline of dependent industries such as manufacturing, trade, construction, business hotels, and transportation. Therefore, it necessitates cautious planning, appropriate interventions, and the development of an alternative route," the document states.
It was also stated that approximately 30,000 people are directly employed by the coal industry, more than 10 lakh people are indirectly employed, indigenous people are at greater risk, and most importantly, more than five percent of the working population migrates from Jharkhand annually due to the loss of traditional livelihoods.
In addition, Jharkhand's energy needs are primarily met by coal-fired power plants, as the per capita electricity consumption is approximately 867 KWH. In order to decarbonize, the government has established a 'Green Hydrogen Task Force' to implement a green hydrogen mission to reduce a certain quantity of glasshouse gas emissions.