India
Pakistani who married her 'Ludo partner'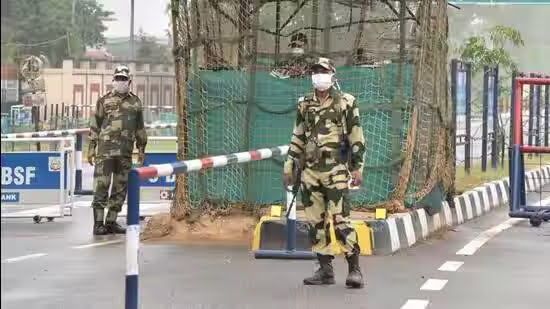 Bengaluru's Foreigners Regional Registration Office (FRRO) said that the 19-year-old Pakistani woman who came to India illegally to live with her Indian partner has been sent back to Pakistan.
"She was taken to Amritsar on Sunday so that she could be sent back to Pakistan through the land border at Attari," an officer with FRRO said.
Even though she was living in Bengaluru against the Foreigners Act and other parts of the Indian Penal Code, it was decided not to charge her and send her back to her home country. The officer said that her 26-year-old boyfriend Mulayam Singh Yadav has been charged with cheating, hiding a marriage, forgery, and making fake documents under Sections 420, 495, 468, and 471 of the IPC.
Bengaluru police say that the Pakistani woman's calls to her parents in Sindh helped them find her in a Bengaluru labour camp. Yadav, who worked as a security guard in Bengaluru, was arrested in the last week of January for bringing a Pakistani girl to India and living with her in the city.
S Girish, the deputy commissioner of police in Whitefield, said that Singh met Iqra Jeevani, who is 19 and from Hyderabad, Pakistan, through an online game. "The man used to work as a security guard at a private company and play Ludo online. Last year, he met a young girl and asked his girlfriend from Pakistan to come to Bengaluru so that they could get married. They went through Nepal to get to India in September 2022," the DCP said.
Girish said that Jeevani had been living in the labourer quarters near the Bellandur police station since September, when he moved to Bengaluru. This was part of the investigation that led to his arrest. "Because she missed her family, she used to call Hyderabad, which is in Pakistan, a lot. The intelligence agencies heard these calls, and based on what they told us, we made the arrest," Girish said.
Yadav met her in Nepal in November 2022, and the two of them went to Bihar together. Police said that Jeevani changed her name to Rava Yadav and went to Bengaluru. "Yadav made a fake Aadhar card for her while she was there, and they also tried to make a passport," Girish said.
Under Section 7 of the Foreigners Act, the owner of the building where the couple was staying, Govinda Reddy, has been given a first information report (FIR) for not telling the police about the foreigner staying illegally in his building.
This is not the first time in Bengaluru that an Indian in love with a Pakistani brought her to India illegally. On May 25, 2017, an Indian and three Pakistanis were caught in Bengaluru for using fake names to stay in India. They had been living in Kumaraswamy Layout in South Bengaluru for the past nine months. The three people were found to have Indian voter ID cards and Aadhar cards as well as their Pakistani passports.
Shihab and Sameera told the police that they worked together in Oman in 2012, which is where they met. Sameera's mother had died, and her father, who had remarried, didn't talk to her anymore.
Sameera found comfort in Shahib, and three years after they met, they got married. When Sameera's estranged father found out that his daughter had married an Indian, he came to Oman. At the time, Sameera was expecting her first child. She was brought back to Karachi and put under house arrest there. Sameera told the police that she had a miscarriage during this time.
Shihab made plans to get Sameera out of Karachi with the help of her cousin Kirhon and her fiance Khasif. Shihab took Sameera to India because she knew her father would find them again in Oman. Kirhon and Khasif came along even though their families didn't want them to get married.
In September 2016, the two of them flew from Muscat to Kathmandu. After that, they drove across the Indian border at Bihat and went to Patna before getting to Bengaluru. They were taken into custody by the police after a police officer questioned them because of Sameera's Urdu accent.
After 5 years in jail, Sameera and her 4-year-old daughter were sent away in 2022.