India
Accident involving a train in Odisha: unclaimed corpses accumulating in mortuaries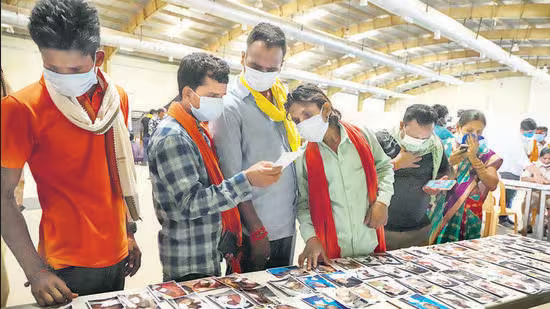 On Sunday afternoon, with a photograph of his son clutched closely to his chest, Krushna Chandra Sahoo grew increasingly frantic as the day progressed. In Balasore, he had now traversed the air-conditioned, conventional business hall that had been converted into a provisional mortuary twice. Jagdish Sahoo, his 38-year-old son, could not be discovered among the dismembered bodies lying in white shrouds in geometrical, motionless lines.
The body of my son's companion was discovered at the location, but I have yet to locate him. "I do not know if he is alive or dead," said Sahoo with concern. Two days after the Chennai-bound Coromandel Express collided with a goods train and its derailed bogeys collided with a passing superfast express train, resulting in 275 fatalities, Odisha now confronts a grim challenge: identifying the deceased.
As the accident occurred on Friday evening, Saturday presented the difficulty of rigour mortis and the decomposition of carcasses under the summer sun. "Shortly after the calamity, we transported the bodies to a nearby high school. As the corpses began to decompose, however, we transferred them to an air-conditioned room with ice slabs in Balasore. However, decomposition is still occuring, and we have begun moving some corpses to the AIIMS Bhubaneswar mortuary," a senior government official who did not wish to be identified said at the scene.
Ranjit Nayak, deputy superintendent of police for the Government Railway Police in Balasore, stated that even families who had arrived in the city were unable to identify their loved ones due to the desecration of the corpses. "Many faces are severely crushed. There are bodies with only a torso, a burned visage, and no other identifying characteristics visible. Some passengers in the general compartment were travelling short distances without a ticket, which posed an additional challenge, he said.
Chief Secretary Pradip Jena stated that only 88 of the government's revised death toll of 275 have been identified so far. "The photographs of the deceased have been uploaded to the websites https://srcodisha.nic.in, https://www.bmc.gov.in, and https://www.osdma.org. Contact the helpline number 18003450061 /1929 (24A-7) if you are able to identify the body of a family member. These websites have also been updated with a list of the injured. "DNA profiling will also be performed," said Jena.