India
India and Singapore link their respective real-time digital payment systems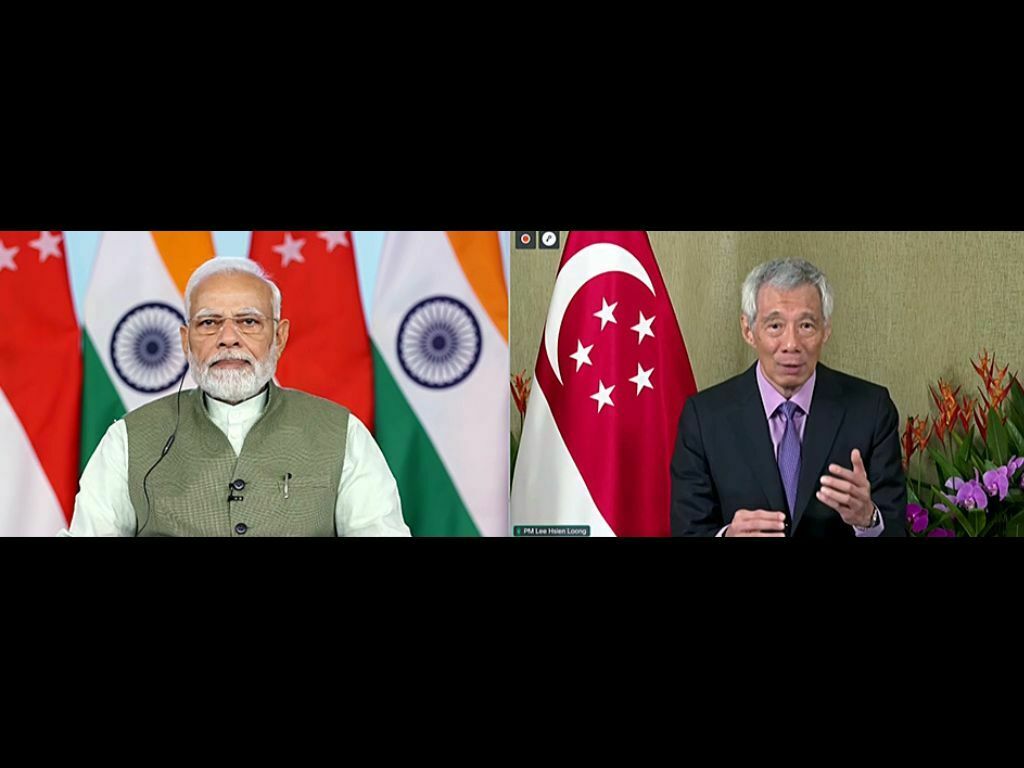 India and Singapore linked their real-time digital payment systems on Tuesday, a move that is intended to allow cheaper and safer cross-border transfers and help the city-400,000-strong state's Indian diaspora.
In 2018, the concept of linking the two systems was created.
The link between Singapore's PayNow and India's Unified Payments Interface (UPI) is India's first cross-border P2P payments link and Singapore's second.
It is also the first link of its kind in the world to use scalable cloud-based infrastructure capable of accommodating future increases in remittance traffic and to involve non-bank financial organisations (NBFIs).
The link was established during a virtual ceremony attended by Prime Ministers Narendra Modi of India and Lee Hsien Loong of Singapore.
Governor of the Reserve Bank of India (RBI) Shaktikanta Das and managing director of the Monetary Authority of Singapore (MAS) Ravi Menon exchanged symbolic funds via their mobile phones to commemorate the launch.
Modi remarked that people-to-people links have been the bedrock of India-Singapore relations, and that the opening of the link "opens a new chapter in cross-border financial connectivity."
In Hindi, he continued, "With this facility, remittances between the two nations will be cheaper and in real time."
Digital connectivity has emerged as a crucial problem in advancing bilateral cooperation, according to Lee, who also reported that cross-border retail payments and remittances between the two parties exceeded $1 billion annually. Following permitting card and QR code payments in 2018, the two parties have taken an additional step to encourage cheaper, quicker, and safer retail payments and transfers between businesses and individuals, he said.
Lee added, "I believe that this strong relationship between Singapore and India will continue to produce creative technological solutions and generate more cross-border opportunities for our digital economy."
The launch was preceded by a telephone conversation between the two leaders, during which they addressed matters of common interest.
Modi praised Lee for his assistance in advancing bilateral relations and expressed his eagerness to collaborate with him during India's G20 chairmanship.
Using their mobile phone number, UPI identity, or virtual payment address, customers of participating financial institutions in the two nations can send and receive funds in real time across bank accounts or e-wallets (VPA).
Axis Bank, DBS India, ICICI Bank, Indian Bank, Indian Overseas Bank, and State Bank of India are the participants on the Indian side. In Singapore, DBS and Liquid Group are the first non-bank financial institutions to engage in the link.
Indian consumers will be able to receive funds immediately, but transferring funds will initially be limited to four Indian banks and then gradually expanded. By the end of March, Singaporean institutions will gradually expand the number of eligible user groups and transaction limitations.
MAS said in a statement that the participating universities have "agreed to ensuring that the service is accessible and cost-effective, including for foreign workers and students residing in Singapore and India."
This will enable low-cost cross-border remittances, particularly from Singapore's 400,000 Indian immigrants.
"The linkage also allows for the automatic implementation of capital control requirements for increased efficiency," according to the statement.
The RBI and MAS will evaluate and steadily expand the relationship by adding more participating institutions.
The link is a "significant milestone in upgrading the infrastructure for cross-border payments" and meets India's G20 aims to increase the cost, speed, accessibility, and transparency of cross-border transactions, according to MAS.
At launch, some DBS clients may transfer up to SGD200 per transaction, with a daily limit of SGD500. By March 31, all DBS customers will have access to this service and will be able to transfer up to SGD1,000.
UPI currently handles about forty percent of all real-time worldwide digital payments, and the Indian government has been concentrating on linking the system with digital payment networks in neighbouring states and nations.