India
India-made C295 to start rolling out 2026 from Vadodara, says Airbus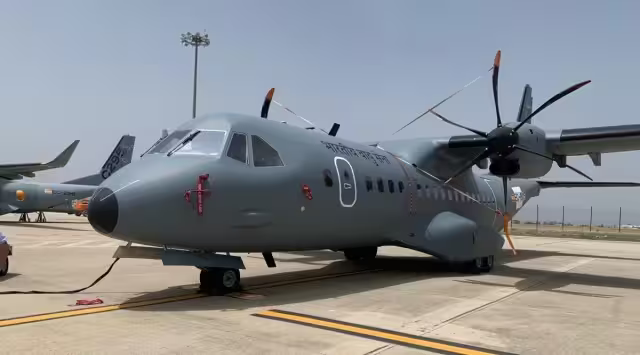 A fully operational factory will be in place in Vadodara in Gujarat by November 2024 from where the first Indian-made C295 military transport aircraft will start rolling out 2026 onward, senior Airbus officials said Wednesday.
The facility will be similar to the sprawling 1.2 million-sqm Airbus factory in Seville in Spain.
The aircraft will be manufactured under India's first-ever 'Make in India' Aerospace programme in the private sector.
For the longest time, the Hindustan Aeronautics Limited (HAL) has had a monopoly over manufacture of military aircraft in India.
In September 2021, India formalised the acquisition of 56 Airbus C295 aircraft to replace the legacy Avro fleet of the IAF at a cost of Rs 21,935 crore.
Under the deal, Airbus will deliver the first 16 aircraft in 'fly-away' condition from its final assembly line in Seville while the remaining 40 aircraft will be manufactured and assembled by the Tata Advanced Systems (TASL) in India as part of an industrial partnership between the two companies at the factory in Vadodara.
At present, the only final assembly line for the C295 aircraft is located in Seville – it also produces the Airbus A400 aircraft.
This is the first time Airbus will have a full production system in another country, which Jorge Tamarit, head of the C295 programme in India, called "unprecedented" considering various time and supply chain constraints needed to pull this off.
"This is the first time that Airbus is building a complete production system outside Spain," he said, adding that some other countries have a final assembly line or a pre-final assembly line but not a full production system.
The first C295 aircraft to be delivered to India in September had its first maiden flight in May, while the second aircraft is being put together here to be delivered to the IAF in May next year, followed by scheduled deliveries of one aircraft by Airbus every month until 2025.
The 40 aircraft to be made in India at the Vadodara factory are scheduled for delivery to the IAF between 2026 and 2031.
The final assembly line which will come up in Vadodara – it will have a capacity of producing 12 aircraft per year – is operated by Tata and will have the same standards as the Airbus final assembly line in Spain, officials said.
Six IAF pilots, officials said, have already received training and a batch of 20 maintenance crew of the IAF are currently being trained at the Airbus facility in Seville. Three more batches of IAF personnel are scheduled to be trained here next year.
Last year, TASL had set up a factory in Hyderabad, but the manufacturing of the major airframe components such as fuselage and tail will gather steam as production of their initial assemblies – technically known as the 'main constituent assembly' – will start at the factory next week.
The major sections of the aircraft assembled at the Hyderabad facility will then be moved to the Vadodara facility next year, and will be fitted with the engine and avionics and other critical components sourced by Airbus from other global firms, and readied for testing and subsequent deliveries.
Officials said except for major components such as the engine and avionics – which have been sourced from Pratt & Whitney, Collins Aerospace – there will be a transfer of manufacturing technology to TASL by Airbus on most other components so that 95 percent of the aircraft could be made in India within the next few years.
Tamarit said the airframe of the medium transport aircraft will involve more than 14,000 parts and components, and around 3,500 parts will be industrialised progressively every year by Tata, depending on the capability of the Indian supply chains to reach the stated level of indigenization.
It is expected that the 32nd aircraft, which is scheduled for delivery in the first quarter of 2029, will be nearly a fully Indian C295, said officials.
EXPLAINED
Will have key role in IAF
The multirole C295 aircraft will boost the IAF's transport duties, carrying troops and material across the country. The aircraft can operate on short and unpaved runways.
There would also be spares support, provided by the European defence major for 10 years and a performance-based logistics contract for five years, ensuring 85 percent of aircraft fleet at any time.
The supply of initial spares to India will continue for 10 years and will cover 10 operating bases, Airbus officials said, adding that the contract will also involve supply of special maintenance tools, ground support equipment, special test equipment, technical publications, training course for pilots, maintenance and technical personnel, training aids including one full motion simulator. A training facility has been set up in Agra which will be operational late next year.
Airbus officials also said talks are underway with the Indian Navy and the Indian Coast Guard for the procurement of around 15 additional aircraft, of which nine will be for maritime surveillance purposes. They said the aircraft will also have export potential to other countries.
On the future of the C295 programme, Jean-Brice Dumont, Head of Military Air Systems, Airbus, said, "Let us do what we have been paid to do," adding that C295 is "a great aircraft for India and 56 of them is a lot but also not a lot at the same time".
This contract, on top of the Make in India obligations, will also have a 30 percent offset obligation. While this offset clause will begin with sourcing of parts from India, other options for obligations are also being evaluated, officials said.
A decision on the timeline and location for setting up the Maintenance Repair Overhaul facility for the aircraft is yet to be taken, the officials said.
Once inducted, the multirole aircraft will provide a fillip to the IAF's air transport duties in carrying troops and material across the country. The aircraft can operate on short and unpaved runways and can carry 71 troops, 50 paratroopers, five standard pallets, 24 healthcare units.
The aircraft will be equipped with indigenous radar warning receivers and missile approach warning systems developed by Bharat Electronics Limited, while the countermeasure dispensing system has been provided by Bharat Dynamics Limited.
It will boost India's aerospace sector with 15,000 high skilled jobs, 10,000 indirect jobs in the next 10 years.
– (The reporter is in Spain at the invitation of Airbus)
Related Posts