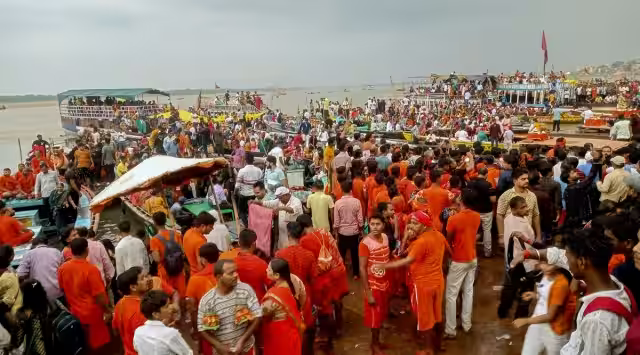 The Uttar Pradesh Police have booked employees of the Paschimanchal Vidyut Vitran Nigam Limited (PVVNL) in connection with the July 15 electrocution deaths of six Kanwariyas, including three juveniles, in Meerut.
When returning from Haridwar, the vehicle carrying Kanwariyas, devotees of Lord Shiva, collided with a low-lying high-tension line in the Rali Chauhan village of Bhawanpur. Several individuals were injured during the incident.
"A First Information Report (FIR) has been filed at the Bhawanpur police station against PVVNL employees who will be identified once the ongoing investigation into the tragic incident has been concluded. Thursday, Rohit Singh Sajwan, the SSP of Meerut, announced that a case had been opened in response to a complaint from the deceased's family.
Chaitra V, managing director of PVVNL, has ordered a magisterial and high-level investigation to determine the cause of the electrocution that killed six devotees, including three children.
In the meantime, the PVVNL's managing director has clarified that no employee misconduct was discovered in this regard.
"According to our preliminary investigation report, none of our officers or employees are culpable in this matter. We have assembled a three-person committee for an intensive investigation. Chaitra noted that the UP government had explicitly specified that 'Kanwars' taller than 12 feet would not be permitted on the Yatra.
The managing director of PVVNL stated that the tragedy could have been avoided if the pilgrims' 'Kanwar' had been shorter than 22 feet.
Kanwar is a decorated bamboo structure with pitchers of Ganges water that is affixed to the pilgrims' vehicle.
The villagers, however, blame the electricity officials who refused to turn off the power transmission lines in response to the religious procession.
"For the past three years, we have objected to the height of our village's high voltage transmission lines, but to no avail. We have requested a power outage so that we may transport our Kanwar to our village. But they did not cut the power connection," claimed Suresh Saini, whose two sons perished in the disaster and whose third is fighting for his life in a hospital.
The MD clarified that transmission line height varies by location, and the wires in the Rali Chauhan village were installed at the appropriate height for that region.
The enraged villagers have sent a memorandum to the chief minister of Uttar Pradesh, Yogi Adityanath, in which they demand disciplinary action against the culpable PVVNL employees. In addition, they have demanded Rs 50 lakhs in compensation for the families of those killed in the accident and Rs 25 lakhs for the injured. CM Yogi has not yet made any related announcements.