India
IAF conducts an airshow 14 kilometers from the India-Pakistan international border.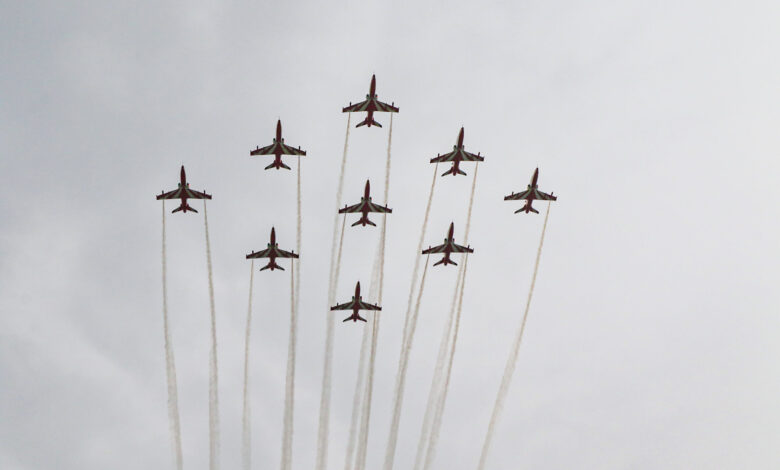 Hundreds of spectators at the high-security IAF station were captivated on Friday by the Indian Air Force's first airshow at Jammu airbase, which was held near the international frontier with Pakistan.
The event, which was collaboratively organised by the IAF and the UT administration to commemorate the 76th anniversary of Jammu and Kashmir's accession to the Indian Union and the 60th anniversary of the Air Force Station at Jammu, highlighted the IAF's operational prowess. It also sought to educate the public on the dangers of aviation.
Due to the close proximity of the international border with Pakistan, IAF fighter aircraft pilots flew over Jammu city and its outskirts on the eastern side of the airstrip at the IAF base, rather than the western side.
In the early morning hours of June 27, 2021, terrorists for the first time used drones to deliver two IEDs on the IAF base. One IED caused modest damage to a building's roof, while the other exploded in an open area.
The airshow began with a mesmerising Free Fall demonstration by the Akash Ganga skydiving team, who parachuted with the Indian Flag and the IAF flag, entrancing the massive audience. The touchdown of the 14-member Indian Air Force skydiving team was cheered by a large crowd who were thoroughly appreciating the event.
IAF Garuda Commandos then demonstrated slithering and small team insertion and extraction techniques in a designated location using Mi-17 1V Medium Lift Helicopters. People chanted slogans such as "Bharat Mata Ki Jai" as they observed the commandos' insertion into their designated area and their subsequent exit from the area by dangling from ropes attached to helicopters.
The Suryakiran Aerobatic team took off simultaneously for an aerial display. The event culminated with the Air Warrior Drill Team (AWDT) 'Subroto' demonstrating precise drill movements. As they observed the commander marching through spinning rifles, the children were especially ecstatic.
The Air Force Band's melodious and martial music complemented the entire event.
The event's principal guest was Lieutenant Governor Manoj Sinha of the Union Territory. Air officer commanding Jammu, Kashmir, and Ladakh Air Vice Marshal Praveen Keshan Vohra and Air Commodore S S Rawat, AOC 23 Wing, as well as other senior civil and police officers, were present at the event.
Friday, tens of thousands of civilians, including residents of adjacent areas, school students, and children, descended upon an IAF station that had been off-limits to them since a terrorist attack in June 2021.
Shruti Arora, a young woman from the city of Jammu, deemed the airshow, featuring the Suryakiran team and the Garud commandos, "worth watching."
A Class 11 student who aspires to join the Armed Forces remarked that, despite the rain interfering with the airshow for nearly 15 minutes, everyone thoroughly relished the event.
Related Posts