India
Land for the homeless in Jammu and Kashmir: Mehbooba Mufti change demographics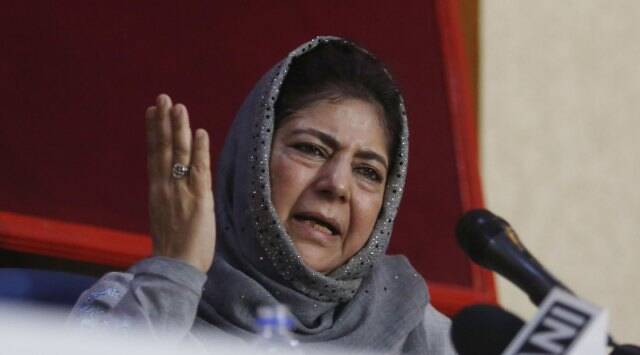 Former Jammu and Kashmir chief minister Mehbooba Mufti claimed on Wednesday that the recent announcement by Lieutenant-Governor Manoj Sinha to provide land to homeless persons under the PM Awas Yojana could be an attempt to alter the demographic composition of the Union Territory.
Mufti stated at a press conference held at the party's headquarters in Srinagar that the administration "is importing slums and poverty into the region under the guise of providing housing to homeless individuals, which I believe is an attempt to change the demographic composition of Jammu and Kashmir."
She expressed scepticism about the decision to provide five marlas of land and questioned the identity of the purported 1,99,550 landless residents of the Union Territory. Mufti stated that there are only 19,047 homeless families in the region, citing data presented to Parliament by the Union administration in 2021, and he emphasised the need for clarification on this "disparity."
"I wish to comprehend who these homeless individuals are. After (Art) 370, land and resources in Jammu and Kashmir are treated as war booty. She asked, "Why do they want to turn this into a slum and import poverty?" She stated that this would have a significant impact on Jammu.
Mufti accused the administration of being motivated by a desire to increase the BJP's voter base, thereby altering the demographic composition of Jammu and Kashmir.
She also questioned why Kashmiri Pandits, who "have been living in one-room accommodations in Jammu for the past three decades," were not given land to build houses.
Instead of focusing on its overall development, she added that the region is being transformed into a favela.
She acknowledged the growing awareness among the people of Jammu regarding the potential repercussions of these policies. She cautioned that the negative effects would be felt in Jammu before Kashmir. Mufti warned that the policy constitutes a "provocation" to the local populace.
Mufti commended the region's residents for demanding the inclusion of land rights and employment in the Sixth Schedule, urging the people of Jammu and Kashmir to follow Ladakh's lead. She praised their decision to initiate a non-cooperation movement on July 15 in opposition to any foreign investments in tourism and pledged her support for the Ladakhi people.
Mufti expressed surprise at the order's timing, which coincided with the Supreme Court's contemplation of petitions challenging the repeal of Article 370. She urged the people of Kashmir and Jammu to band together and resist these measures, similar to the Ladakhis.
Related Posts