India
Padma Awards 2023: Mulayam Yadav, Ustad Zakir Hussain, Dilip Mahalanabis among 6 awarded Padma Vibhushan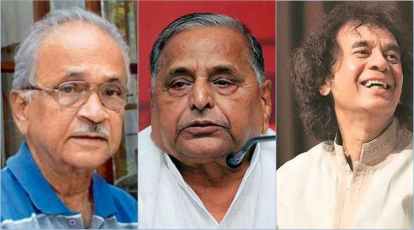 This year, the Padma Vibhushan was given to former Uttar Pradesh Chief Minister and Samajwadi Party (SP) patriarch Mulayam Singh Yadav, former Karnataka Chief Minister S M Krishna, architect and educationist from Gujarat Balkrishna Doshi, tabla player Zakir Hussain, mathematician S R Srinivas Vardhan, and the man who came up with the ORS treatment, Dilip Mahalanabis.
Six Padma Vibhushan, nine Padma Bhushan, and 91 Padma Shri awards have been given out so far.
Padma Bhushan winners include Sudha Murthy, chairperson of the Infosys Foundation and wife of Infosys founder N R Narayana Murthy; industrialist Kumar Mangalam Birla; linguistics scholar Kapil Kapoor; Kannada novelist and screenwriter S L Bhyrappa; playback singers Vani Jayaram and Suman Kalyanpur; physicist Deepak Dhar; and Telangana spiritual leaders Swami Chinn.
Among the well-known Padma Shri winners are stockbroker Rakesh Jhunjhunwala, Rasna founder Areez Khabatta, former union minister and Manipur BJP president Thounaojam Chaoba Singh, former Tripura minister and Indigenous Peoples Front of Tripura president Narendra Chandra Debbarma, RRR music composer M M Keeravani, ghazal singers Ahmed Hussain and Mohd Hussain, and Bollywood actor
Check out this file on Scribd
Prime Minister Narendra Modi tweeted his congratulations to the winners and said, "India values their many and varied contributions to the country and their work to improve our growth trajectory."
By giving Mulayam the Padma Vibhushan after his death, the OBC communities in UP would see this as a way to reach across political lines. During the last Assembly elections, it was found that the SP had made up some of the ground it had lost among OBC voters.
S M Krishna is a leader of the Vokkaliga community in Karnataka, which is going to the polls this year. He joined the BJP in 2017. Even though the BJP is usually linked to the Lingayat community in the state, it is trying to win over the Vokkaligas to get more people to vote for it.
On the list, there are as many as five people from Telangana, including two spiritual leaders. Telangana is thought to be the most important southern state for the BJP after Karnataka.
The fact that IPFT leader Debbarma, who died at the beginning of this month, was included is also important because the state is holding elections this year and the IPFT is working with the BJP in that state. Debbarma was a respected tribal leader, and the BJP has been trying to win over the tribal community in the run-up to the elections.
From 1999 to 2002, Kapil Kapoor was the pro-vice chancellor of Jawaharlal Nehru University. In 2015, he was one of a group of writers and academics who came out in support of Modi and criticised intellectuals who attacked the Centre for "the climate of intolerance."
This Republic Day, you can buy the best Indian journalism. Get a one-year subscription to Express for Rs. 999, plus extra perks. Click to find out more.
Kapoor has been put on a number of government committees and selection panels for picking the heads of higher education institutions by the NDA-II government. These committees are in charge of coming up with ideas for education reforms.
More than a dozen people from different fields have made a difference in society through their social work or by keeping art forms from dying out.
The President gives out the Padma awards at ceremonies held at Rashtrapati Bhavan, usually in March or April of each year. There are 19 women on the list of awardees. Two of them are foreigners, NRIs, PIOs, or OCIs, and seven of the awards are being given to people who have already died.