India
China in play, Egypt seeks economic support from India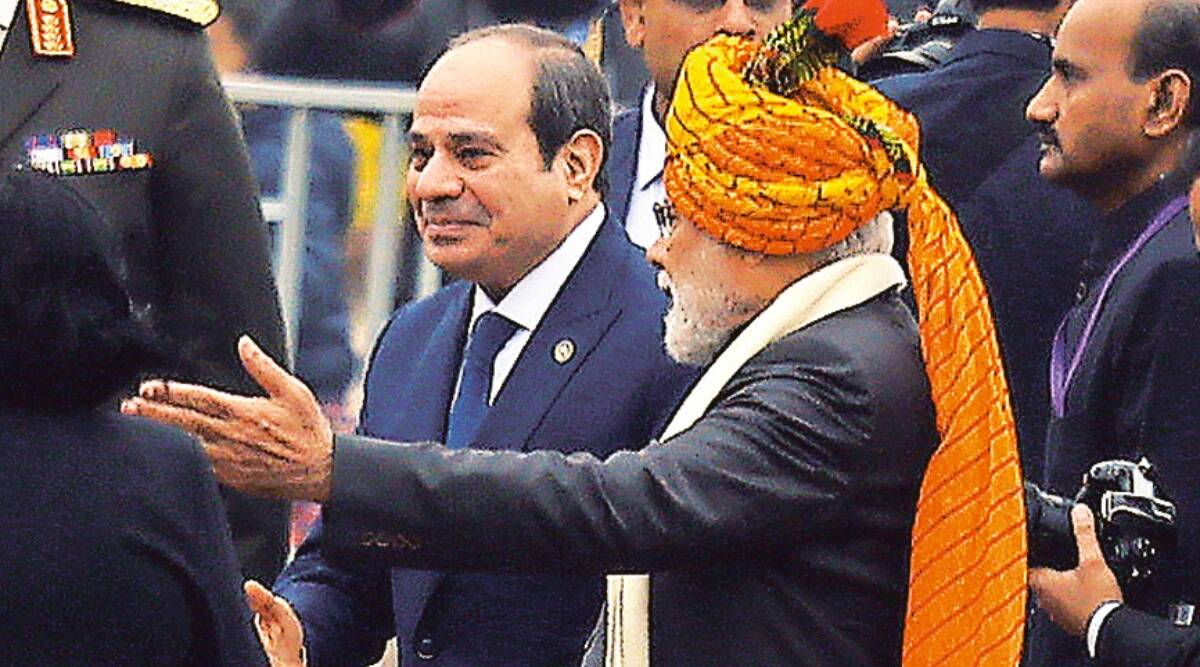 Egyptian President Abdel Fattah El-Sisi, who was the primary guest at the Republic Day parade on Thursday, has called out to India for investments and participation in huge infrastructure projects in his country, according to The Indian Express.
According to sources, this was one of the recurring topics of discussion between the Egyptian side and the Indian leadership, including Prime Minister Narendra Modi, during the previous two days. These negotiations occurred at a time when China's commercial connections with Egypt had been increasing over the years.
This effort was also represented in the joint statement published by both sides, which stated that both leaders applauded the increase of Indian investments in Egypt, which now exceed $3.15 billion. According to the document, they agreed to encourage enterprises from their respective countries to investigate developing economic and investment prospects in the other country.
"Egypt welcomes the influx of additional Indian investments and pledges to provide incentives and facilities in accordance with applicable laws and procedures. India, for its part, demonstrates its support for this strategy by encouraging its enterprises with the capacity to develop outside ventures to take advantage of the various investment prospects in Egypt," the statement read.
During his meetings in Delhi with Indian leaders, including External Affairs Minister S Jaishankar and President Droupadi Murmu, as well as the business community, Sisi emphasised Egypt's desire to expand economic and trade cooperation with Indian companies, as well as joint investments, according to sources.
According to sources, the Egyptian president stated that massive projects now being completed in Egypt present numerous investment prospects.
Despite the fact that Egypt has not requested fiscal assistance, the highlighted major projects include the Cairo and Alexandria Metro systems, the Suez Canal economic zone, the canal's second channel, and a new administrative capital in Cairo's suburbs.
They stated that the development of the Suez Canal region, which comprises a number of large industrial and logistics zones, was one of the highlighted sectors. The joint statement stated, "In this regard, the Egyptian side is considering the potential of granting a particular piece of land to Indian enterprises in the Suez Canal Economic Zone (SCEZ), and the Indian side can organise the master plan."
During a conference in Delhi, Sisi reportedly reminded the business community that Indian businesses may take use of Egypt's strategic location as a hub for manufacturing and re-export to numerous countries linked by his country's free trade accords, especially in the Arab area and Africa. Senior officials from the ministries of Foreign Affairs, Commerce, and Finance also attended this conference.
Currently, over fifty Indian firms have interests in Egypt totaling over $3.15 billion. In comparison, Egyptian investments in India amount to approximately $37 million. The trade volume between India and Egypt has increased from $4.5 billion in 2018-2019 to $7.26 billion in 2021-22.
According to the joint statement, despite the challenges faced by the pandemic, the two leaders were pleased with the volume of bilateral trade. "They expressed optimism that a bilateral trade objective of US$ 12 billion could be reached by both nations within the next five years by diversifying their trade baskets and focusing on value addition," the report stated.
Sisi has travelled to China seven times in the past eight years, including for the Beijing 2022 Winter Olympics, and has actively pursued Chinese investments. Currently, bilateral trade between China and Egypt is about $15 billion.
The inflation rate in Egypt, meanwhile, has reached a five-year high of 21%, resulting in high prices for commodities and daily-use products such as eggs, milk, and basic foods.
In addition, the national currency has lost about half of its value in less than a year, reaching an all-time low near 30 Egyptian pounds per dollar. The country has also requested a bailout from the IMF for the fourth time in six years, receiving $3 billion over four years.
On top of that, the pandemic impacted their tourism-dependent economy, followed by the Russia-Ukraine war, which impacted Egypt's forex reserves and food grain supplies – about 80% of Egypt's food grains originated from Ukraine and Russia.
Egypt's foreign exchange reserves fell to $20 billion at one point, but are presently $33 billion. They have received approximately $8 billion in budgetary help from Saudi Arabia and the UAE. In May of last year, India, which had prohibited wheat exports, permitted 61,500 metric tonnes to enter Egypt.
Sisi reportedly informed his interlocutors in Delhi that Egypt is prepared to achieve "industrial integration with Indian enterprises" and to boost their expansion via partnerships.
According to sources, Indian and Egyptian companies will investigate the prospect of maximising collaboration in the fields of pharmaceuticals, communications, information technology, and defence. Infrastructure, petroleum and natural gas, new and renewable electricity, energy, and agricultural products are also on the radar.
Important for India are strong ties with Egypt, a country with a vital geostrategic location. Egypt is an important political player in west Asia and north Africa, and the Suez Canal handles 12 percent of global trade. It is also the most populous nation in west Asia, which makes it an important market and a gateway to Europe and Africa. Egypt has bilateral trade agreements with major Arab and African states.
"There are compelling geo-economic and geo-strategic reasons for India to have a strong presence in Egypt in light of China's influence," sources added.