India
Following a complaint from a CPM MLA, the BJP and Congress criticise police action on a Kerala news portal.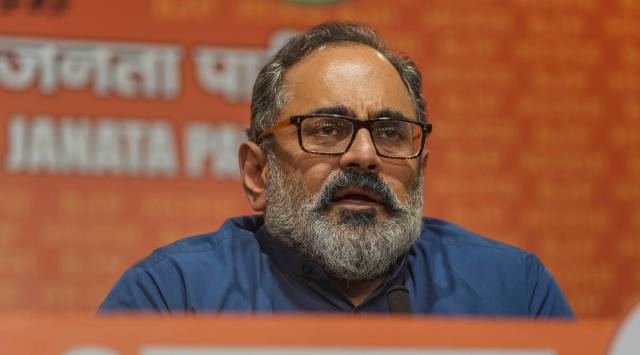 Rajeev Chandrasekhar, a BJP leader and Union minister of state for electronics and information technology, criticised the CPM on Wednesday, stating that the party's Kerala government had been intimidating the media and silencing it through repression.
"As much as we have criticised Congress and various state governments for using the law to muzzle the media, I believe the country's people must examine what Pinarayi Vijayan is doing in Kerala…His CPM administration has been plagued by scams varying from gold smuggling to AI cameras. Referring to police action against journalists of the Malayalam news website Marunadan Malayali over the past two days, the BJP leader stated, "It has repeatedly repressed the media and used threats of intimidation to silence the media."
In a case filed against its editor, Shajan Skaria, police ransacked the offices of the online media company across the state as well as the homes of its journalists. P V Sreenijan, who is the son-in-law of former Chief Justice of India K G Balakrishnan, had complained on May 24 that Skaria intentionally humiliated him by making "false allegations and accusations through a Marunadan Malayali-language video" The case was registered in accordance with sections 3(1)(r) and 3(1)(u) of the Scheduled Castes and Scheduled Tribes (Prevention of Atrocities) Act as well as section 120 of the Kerala Police Act.
The Union minister stated that the government had lodged charges against several television networks and their journalists. "This recent instance of using police to raid the offices and residences of a journalist in an attempt to suppress a YouTube channel while the case is pending in court, and the individual has appealed to the Supreme Court is unacceptable. This type of brazen intimidation from a prime minister who criticises our government for forbidding BBC documentaries and discusses free speech is unacceptable. The Left and Marxist government of Kerala exemplifies hypocrisy and double standards regarding freedom of expression and a continuing politics of intimidation and threat in our nation. In a democracy, this is wholly untenable and unconstitutional, he said.
Chandrasekhar stated, "These are the same people" who support misinformation and lies about our prime minister and government while advocating for free speech. "However, they become intolerant when their government is scrutinised or when questions are raised about their governance." This hypocrisy and double standard must be made known to the people of India, and it cannot be accepted or tolerated," the BJP leader stated.
V D Satheesan, a congressman and opposition leader, questioned the police action against Marunadan Malayali.
"Why did police raid journalists' homes and confiscate their electronic devices while investigating a case involving the paper's editor? In a Pocso case involving conman Monson Mavunkal, the CPM newspaper Deshabhimani falsely reported that a statement had been made against Congress state president K Sudhakaran. Why is there no argument against it? Do the police know the reporter responsible for the false news? Why aren't the journalists' electronic devices seized in this incident? The CPI(M)'s use of police against the media is unprecedented in Kerala, according to Satheesan.
Related Posts
Cong accuses SEBI of being'reluctant' to investigate claims against Adani Group, renews call for JPC
JP Nadda, the head of the BJP, names new state party leaders in Puducherry, Nagaland, and Meghalaya
INDIA leaders to PM Modi: Birthday wishes pour in for ex-PM Manmohan Singh
AIADMK snaps ties with BJP-led NDA alliance ahead of 2024 Lok Sabha polls
Invoking her father Rajiv, Priyanka asserts that the norms of politics have changed, and that there are now attempts to mislead along religious and caste lines.
RSS and BJP have no ties to the Bajrang Dal: Himanta on outfit offering arms training in Assam
In Kerala, an ISIS module planning terror attacks was uncovered, and in Tamil Nadu, one ISIS member was apprehended: NIA
BJP portrays opposition alliance 'INDIA' as ten-headed Ravana
Cong demands a discussion of the Manipur situation in Parliament during an all-party meeting
This concept of INDIA: The BJP questions opposition parties regarding an SP MLA's remark about 'Vande Mataram'