India
Land-related challenges in the Indo-Pacific area include territorial disputes and terror threats, according to Gen Pande.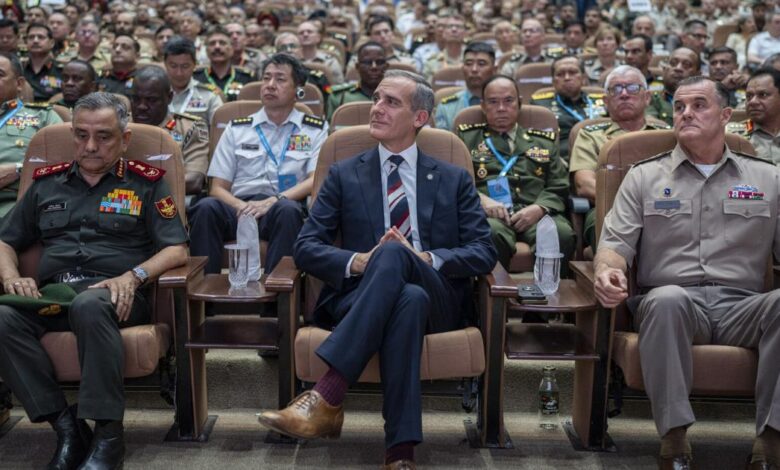 Territorial disputes over land masses or artificial islands established to acquire real estate and establish military bases, as well as transnational terrorism threats, are among the many land-related concerns facing the Indo-Pacific region, according to Army Chief General Manoj Pande on Tuesday.
He was addressing at the 13th Indo-Pacific Armies Chiefs' Conference (IPACC), which is taking place in New Delhi from September 25-27 alongside the 47th Indo-Pacific Armies Management Seminar and the Senior Enlisted Leaders Forum.
The Indian and US military are co-hosting the event, which is being attended by 30 countries. The conference is intended to allow Army Chiefs and senior-level executives from land forces, primarily from the Indo-Pacific region, to exchange thoughts and perspectives on security and contemporary concerns.
General Pande's remarks came against the backdrop of China's expanding efforts to construct and garrison artificial islands in the South China Sea, a move considered as an attempt to expand its territorial claims and increase its force projection across the Indo-Pacific.
However, in response to a later media question, he underlined that no military alliance is being considered through this initiative, nor is it geared against a country or group of countries.
"What we are looking at here is an open and sustained dialogue on a range of issues both of us alluded to," he stated.
"I need to emphasise that it is a multilateral forum, aimed at bringing together military leadership to share certain common concerns on areas that we just defined," he stated.
"It is also meant to understand the perspectives of different countries, different armies, and share best practises," he added, adding that the conference will also strive to develop an effective reaction to crisis scenarios, such as natural or man-made disasters.
While the term 'Indo-Pacific' implies that Navies are the primary security stakeholders in the region, the role of the other components of the Armed Forces remains important, according to the Army chief.
"Apart from challenges exclusively in the maritime domain, a wide range of security and humanitarian concerns exist on land too," he stated.
"These range from territorial disputes over land masses, or in some cases even over artificially expanded islands to acquire real estate and establish military bases, trans-national threats of terrorism, consequences of climate change impacting the inhabited islands or coastal areas of rim nations and natural calamities," he stated.
According to General Pande, these difficulties appear as threats, single or plural, affecting one or more nations in the Indo-Pacific area. "While efforts by countries are converging towards effecting a free and stable Indo-Pacific, we are witnessing manifestations of inter-state contestations and competitions," he stated.
He stated that coordination among the region's ground forces is a vital component of the collective response. The region requires security, connectivity, and economic cooperation among its littoral states, with all sharing the objective of a free and open Indo-Pacific.
The IPACC, which began in 1999 as a biennial gathering, brings together Army Chiefs from the Indo-Pacific area to address problems of mutual concern.
In response to a question from The Indian Express about the conference's expected outcomes, General Randy George, Chief of Staff of the United States Army, said there will be discussions about methods to change the forces.
"How are we all learning about what we're doing from one another?" "How are we going to operate and with contested logistics?" he asked, adding that the conference allows all parties to get together and discuss how to map the course forwards.
He also stated that the US Army is focused on four areas: warfighting, supplying ready combat formations, continual transformation, and improving the profession of arms.
"By gathering here together – 30 nations and 20 Army Chiefs – we are deepening, and demonstrating, our unity and collective commitment," he stated.
"Let's use this opportunity to explore ways to strengthen our cooperation, build trust, maintain security, and facilitate peace through strength."
Defence Minister Rajnath Singh stated in his inauguration address that the Indo-Pacific is no more a maritime construct, but a full-fledged geostrategic construct, and that the area is facing a complex web of security concerns, including boundary disputes and piracy.
He reaffirmed India's support for a free, open, inclusive, and rules-based Indo-Pacific region in pursuit of shared security and prosperity, noting that India's efforts to build robust military partnerships with friendly countries demonstrate its commitment to not only safeguard national interests, but also address global challenges confronting all.
He went on to say that the Indian Armed Forces are the first responders in catastrophe situations and contribute to humanitarian assistance and disaster relief (HADR) activities because of their unshakable dedication and professionalism.
He proposed that the three-day event focus on strategies to improve interoperability during HADR operations. "It is our responsibility that the climate change-related concerns of small island nations of the Indo-Pacific are given the importance that they deserve, as these bear the brunt of climate change as an existential crisis," he stated.
Related Posts