India
No state honours for former Kerala CM Oommen Chandy as per his last wish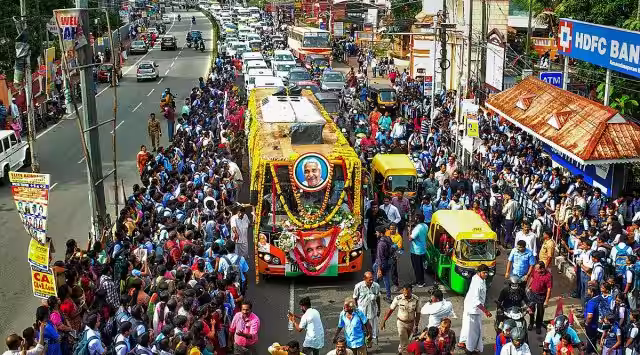 Former Kerala chief minister and Congress veteran Oommen Chandy, who passed away in Bengaluru on Tuesday after a lengthy battle with illness, will be laid to rest without state honours per his final wish.
Wednesday, Chandy's family informed the state administration of his dying wish that his funeral be held without state honours. In turn, the government adopted it. Thursday afternoon, he will be laid to rest at his native parish St. George's Orthodox Church in Puthuppally, Kottayam.
Before leaving for treatment in Germany (in November of last year), son Chandy Ommen stated, "Father indicated to my mother that he should not be accorded state honours at his funeral." This is his final wish, and we, family members must grant it. My mother informed the government of this final intention, and the funeral will be conducted without state honours."
On Wednesday, Chandy's mortal remains were transported by road from the state capital to his birthplace of Kottayam. Thousands of mourners lined the road from Thiruvananthapuram to Kottayam in order to pay their respects to the deceased leader. The procession left Thiruvananthapuram at 7 a.m. and was scheduled to travel 140 kilometres to reach Kottayam by evening. Due to the dense throng, the cortege could travel only 40 kilometres in six hours.
Wednesday's state cabinet meeting approved a resolution commemorating Chandy's contributions. Chandy had played a significant role in advancing the democratic process through his various government and congressional positions.