India
12 South African cheetahs were released in MP's Kuno.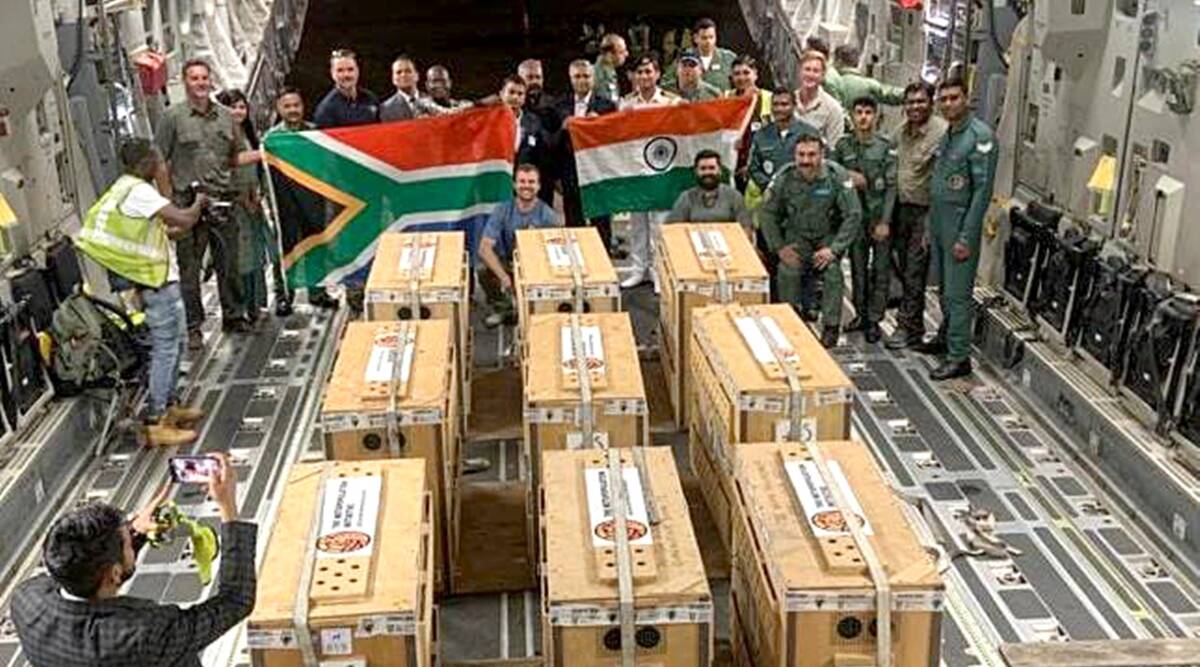 Twelve South African cheetahs were set free in Madhya Pradesh's Kuno National Park on Saturday, five months after the first group of big cats from Namibia arrived there.
Seven male and five female cheetahs took an Indian Air Force C17 GlobeMaster plane from Johannesburg to the Gwalior air base, which is 8,000 km away. They got there at 10 a.m. Then, at noon, they were taken to Kuno in Mi17 helicopters.
Eight of these cheetahs were put in separate cages to keep them from spreading disease. The other four were kept in pairs in two bomas.
The big cats will stay in these enclosures for a month to get used to life in India. After that, they will be let out into a six-square-kilometer enclosure that is much bigger.
An #IAF C-17 aircraft carrying the second batch of 12 #Cheetahs landed at AF Station Gwalior today, after a 10 hour flight from Johannesburg, South Africa.

These Cheetahs will now be airlifted in IAF helicopters and released in the #KunoNationalPark. pic.twitter.com/Pk0YXcDtAV

— Indian Air Force (@IAF_MCC) February 18, 2023
Last year, the eight Namibian cheetahs that came to Kuno on September 17 were let out into the larger enclosure. Officials said they are healthy and have been hunting.
India's park now has 10 male cheetahs and the same number of females, thanks to the new group.
The cheetahs were set free by Union Environment Minister Bhupender Yadav, Chief Minister of Madhya Pradesh Shivraj Singh Chouhan, and Union Agriculture Minister Narendra Singh Tomar.
The MoU that India and South Africa signed in January of this year says that 10 cheetahs will be moved each year for the next five years until there is a "viable population."
It is thought that the cheetah went extinct in India after Maharaja Ramanuj Pratap Singh Deo of Koriya hunted and killed the last three Asian cheetahs in 1947. The government said it was extinct in 1952.
The Phinda Wildlife Reserve is where three of the South African cheetahs came from. Nine of them come from Rooiberg.
"Three of the twelve cheetahs were from the Phinda nature reserve. We kept them in Bomas last year while we planned for them to move, but they were then sent back to the reserve. They were caught again in December and taken back to their quarantine Bomas. This year, they will be moved to a new area. The other nine had spent the last few months in their Bomas. They were caught in different parts of South Africa, so it would have been hard to let them go and then catch them again. But our vet specialist has kept them in great shape. Prof. Adrian Tordiff, a South African wildlife vet at the University of Pretoria, said that all of the Cheetahs in South Africa live in the wild. Prof. Tordiff has worked with the WII and NTCA on the project to move cheetahs and has travelled with South African cheetahs.