India
International
Response to comments about PM Modi and Adani: George Soros is old, rich, and dangerous, says EAM S Jaishankar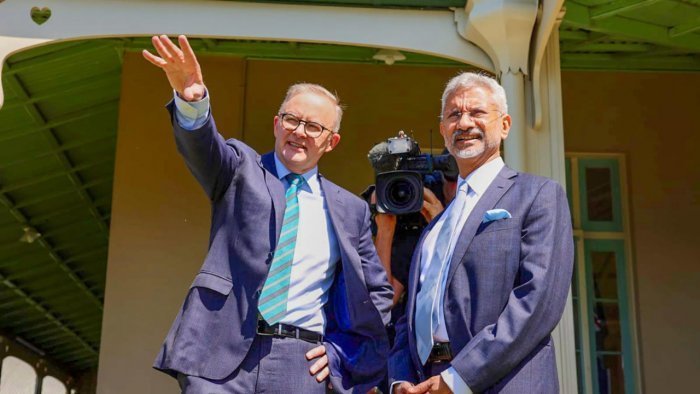 A few days after billionaire investor George Soros criticised Prime Minister Narendra Modi and said the Adani Group crisis could "open the door to a democratic revival" in the country, External Affairs Minister S Jaishankar called Soros "old, rich, opinionated, and dangerous," and accused him of "scaremongering."
Soros's comment "worries" India because it knows how dangerous "interference from the outside" can be in politics, Jaishankar said, referring to India's time as a colony. Friday, BJP leader and Union Minister Smriti Irani responded to Soros by saying that he was trying to interfere with India's democratic process and that he wanted a government that would do what he wanted.
In Sydney, in response to a question, Jaishankar said that people like Soros are dangerous because they "invest resources in shaping narratives" under the guise of promoting an open society.
"I could say that the person in question, Mr. Soros, is an old, rich, opinionated man sitting in New York who still thinks that his ideas should decide how the whole world works. If I could stop at old, rich, and opinionated, I would put it away. "But he's old, rich, has strong opinions, and is dangerous," Jaishankar said.
He was answering a question about "occasional comments" about the weakening of democracy in India. The question was about the IT department survey at the BBC office in New Delhi and the things Soros said before the Munich security conference.
Soros said in a speech on Thursday that the uproar over Gautam Adani's business empire has shaken people's faith in India and made investors nervous. He also said that this could "open the door to a democratic revival" in the country.
Soros, who has given money to Democratic candidates for president in the US over the years, said that the Prime Minister will have to "answer questions" from foreign investors and Parliament about the allegations against the Adani firms. He had said, "Modi and business tycoon Adani are close friends, and their fates are tied together."
"How do you explain this to people, especially Quad ministers, but also to other people?" Chris Bowen, Australia's Minister for Climate Change and Energy, and Justin Bassi, the head of the Australian Strategic Policy Institute, asked Jaishankar the question.
In a sharp reply, Jaishankar said that not everyone sees that the world is "changing, rebalancing, and becoming less Euro-Atlantic" because "old habits die hard."
This is part of the External Affairs Minister's long-term political pushback against people in the West who have often criticised what they call India's "democratic backslide."
"There are still people in the world who think their definition, their preferences, and their opinions are more important than anything else. I don't know how people know what was said at the Munich conference since you brought up this specific example. Mr. Soros basically said that India is a democratic country, but he doesn't think that the Prime Minister of India is a democratic person. And by the way, I was at the same conference a few years ago when he said we were planning to take away the citizenship of millions of Muslims. This didn't happen, of course. "That was a stupid idea," Jaishankar said.
Jaishankar said that this kind of talk is "scaremongering," and he added that it hurts our society. He said Soros, who started the Open Society Foundations, also makes "fear psychosis."
"This kind of scaremongering, like saying that millions of people will lose their citizenship, does real damage to the way our society works. Because there are people who believe you. And you don't leave it to chance; you back it up with an operation. So you make that kind of fear psychosis and then use it to back up your original decision," he said.
Jaishankar said that it is clear that Soros has "very strong political preferences." He did this by listing India's democratic credentials, such as the fact that people can vote for leaders and help form governments.
"He really doesn't care that there are 1.4 billion people in this country and that their votes decide how the country should be run. Again, I use him as a really bad example. But this happens in other ways in other countries, where people like him think that a good election is one in which the person we want to win does.
He said that a democracy is called "flawed" if the election results don't match what people like Soros want. He also said that all of this is done under the guise of promoting open societies, transparency, etc.
"So, the people in our generation have grown up with ideas like regime change…
"You can call it what you want, but it looks like the same thing with a coat of something good," the minister said.
India is not one of the countries where election results are challenged in court, Jaishankar said, because it has high voter turnout and clear election results.
"It (Soros's comments) worry us because we are a country that has been colonised. We know how dangerous it is when people from outside your country try to influence your politics in any way," he said.
Soros's claim that the turmoil over Adani's business empire has shaken people's faith in India and made investors nervous, which could "open the door to a democratic revival" in the country, has caused a big fight and led the ruling BJP to respond strongly.
Saturday, Jaishankar went to Sydney, where he met Australian Prime Minister Anthony Albanese and Foreign Minister Penny Wong.
Before Albanese's trip to India at the beginning of next month, they talked about the two countries' strategic partnership, economic opportunities, and relationships between people. They also talked about the Indo-Pacific region and cricket.