India
President Kovind's Commission meets to solicit input from state and national parties on simultaneous polls.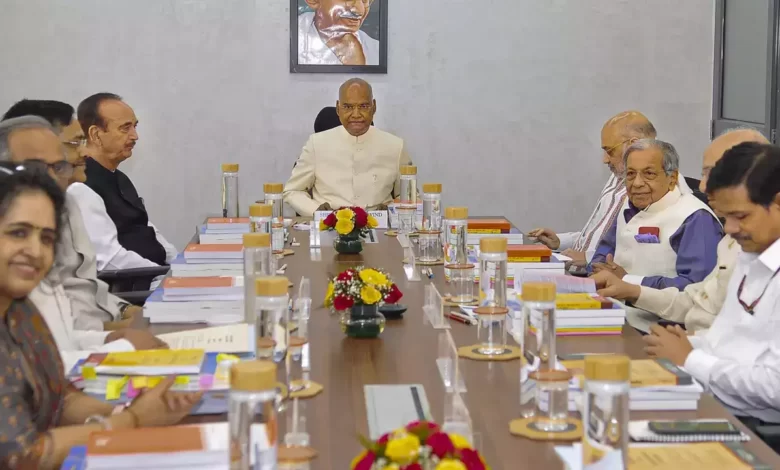 The high-level committee on "one nation, one election," chaired by former President Ram Nath Kovind, held its first meeting on Saturday and decided to invite national and state parties, as well as the Law Commission of India, to discuss holding simultaneous elections for the Lok Sabha, state assemblies, and local bodies.
The committee "decided to invite recognised national political parties, political parties with state governments, political parties with representatives in Parliament, and other recognised state political parties to seek suggestions or points of view on the issue of simultaneous elections in the country." In addition, the Committee will request the Law Commission of India to submit suggestions or points of view on the topic of simultaneous elections in the country," according to a statement from the Union Law and Justice Ministry.
According to official sources, the first meeting, which lasted around 65 minutes, got right to work on the significant election change, with procedures for moving it forward discussed. The next meeting is expected to occur in mid-October, though no date has been set. According to reports, individual members will be questioned about their availability, and a suitable date for the next meeting will be determined.
The meeting was presided over by Kovind and attended by committee members Union Home Minister Amit Shah, Union Law Minister Arjun Ram Meghwal, former Rajya Sabha Leader of Opposition Ghulam Nabi Azad, former Chairman of the Fifteenth Finance Commission NK Singh, former Lok Sabha Secretary-General Subhash C. Kashyap, and former Chief Vigilance Commissioner Sanjay Kothari.
According to the Ministry, one of the members, renowned counsel Harish Salve, attended the meeting electronically. Adhir Ranjan Chowdhury, the Congress leader in the Lok Sabha, who had been included on the committee, later declined to be a part of it and was not present on Saturday at the meeting held at the Jodhpur Officers' Hostel complex outside India Gate.
Law Commission and Parliamentary Standing Committees have previously investigated the problem of simultaneous polling. The Law Commission's draught report from 2018 stated that holding simultaneous elections to the Lok Sabha and State assemblies would be impossible under the current Constitutional structure. It claimed that holding simultaneous elections would save the government money and give it more time to work on development. According to a 1999 Law Commission study, the "desired goal of one election every five years cannot be achieved overnight in the given circumstances; It must be accomplished in stages."
When the Parliamentary Standing Committee on Personnel, Public Grievances, Law and Justice asked for feedback on the topic in 2015, many opposition parties—the Congress, the All-India Trinamool Congress, the Communist Party of India, and the Nationalist Congress Party—rejected the idea of holding simultaneous polls.
Indian General Elections