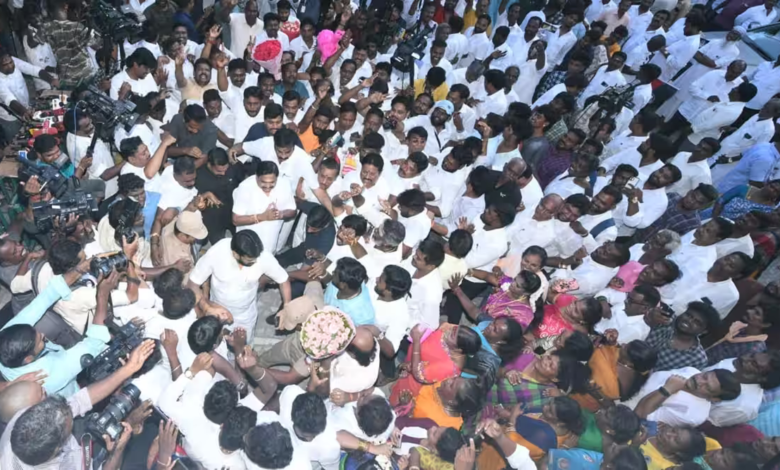 K Annamalai, the president of the BJP in Tamil Nadu, stated on Monday that the party's national leadership would comment on the AIADMK's decision to leave the National Democratic Alliance.
"In one sentence, our national leadership will remark on this matter. This is a pan-Indian party with national leadership. This has been brought to their attention, and they will discuss it," said Annamalai, who was in Coimbatore on his En Mann En Makkal Padayatra.
The AIADMK decided to leave the NDA at a meeting in Chennai presided over by party general secretary Edappadi K Palaniswami. The AIADMK stated in a resolution that the state BJP leadership has been defaming the party, its ideology, and leaders such as M G Ramachandran and J Jayalalithaa for the past year.
The resolution added that the decision had taken the sentiments of the party's two crore supporters into account. Immediately after it was enacted, hundreds of AIADMK cadres chanted slogans, exploded fireworks, and distributed candies in front of the party headquarters.
Senior AIADMK leader K P Munusamy told reporters that the party would establish an alliance with like-minded parties for the 2024 Lok Sabha polls.
The AIADMK's decision to dissolve came a few days after Palaniswami met with BJP president J. P. Nadda in New Delhi.
The AIADMK's IT wing began trending the hashtag Nandri Meendum Varatheergal (Thank you, please don't return again) on X, formerly Twitter, as a jab at the BJP.
The AIADMK and the BJP, who jointly contested the 2019 Lok Sabha and 2021 Assembly elections, had been at odds for a considerable amount of time. Annamalai's recent remarks about former chief minister and Dravidian stalwart C N Annadurai have further strained the parties' relationship. The AIADMK demanded an apology from Annamalai, but the BJP leader refused. Annamalai was criticised by AIADMK leaders, and former minister D Jayakumar deemed him "unfit to be a party leader."
Related Posts